This Low-Carb White Chicken Chili has such nice flavor and a bit of a kick, so it really satisfies your appetite, especially when you're watching your carbs.  Also, the healthy chicken stock and other healthy ingredients make it super nutritious!  My kids even ate it, but they pick around the beans.  They love the cheese sprinkled on the top.
There are some carbs in this from the beans, but I believe it is only a small amount because the fiber in the beans lowers the net carbs.  Someone feel free to correct me if I'm wrong.
If you make it a little different, let me know, I always love playing with recipes.  This one is from 3 different friend's recipes, all mixed and matched – that's the way this one is, just use what sounds good to you.
Low-Carb White Chicken Chili
Ingredients:
About 2 pounds chicken, cut in pieces – cooked or uncooked
About 4 cups chicken stock  (I now know how quick and simple pressure cooker broth is so I can make some mineral-rich broth more quickly in a pinch.  If you just don't think you will make it or want some on hand for when you're really crunched for time, try this bone broth — it's 100% grass-fed with a bunch of gelatin, organic ingredients, and it's shelf stable!  I love keeping their beef and chicken broth on-hand for quick recipes because they make it just like I do here, and without the nasty msg-like ingredients, additives, or preservatives that store-bought has.)
3 cans Great Northern beans, don't drain
Can of organic tomatoes with green chilis (I use a couple cans)
2 teaspoons ground cumin
1 teaspoon chili powder
1/2 teaspoon oregano
1/4 teaspoon cayenne pepper if you like it spicy
Half or whole onion, chopped (however much you like)
A few cloves of minced garlic (again, to your taste)
Shredded cheese for the top, we use Monterey Jack or organic cheddar
Instructions:
Simmer all ingredients over low heat for an hour or two.  When serving, sprinkle a generous amount of shredded cheese on the top of each bowl.
Meal Planning Help!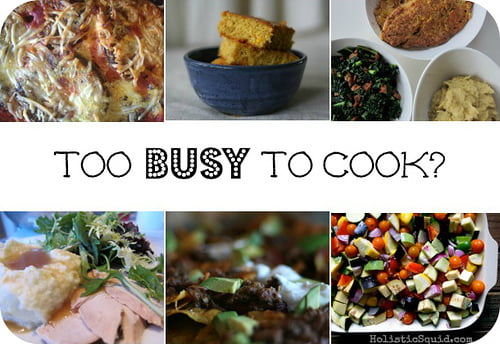 Sick of planning meals and answering the question, "What am I going to feed these people?" No matter what kind of eater you are (traditional, GF, paleo, vegetarian)… Check out these affordable interactive easy-to-use meal plans where the work is done for you.  NOW recipes also available from Nom Nom Paleo, The Paleo Mom, and Wellness Mama all in one spot!  You can read over my review here.