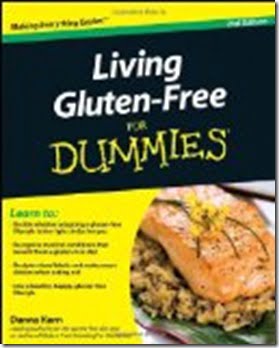 Did you know there was a book with this title, 'Living Gluten-Free For Dummies'?  (I didn't!)
A participant in my Rookie class asked this question in the forum the other day:
Does anyone have any tips for making gluten free easier on your budget? My husband has Asperger's syndrome and just started doing gluten free, but so much is expensive! I'd love to be able to have pasta or a baked good he can eat once a week or so that wouldn't break us financially. I read about making your own rice flour and my mom has a Vitamix. Have you ever done this or have any other recommendations?  Thanks."
We got a great response Alex that I'll share below, but I'd love to hear your ideas, too!
Here's what Alex says:
I'm not a gluten free guy, though I have a side job at a restaurant that just recently started catering to people with gluten intolerance.  After learning about gluten allergies and what food they have to eat, I came to the conclusion that there are really two ways to eat gluten free…

1) Eat hyper-processed crap food that is the equivalent of a vegetarian or vegan subsisting off of Boca Burgers, Not-Dogs and tofurkey.  Since many people have pre-conceived notions on how, say, pasta, pizza, pancakes, and other gluten-rich foods should look, feel, and taste, companies dump lots of coloring, stabilizers, and chemicals that enhance texture and flavor so people buy the products. They are also highly likely to contain GMO products or derivatives as well. GROSS!  And if THAT isn't bad enough… the flavor of many of those products (that I have tried) is somewhere between disappointing and unpalatable.

2) By contrast, eating whole, fresh, clean foods such as fruits, veggies, pastured meats, eggs, dairy, sprouted grains, etc. is a natural and traditional way of being gluten free without much effort. There are tons of other grains and legumes fulfill your desire for carbs if that is what you fancy. I have used rice and mung bean noodles in Asian dishes before. Those are incredibly cheap (I haven't read the labels so I have yet to find out if they are bad) and may help curb your desire for pastas. They really don't go well with Italian flavors though. Also, as we are learning that corn and corn products are not the best because of the Omega balance and so forth, this may be for the "once in a while" category. However, polenta cakes with fresh, hand-pulled mozzarella (the soft stuff, not the brick, also this is the easiest cheese to make at home and takes about 20-30 minutes TOPS) covered in marinara sauce is a GREAT alternative to pasta. Now that we know animal fats are good, why not cook it in bacon fat to get some of that smoky salty goodness incorporated into the polenta. Add a little crushed red pepper to the sauce for a kick of heat and you have a southern Italian dish that is totally GF.

I guess since we are supposed to be avoiding/limiting starches overall, maybe his new diet is a blessing in disguise. It may force you to limit your starch intake.

p.s.  I own a Vita-Mix and they are awesome. Theoretically you need the "dry blade" container to make rice flour. If you do make it, use brown rice and soak over night. Then dry it completely and make the flour.  Rice also has the same phytic acid that wheat and other grains, nuts and beans have, this is an anti-nutrients. Soy also has lots of this.

p.p.s. Kelly's link to that sprouted organic flour mill has some non-wheat flours that are already milled for you.

Hope that helps a bit."
Who knows why he's taking my Rookie class, he's already way on top of things!  🙂
What about you, are there any more ideas you can share with us for less expensive gluten-free foods?
Read Kat's post on Managing Celiac Disease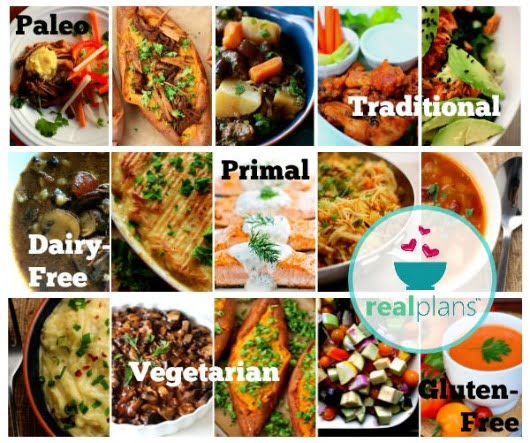 Meal Planning Help!
Sick of planning meals and answering the question, "What am I going to feed these people?"  No matter what kind of eater you are…   Check out these affordable interactive easy-to-use meal plans where the work is done for you!   Also read over my review to see what I thought of it.