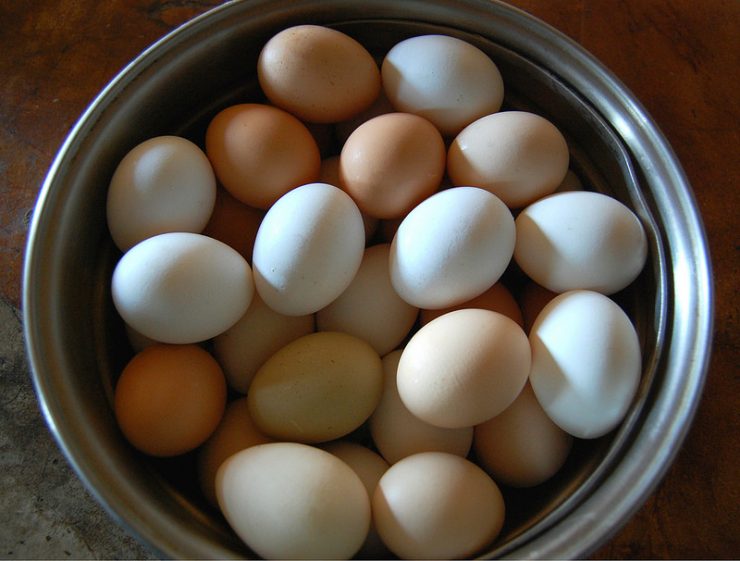 We all know now that eggs are a nutritional powerhouse, full of beneficial nutrients, but we may get tired of the same old egg recipes. Here are a few new ones from YOU, my readers, and also from other food bloggers.
Anna: My favorite egg recipe is what I call, "French Toast Frittata".  I prefer this to regular French Toast because it increases the egg to bread ratio. I also try to keep hard boiled eggs in the fridge all the time for quick protein snacks.   (Note from Kelly:  try making hard-boiled eggs in the pressure cooker, they peel SO easily!)

My friend, Liz, wrote a comment with this recipe:

Hi Kelly — here's one of my favorite easy egg meals. I like to scramble a couple of eggs and just as they are about done cooking, I toss in a handful or so of fresh spinach. Continue cooking the eggs until they are done and the spinach is wilted. Sprinkle with feta cheese and roll it up in a spinach or whole grain tortilla. Super yummy and easy as can be!  Try it, you'll like it.

Scott:

I don't really have any egg recipes. My egg eating is typically "chop an onion, sauté it, throw in spinach, cumin, and garlic, crack 6 eggs on top and let the whites harden, eat". The rest of my eggs are hard-boiled and tossed into a salad.

Bryan from

Stay healthy, Enjoy life, Help others when you can

:

Hi Kelly, you may have already figured out my favorite egg recipe. 🙂 It's my morning raw egg yolk, raw milk, raw cream, cocoa powder smoothie. I use about:1 cup raw milk from grass-fed Jersey cows, 1 oz raw cream from grass-fed Jersey cows, 3 raw egg yolks from pastured chickens, 1 heaping tbsp of raw organic cocoa powder (I use Rapunzel or AH!Laska, available sometimes on Amazon), and blend gently on low speed in a blender. I like it without any sweetener, the milk is plenty sweet enough. But those who haven't lost their sweet tooth yet might want to add a small amount of natural sweetener. The amounts above don't need to be exact. Add more cream to make it thicker. Less or more cocoa powder to taste. I sometimes use 4 egg yolks. (Note from Kelly: if this recipe makes some of you squeamish, read this post on raw milk – if you get your raw dairy from a local farmer that you know uses safe farming practices, you don't have to worry, and you will be getting many nutritional benefits!)

From Diane at

Peaceful Acres

:

Eggs ala Goldenrod (that's what my Dad called it!) Make a white sauce using: 1/4 cup raw butter, 1/4 cup flour or rice flour or any other flour alternative. Melt butter and add flour. Cook for 2 min's over low heat…doing this in a cast iron skillet makes it easy. Then add 2 cups raw milk or other milk. Stir well and cook until it thickens. Salt & pepper as desired. Boil 1 dozen Eggs, shell and separate the yolk and whites. Mash the yolks and chop the whites (keeping them separate). Add the whites to the white sauce when it has thickened. Serve over toast…first layering the white sauce, then sprinkle with the yolk and top with Paprika. Not too fancy…but good!

In a comment from

Joyce

:

Warm Spinach Salad with Eggs and Bacon – 1/4 cup olive oil and vinegar dressing-warmed, 4 cups baby spinach, 1 cup quartered artichoke hearts, 2 hard-boiled eggs-sliced, 1/4 cup crumbled real bacon pieces. In a large bowl, combine spinach, artichoke hearts, eggs, and bacon. Pour warm dressing over top and toss to dress salad. Serve immediately.

From

Momma of Many/Homeschool Blogger

:

Migas Con Huevos – 5 corn tortillas, torn or cut into small bits, 10 eggs lightly beaten, 10 Tablespoons (or more, to taste) tomato sauce, 2 1/2 Tablespoons minced onions, oil, salt, 1 cup shredded cheese. Begin frying tortilla bits in hot oil. Just before they are crispy, stir in onions. Drain excess oil. Add eggs, tomato sauce, cheese, and salt to taste. Scramble eggs until done. Serve hot.

From another commenter, Julie:

  Here's a great and fast egg recipe. Get a cast iron pan hot (tortilla pan is great) and then add coconut oil to the pan. (Hot pan, cold oil, food won't stick–a true saying!) Add two beaten eggs seasoned as you like. The eggs should cook up fast. Then add broccoli and zucchini that has been pre-cooked (or any leftover vegetable). It is so satisfying to have eggs and vegetables for breakfast. Cast iron is my new non-stick cookware. When you treat it right, and remember to get the pan hot and then add cold oil, it behaves like Teflon, without the bad side affects of Teflon.  (My note — see my post:  Bye bye dangerous Teflon skillet, hello new favorite pan!)

From Shauna

:

Chorizo Breakfast Burritos – in a small omelet pan, sauté up some minced onion in butter. Add chorizo (I buy this in bulk, so I only add how much I want depending on how many I am feeding. I'd estimate for my family it's a quarter – half of a pound.) Brown thoroughly. Break 6 eggs into a bowl and whisk together, adding some whole milk. Stir into the cooked chorizo and onions, and stir continuously to scramble the eggs with the sausage. Stir in some grated cheddar cheese, salt and pepper to taste. Serve in warmed sprouted corn tortillas with salsa for a delicious breakfast! *Note – I wrap a stack of sprouted corn tortillas in aluminum foil, and place in a 200* oven while I'm making the eggs. They are the perfect softness and warmth by the time the eggs are done, and I avoid the microwave! (This is one of our favorite weekend breakfasts!)
Be sure to look for more egg recipes below in the comments!
Comment below with YOUR favorite egg recipe!
Plus one more, my latest favorite:  "egg-in-a-hole" — it's just what it sounds like.  Melt butter in a pan and put a piece of your favorite bread on the butter.  Use the top of a cup to cut out a hole (don't toss that piece of bread of course, just keep frying it on both sides with more butter).  Melt more butter in the hole, crack an egg inside, season with sea salt and pepper, then just cook 'til both sides are done how you like.  YUM.
Some other stuff: