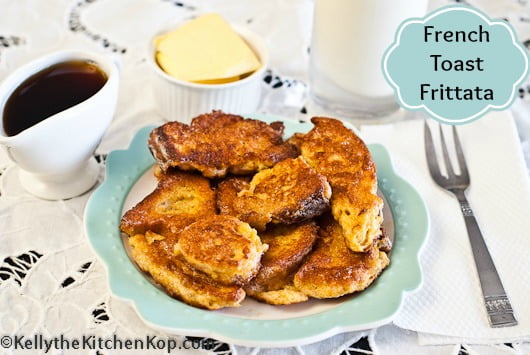 This French Toast Frittata is one of our "old stand-bys" for busy mornings and the best FAST breakfast for kids!
Top 5 Reasons Why it's a Family Favorite for a Healthy Breakfast:
5.  You can use up the ends of the bread loaves without anyone knowing or complaining.  (We use my homemade soaked bread recipe or buy fermented bread from a local baker, both of these are MUCH easier to digest than a typical loaf of bread from the store.  Sourdough is also a great option.)
4.  Most kids don't need to worry much about their grain intake unless they have allergies. (Especially if they're eating grains prepared correctly  or my new favorite, einkorn, AND if they're eaten with plenty of healthy fats.)
3. These ingredients are super nourishing!
2.  It takes only a few minutes to make for a FAST breakfast.  (Here are more breakfast ideas.)  It's so easy, even our 11 year old can make his own, with us close by of course.
1.  If you have kids who won't eat eggs, you can slip extra yolks in for more nutrition and they'll never know!
French Toast Frittata
The following recipe is for 1 serving – multiply by however many you're feeding:
Ingredients:
1 egg + 1 yolk (or more yolks if you want more nutrition – I sometimes use 3 yolks per one piece of bread)
2 Tablespoons of cream (or more, this isn't exact)
A dash of sea salt
A few dashes of cinnamon
A 1/4 teaspoon of vanilla, optional
1-2 pieces of bread, torn into bite-sized pieces (I usually tear it up as I toss it into the mixture)
Instructions:
Whip up everything but the bread and then once it's mixed well, stir in the bread.  As I said above, I use up the ends of the loaves and no one knows!  Fry until golden on both sides.  I use bacon grease, butter, or ghee and a cast iron pan or my favorite pan.
Serve with plenty of butter on top (pastured butter is best), real maple syrup and a glass of real milk.  This is when I give the kids their (cod liver oil) because I love serving it with pastured butter, knowing that it makes the CLO even more beneficial.
Let me know what you think!  And tell us, what is YOUR favorite breakfast recipe for you or the kids?