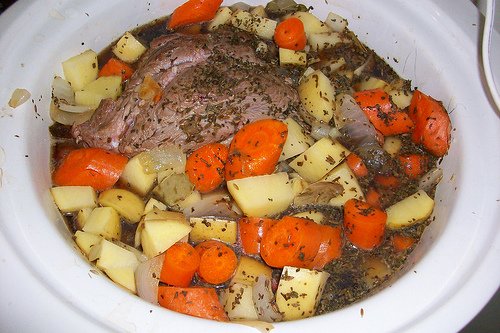 Kent said this was the best roast he's ever eaten.  Your house will smell amazing in a few hours after the flavors get going in the crock pot.  I use an arm beef roast from our local farm, but you could use another type of roast, too.  I've also used one arm roast and one pork loin — my Mom used to make beef and pork roasts together and they were always so moist and flavorful.  I've started this as late as 10:30 in the morning for a 5:30 supper, but the longer it cooks, the better.
If you can't find a good local source for safe pastured meats, click here to order online.
***See below for instructions on making gravy.
Print
Simple Crock Pot Recipe
Ingredients
Throw the following into a crock pot:
I use one like this
 (it's big and lead-free) or this stainless steel one would be good too...
Two 3-4 pounds beef roasts OR one beef roast and one pork roast (or one or two pork loins) – really anything works, so just use what you have.  (If you're starting with meat that is already thawed, you could first brown it on all sides in a frying plan with bacon grease or ghee for more flavor, but I rarely think ahead enough and just end up throwing them in frozen.) Again, if you can't find a good local source for safe pastured meats, click here to order online.
2 Guinness or other dark beer (If you only have one beer, add a little water with it.  Also, if you don't have a dark beer, any beer will do, but it won't have quite as much flavor.)
6 garlic cloves, chopped
1 large onion, chopped
6 Tablespoons palm or coconut sugar
6 Tablespoons paprika
Optional:  Add a bayleaf or two
Sprinkle some parsley all over the top
Instructions
Two hours before you want to eat, toss in the following:
Peel and chop carrots, potatoes, celery, turnips, etc.  Anything your family will eat and as much as you can get down into the liquid in the crock pot where it will cook and get soft.  I use organic as much as possible.
Add pepper and sea salt to your taste.
Note:  If you'll be getting home just shortly before you want to eat, you can steam your veggies first to get them soft (it's faster than in a crock pot) and then add them to the juices in the crock pot to get them flavorful, or just serve them with gravy.
Making GRAVY:
When you're ready to eat, you can either eat it as it is, or if you want gravy (and who wouldn't?)…
Here's how to make gravy:  Remove the meat.  Let cool just for a few minutes so you can go through it a little and get any grizzle out or smaller bones if needed.  (Then cover with foil to keep the rest of the heat in.). Pour the juices into a frying pan on the stove.  Bring to a slow boil.  In the meantime mix together 3/4 cup flour with 1/2 teaspoon sea salt, then add enough water to make it a little bit thick, but still pretty easy to whisk.  (I've read that adding the salt to the flour like that first helps prevent lumps.). Start adding a little of the meat juices, a ladle-full at a time (about 1/3 cup or so, doesn't have to be exact) and keep whisking.  Do this with 3-4 ladles full of juices or so, then take this mixture and pour the whole thing into the pan with the rest of the meat juices, and keep whisking.  (Doing it this way warms up the flour mixture and prevents lumps when you pour the whole thing into the pan with the juices.)  Start taste-testing as you add herbs like parsley and more seasonings like onion powder or garlic powder, a little at a time, and more sea salt and pepper until it's dreamy.  Some use arrowroot flour or organic cornstarch, but I haven't experimented with that much yet.
Serve the gravy over the meat and vegetables and enjoy all the wonderful flavors!
Did you make a real food recipe?
I want to see it! Tag @KitchenKop on Instagram and hashtag it #KitchenKopRecipes OR share anything you know I'll love by tagging @KitchenKop and hashtag #KitchenKop -- see you over there!
Let me know what you think — is this how you make your roast dinners?  If not, let us know what you do differently so we have variations to try, thanks!
Meal Planning Help: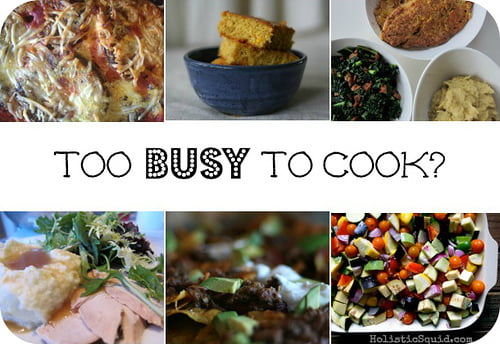 Sick of planning meals and answering the question, "What am I going to feed these people?" No matter what kind of eater you are (traditional, GF, paleo, vegetarian)… Check out these affordable interactive easy-to-use meal plans where the work is done for you.  NOW recipes also available from Nom Nom Paleo, The Paleo Mom, and Wellness Mama all in one spot!  You can read over my review here.