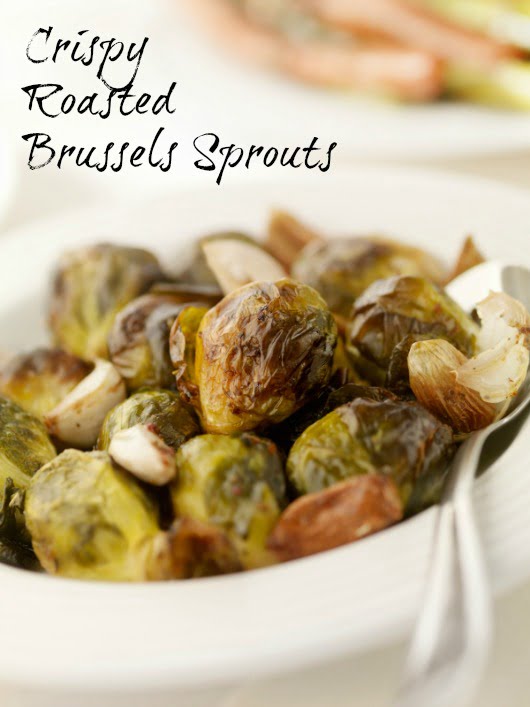 Around here we fight for these crispy roasted Brussels sprouts as soon as they're out of the oven.
By the way, is it Brussel sprouts, Brussels sprout or Brussels sprouts?  Even Mr. Google couldn't give me the final answer on that one.  (Update:  readers let me know that it's Brussels sprouts!)  Whatever you call them, if you always thought they were icky, it's time to try them again because this recipe is crazy delicious and SO simple!  See the crispy golden brown outer layers?  That's what makes it.
The recipe comes from our friends, Jim & Maureen, and we ate it at a dinner party at their house the other night, which I showed you a few pictures of in this post.  Thanks guys!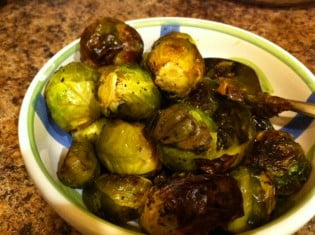 Print
Crispy Roasted Brussels Sprouts
Instructions
Preheat oven to 400*.  Trim the ends off the Brussels sprouts, wash and cut them in half, dry.  Place them on a baking sheet.
Melt butter, stir in olive oil — amounts don't have to be exact.  Pour over the Brussels sprouts and use your hands to make sure each piece has oil on it.
Add sea salt and pepper to your taste.
Bake about 30-45 min.  (Note:  To save work later, you might put them on parchment paper.)  Shake the pan occasionally or flip them for even browning.  Or do what we do:  as different pieces get golden brown, pull them out, eat all those dreamy pieces, and put it back in 'til the rest are done.  (I wonder how a splash of good balsamic vinegar would be on these…)
Did you make a real food recipe?
I want to see it! Tag @KitchenKop on Instagram and hashtag it #KitchenKopRecipes OR share anything you know I'll love by tagging @KitchenKop and hashtag #KitchenKop -- see you over there!
By the way, do you wonder about heated olive oil this high?  Read more about the myths about cooking with olive oil.  Personally, I've never had a problem with it smoking when mixed with butter 400*, but you have to watch it to be sure.
There you have it:  Crispy roasted Brussels sprouts! 
Is that simple or what?  You'll love them.  We literally hover over the pan as this comes out and go like mad, picking the browned pieces off to ooh and aah over.  🙂
Here's another recipe I love Brussels sprouts in:  Veggie Tabouli
How do YOU love Brussels sprouts?  (Or don't you?)