Good morning readers!  I've got some pictures to show you from the dinner party at our friends' house Saturday night…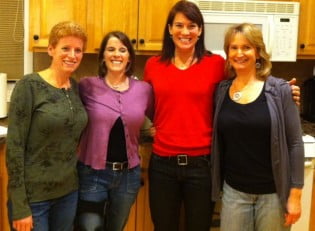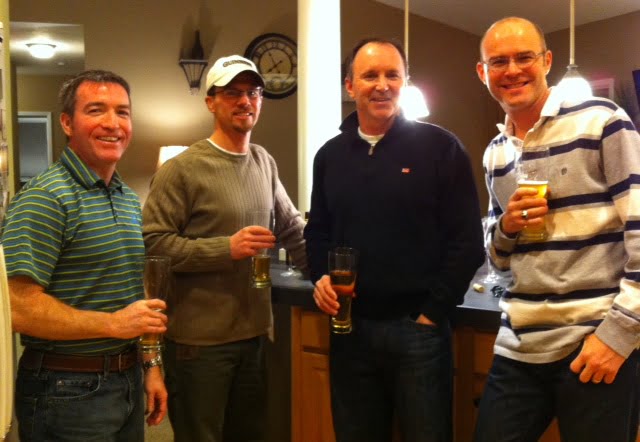 I'll try to get you the recipe for this tasty chicken dish soon:
Isn't this fruit dish pretty?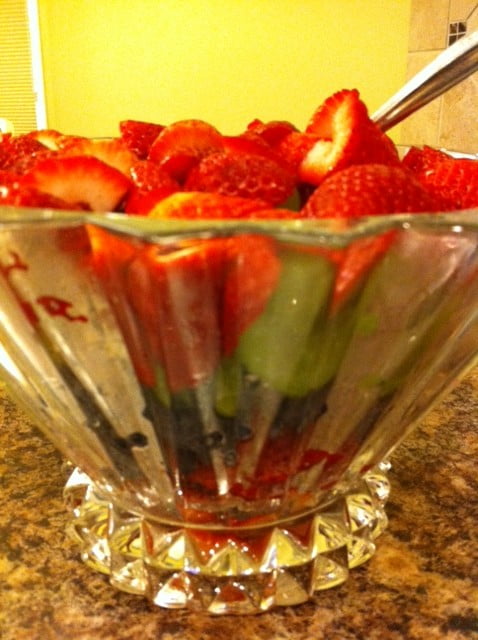 I didn't take a picture of my caprese salad (I love that stuff), but check out these roasted brussels sprouts – even if you didn't think that you like them, you'd love these.  They're crispy and so delicious.  I'll try to get this recipe for you, too.
I've been in the organizing mood!
You know how I told you a while back that I have a new assistant who helps me with work on the blog a few hours a month?  Well it turns out she's helping me with all sorts of stuff around here!  Kimmi is one motivating chick.  She's one of those women who can do everything, and there's no household issue too big for her to tackle.  The other day she got a look at our storage closet and couldn't believe what she saw.  It's funny the stuff you just deal with for years before realizing that it's time to change things.  I had everything organized into bags that were always ripping and falling on each other, and I had stuff thrown all over my pantry shelves.  (If I were a good blogger I'd have remembered to take some 'before' pictures, but I stink.)  WELL, look what I did after she gave me a motivational pep-talk and told me what to buy, isn't this so fun and organized?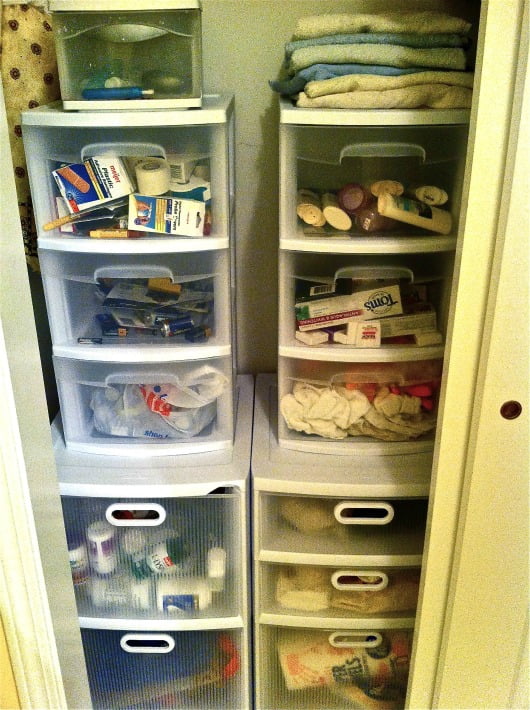 Now I have a drawer for new batteries and old batteries, for toothpaste and extra brushes, for rags and for bags, for extra paper products, for supplements, and it's all in its own perfect spot.  It almost reminds me of the days when I used to have it all together in my life!  (Pre-blog days, you know.)
I still have to work on this mess on the upper shelves: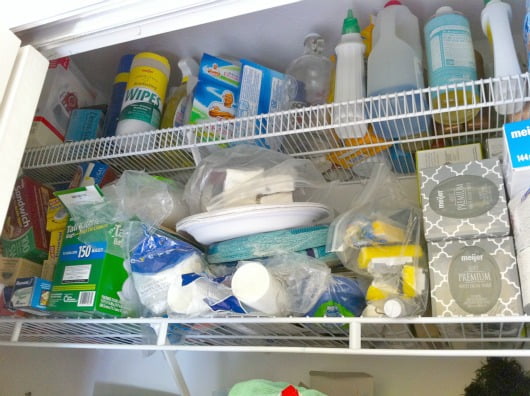 OK, now just a quick apology to everyone I've put to sleep with all that rambling, and on to today's links…
So have you heard about the raw milk situation in PA? Well my friend, Jen, wrote a thoughtful response to what has been a rough time for everyone there: I still believe in raw milk. Find all my raw milk posts here including info on safety issues.
You know how I told you a couple weeks ago that I bought these ConcenTrace Trace Mineral Drops for our filtered water, to get the minerals back in?  But you may remember that when I asked about the taste, some said they didn't like the little bit of a salty flavor it gave their water.  Well, turns out that just by chance I bought the 'low-sodium' one, and I have to say that there is truly NO flavor, I love it!
Don't forget to enter to win the latest Kitchen Kop giveaway: a Real Foodie movie and popcorn night! The prize includes a Fat Head DVD (or other movie of your choice) and a Stainless Steel Popcorn Popper, a total value of $43! Because Real Foodies need movie nights, too. 🙂 I mentioned at that post that I love this popcorn popper because it has no aluminum OR Teflon, and I make popcorn with loads of nutrient-dense Coconut oil, sea salt, and plenty of pastured butter. (Have you seen my popcorn with coconut oil recipe?)
Need a nutritious snack for lunch boxes or after school?  My kids love these dried fruits, especially the organic mango, blueberries and strawberries.  They're great for snacks on the go.
Something not so nutritious…  I made these super yummy cream cheese swirl brownies for last night's Superbowl get-together.  If you had a party, what did you make?
Speaking of snacks on the go, my local friend, Katie, has a new edition out of her Healthy Snacks to Go e-book.  I'm not quite sure how she pulled that off with a not-very-old baby boy, 2 more kids besides, and a recent move, but I do know that we all need more healthy snack ideas!
Kimberly wrote an article last week telling us how dieticians are working to get a monopoly on the nutrition field.  This is pretty scary since they're still feeding hospital patients margarine and Corn Pops cereal.  My sister is having surgery on her jaw next week, so be on the look out for my Facebook rants on the liquid crap they'll try to give her.  Of course I'm taking her homemade broth and the stuff to make her some nutrient-packed smoothies.
Need to get more probiotics into your diet?  Try these organic raw cultured vegetable juices for a concentrated source of healthy friendly bacteria. (There's a funky delay when you click that link, so wait a sec and you'll see those juices.)  They are non-alcoholic, unpasteurized and undiluted, and can be stored frozen – I love that, so I can stock up! (Plus you can get 10% off your first order.)