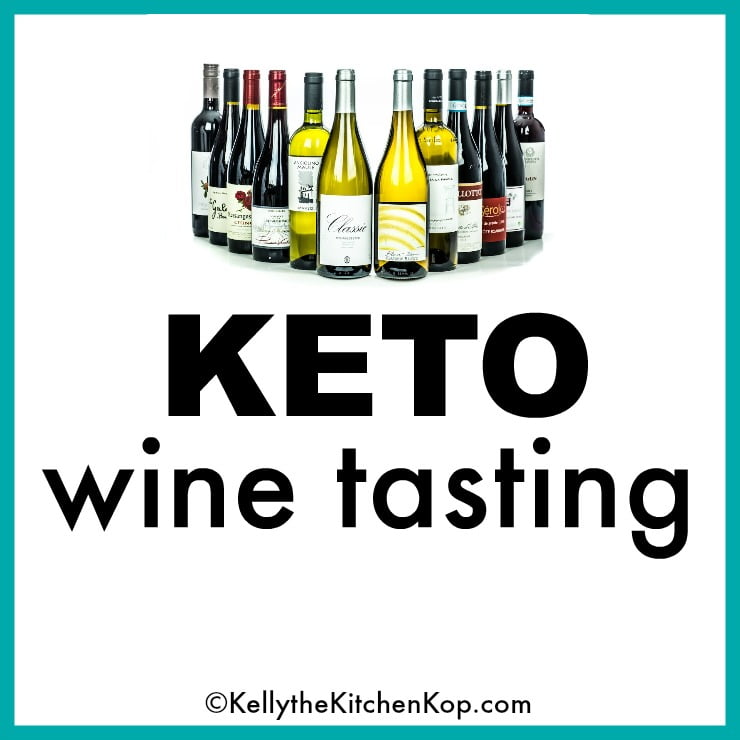 Keto wine?!  For REAL!
When I realized that I needed to start watching my carbs and work on the weight that came with peri-menopause, switching to a lower-carb/somewhat keto diet hasn't been too difficult.  Mostly it's because of recipes like this keto cheese sauce and other flavorful, satisfying, high-fat meals; but when it came to my beloved wine I asked myself, "Am I taking this keto diet thing a little too far? How bad do I really want to lose those 15 pounds anyway?!"
By the way, if you want to know more about the keto diet (which is just a very low-carb diet that helps many who have weight or health issues), get 150 yummy keto
recipes in a FREE cookbook, Bacon & Butter
 when you 
click here to sign up for my newsletter
.  (Just pay shipping.)
I'd heard about this no-sugar/keto wine and figured I wouldn't like it, I happen to really enjoy my sweet late-harvest Riesling, thank-you-very-much…
But then Kent and I met up with a bunch of blogging friends who were vacationing nearby recently and they had a few cases of it.  So I tried it.  And I liked it.  I really liked it.  THIS stuff has no sugar?!  Not that it tasted sweet, but it wasn't overly dry either, it was just nice.  Maybe I enjoyed it because I'd been trying to "mature my palate" for a while now anyway to work away from the sweeter wines and because I'd been trying to eat less sweets overall?
No matter the reason, now I can actually drink a healthier, better-for-me keto wine with NO worry about the carbs or the blood sugar spikes?  YES!!!
I actually just ordered a whole case and look forward to sipping on something besides sparkling flavored water when we get together with friends now.  This makes me SO happy.
Here's a video showing our keto wine tasting after bible study was at our house recently, plays after the ad — be sure to keep reading below because I'll share what you won't see in the video…
(Please will you click here to go to the keto wine video, subscribe to my channel, and give it a thumbs up so more people see it? Thanks!)
So what I didn't show in the video is that some of my friends didn't like it.
Even though it's rare, they do offer refunds if you don't care for it because they want you to be happy!  But I think it has to do with expectations.  It is a no-sugar, no-additive wine, and will therefore seem lighter, which is probably all quite different from the wines you're used to.  What I've learned is that heavy, full, or sugary wine is due to chemical additives and human intervention.  Those features come from artificial colorings, flavorings, oak chips, irrigation, etc.  Since this keto wine is natural and even good for you, you can drink it every night of the week if you choose to.  🙂
Of course you'll spend more on this wine than others, but isn't that true anytime you're getting better quality?!  And if it means I can still enjoy a glass of wine whenever I want, it's totally worth it to me, especially when there's so much diabetes in my family.
Also note that when you purchase it shows up as a subscription buy, and the convenience is a huge bonus for people who enjoy a glass or two nightly, but you can cancel anytime.  I plan to see how quickly I go through it and go from there.
No more wine headaches because it's low in sulfites!
I have a few friends who tell me they can only drink European wines because otherwise they get headaches, now we know why…
"Why don't Italian wines give me a headache while wines in the U.S. send me screaming to pharmacies?  It wasn't just the mile-high altitude in my former post, Denver. I had the same problem in California, Florida, Nebraska. In America, two Excedrin became part of my breakfast. In some bad restaurants or bars, I'd drink a house Merlot at 7 p.m. and have a splitting headache by 10. Why go to A.A? Just drink American wine. That will make you quit drinking.
'If you make a good product, you don't need sulfites…  A sulfite is the compound that helps preserve wine.' In actuality, all wines need sulfites. What Rossi means is some wines add more sulfites and others do not. Gallinaro told me some of the bigger commercial wineries do most of the adding. That explains why I often compare drinking a bottle of Kendall Jackson with going three rounds with Manny Pacquiao.
Governments put limits on the amount of sulfites in wine…  In Italy, they are very conscious of sulfites. In fact, Gallinaro belongs to a growing group of winemakers who are trying to make wine with very low sulfites."       (Source:  Why do we get headaches drinking wine in the U.S. and not in Italy?)
While all wines contain some naturally-occurring sulfites, these keto wines are lab tested to ensure levels below 75 ppm (the US standard is 350 ppm). Sulfites kill bacteria to stabilize a wine. The lower the sulfites, the more alive a wine remains. 
Also they told me this:  "ALL our wines are from abroad. We don't have any wines from the states because of what your friends experience. Wines in the U.S. are industrially farmed and there isn't a tradition of clean, organic, artisan farming in America.  In Europe, vines are older and winemaking is cleaner. "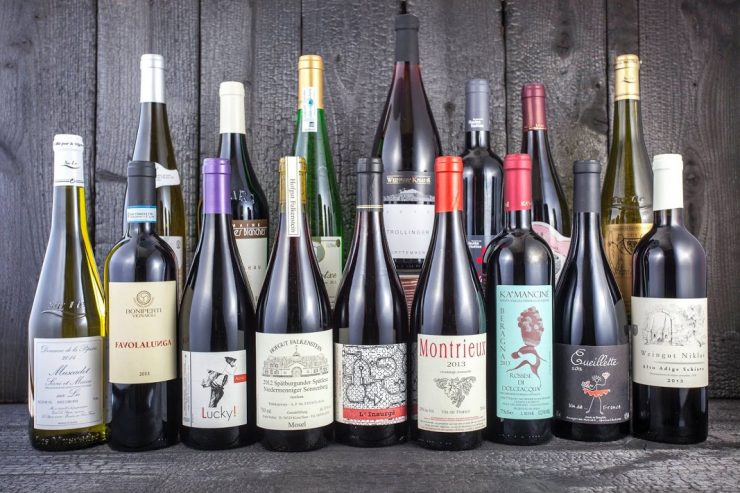 More info on this keto wine:
The grapes are all grown organically or biodynamically, dry farmed, free of chemical sprays.  Monsanto's Roundup is the most widely used herbicide in U.S. vineyards today, and it's been linked to numerous cancer cases worldwide. Organic farms are healthy and sustainable for the soil, the diversity of life in the vineyard, and ultimately for us wine lovers.
Free of additives:  The FDA approves 76 different additives for use in winemaking, without disclosing any of them on the bottle.  These include things like metals, toxic chemicals, added sugars, fish bladders, and more.  Commercial wine producers use additives for consistency – they're making millions of bottles, and they want them all to look and taste the same.  That means adding defoaming agents, artificial coloring (virtually every red wine under $20 has the colorant "mega purple"), extra sugar, high fructose corn syrup, ammonia (part of the reason low-quality wine makes you nauseous the next morning), and genetically modified bacteria and yeasts.  All these additives offer companies such tight control over their wine that nature's seasons no longer matter. Every wine will taste the same, year after year and bottle after bottle.  We value wine guided by the diversity of nature, without interference from commercial additives.
Keto/paleo/low carb-friendly — no sugar or carbs — lab-tested to make sure they have less than 1 g/L (statistically sugar-free).  Most commercial wines are bottled before they fully ferment to speed up production and maximize profits. Some producers also add sugar or high fructose corn syrup to their wine, a process called chaptalization, to appeal to a sweeter American palate.  Some modern wines have more sugar than a liter of cola!  These keto wines ferment at their natural pace, which allows yeasts and bacteria to convert the natural sugar into alcohol, and the alcohol into other compounds.  Why so low? The main reason is health. We celebrate the ability to pair wine with a Paleo or Keto low-carb lifestyle that's optimal for health.  Sugar is also a main culprit in hangovers.
Low alcohol. Alcohol is toxic. So are water and oxygen in the wrong dose. Dosage matters. Even though alcohol content in wine has been rising on average (currently around 14%), we only accept wines with less than 12.5% alcohol. Lower alcohol wines have a more elegant taste, pair better with food, and let you experience the benefits of wine (improved heart health and lower insulin response) without the adverse effects of a higher dose.  We want you to be able to enjoy a couple glasses of wine with dinner while staying comfortably within the beneficial dose for alcohol.  By the way, yes you can still get a buzz, just a cleaner-no-hangover buzz!
Curated taste. Some natural wines are funky. Because we're fanatical about taste, we only accept wines that are clean, elegant, vibrant, and delicious expressions of what natural wine should be. Of all the wines we taste, only about 30% pass our taste and lab testing.
Fine wines from around the world. As the largest buyer and reseller of Natural Wines in the world, we have access to the finest wines from all the incredibly diverse winemaking regions across the globe, from France to South Africa.
Sustainable. All natural wines come from sustainable winemakers whose practices return nutrients and bacteria to the soil. These wines reflect nature's logic and design; they enrich the natural world instead of destroying it. Sustainable winemaking means lower yields and a longer growing and aging process; the exquisite end result is worth the patience.
More reasons it's worth it:

I didn't know about some of these…
Longevity
Polyphenols

Grapes make polyphenols to protect against fungi, bacteria, frost, and other harsh growing conditions (sidenote: fruits sprayed with pesticides have no need to ward off pests, and they produce fewer polyphenols. Go organic!). When you drink wine, those polyphenols protect you in a similar way. They neutralize damaging free radicals that stress your cells. Natural wines – without chemicals or additives – have a diverse variety of polyphenols, including Resveratrol (lowers inflammation), Procyanidins (strong antioxidants), Ellagic acid (helps regulate blood sugar), and many more.

Love and Connection

Connecting deeply with the people you love has incredibly positive effects on health, performance, and longevity.

Research

overwhelmingly

backs

this

up

. Of course, you don't need wine to engage in deep conversations or to form strong social relationships, just like you don't need a campfire to get a bunch of people sitting together in a circle. But both can help.

Micro biome
Lower risk of disease
More you might like: