Are Wine Additives Safe to Drink?  
It's crazy to think about now, but not that many years ago I didn't even like wine.  My palate was seriously screwed up–which isn't hard to figure out since I've told you how much I used to love places like Taco Bell and McDonalds!  Over time we've had various friends introduce both Kent and I to the lovely experience of enjoying a nice glass of wine, not to mention the fun you can have on wine tasting trips, and now we both love it.  This shot is from our trip to North Carolina: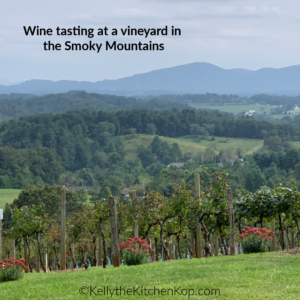 Our oldest son has even started making wine and has been learning a lot, I love that he's ALL about the natural way!  He and Kent enjoy the deep reds and I'm still into the lighter whites, but as time goes on I'm working on expanding my palate.
A lot of questions started popping into my head though, when a good friend told me that she gets headaches drinking domestic wines, but never gets headaches when drinking wine in Italy.
Hmmmm, that got me wondering, what's IN the wine here in the U.S.???
Then I found out about this no-sugar/no-headache/keto wine (<– get an extra bottle in your first box at that link) and how there's a reason they only source their wines from Europe.  So now we rarely drink domestic wines unless we're wine tasting.  More on this below…
Fun side story though–when the 6 of us went on a family wine tasting vacation up north recently, just by chance we found TWO wineries who only serve wine from sustainably grown grapes!  Check out what was hanging on the wall at one of these places, are they speaking our language or what?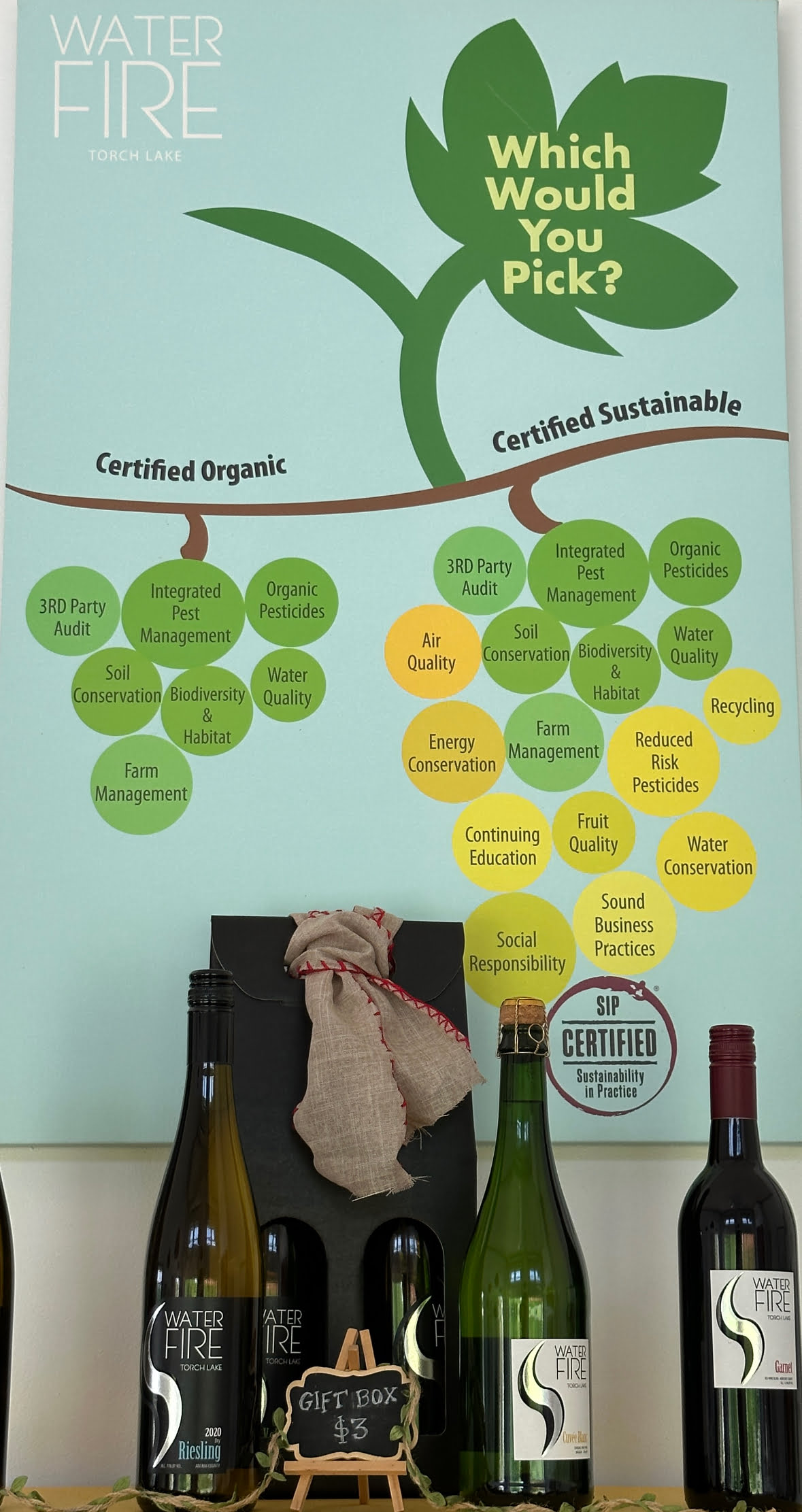 Don't you just love that after all these years, more people are finally catching on to what we want?!!!  Unfortunately they don't sell in stores yet, but fortunately, we can get this trustworthy wine anytime!  How do I know those are trustworthy?  Because I'm a PITA and ask people lots of stuff, and they send me information, such as the following that answers the question…
Are wine additives safe for us to drink?
Here are a few of the points they shared with me:
Apparently there's an ongoing debate among winemakers: are additives a mark of technological progress, to be welcomed into winemaking? Or are they shortcuts that produce inferior wine?
Interesting:  Shortly after the origin of winemaking (likely in Northern China around 7000 B.C.!), wine additives made their way into history. In 4100 B.C., Persians started using pine resin to keep their wine from spoiling. The ancient Greeks mixed their wine with perfumes, herbs, brines, and even seawater in attempts to improve flavor, and the ancient Romans were the first to add sulfites to wine.
Today, wine additives are common in industrial winemaking because they offer winemakers unprecedented control over nearly every aspect of the entire process. There are additives for color, texture, flavor, sweetness, clarity, fermentation speed, and more.  Basically it makes wine production easier.
In the United States there are 76 winemaking additives approved by the FDA[*], while the European Union allows 59 additives, such as:
Fining agents that reduce wine's haziness and make it less bitter
Defoaming agents that prevent wine from foaming
Preservatives that prevent wine from spoiling
Fermentation enhancers that speed up and standardize the fermentation process
Colorants that change a wine's color
Enrichment agents that change a wine's flavor

Additives are most popular with big, industrial producers who want to make the same wine, bottle after bottle and year after year.  (And us real foodies have learned that we don't want factory food OR drinks that come off the line perfectly the same every time, the differences are what make it real and more interesting!)
However, many smaller producers also use additives. Additives can save harvests from problems with fermentation or aging. They can also improve the profile of wine that doesn't turn out quite how the winemaker wants.
However, there are three things to consider when talking about additives:
1. Transparency in Wine Additives
In virtually every other consumable good industry—food, beauty, personal care products—ingredient lists are mandatory. You can look at the label and know exactly what you're getting.  But because wine is taxed as alcohol, not food, the government doesn't require producers to disclose ingredients.  This makes me CRAZAY!!  The one exception is sulfites, and that labeling doesn't mean much, because virtually every wine in the world contains some amount of sulfites because they're naturally occurring in wine.
For example, have you heard of "Mega Purple"?  It's a type of super-concentrated grape juice, and it's a common additive that improves the color and body of red wine. It also stains your teeth and increases wine's sugar content if it's added after fermentation.  If you're drinking red wine, you have no way of knowing if that's in there.
Even high-end wines often contain additives!
2. Purity of the Wine
Another important factor to consider is how additives affect you.  Overall, there is very little research surrounding wine additives and their effects on human health. While many are safe, others can be toxic.  12 of the legal additives are classified as "health hazards" by the National Institutes of Health, 2 of them are considered "acute toxins", 4 of them are derived from 6 different animal organs, 8 of them are derived from various molds, including the mycotoxic Ochratoxin A, and because wine companies are not required to disclose their additive content, you have no way of knowing what you've actually consumed or what you might be sensitive to.
Best is to have the same apparoach with wine as we do with food:  the fewer additives the better.
3. Quality of the Winemaking Process
The third issue with wine additives is their impact on a wine's quality.  "Most established wine tasters will be able to tell you if a wine had grape juice concentrate mixed with it. They can distinguish between the shallow flavor of oak chips and the rich depth that comes from aging wine in oak barrels. They can taste the difference between wine fermented with wild, native yeasts, versus wine fermented with commercial added yeast.
Additives remove Nature's influence, giving winemakers extraordinary control over their final product. They speed up and standardize the winemaking process, but in doing so, they remove a wine's soul.
You can taste the difference right away when you try a glass of wine that hasn't been manipulated with additives. The wine is alive. It holds within a story about the year it was made: the changing seasons, the richness of the soil, the careful harmony between the winemaker and Nature herself."
We want TRANSPARENCY
"The wine industry is publicly opposed to transparent ingredient and/or nutritional labeling, and has spent a lot of money lobbying against it.  They say that a wine label simply doesn't have the 'real estate' available for the FDA serving facts panel that is on almost all food and beverage labels.  They also say there's no established standard for determining all of the required information for the serving facts panel. Of course, neither of these statements are accurate."
Look at Dry Farm Wine's new transparent wine label!!!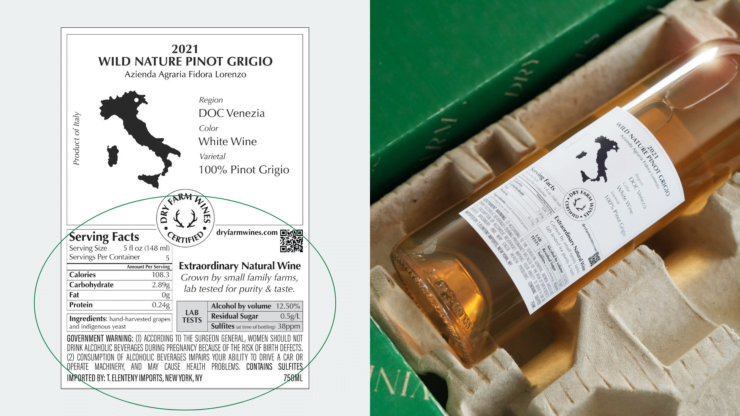 Here's what's on their labels and NOT on labels from other wine companies:
A full Serving Facts panel, with lab results from a certified food and beverage lab that gives accurate nutritional information.
An accurate ingredient list, which tells you exactly what's in the wine.
Lab tests, which give exact measurements of alcohol, sulfites, and sugar.
They're definitely leading the way and I'm so grateful!
More you might like:
Read more about this keto/no sugar wine here.  "ALL our

wines

are from abroad. We don't have any

wines

from the states because of what your friends experience (headaches).

Wines

in the U.S. are industrially farmed and there isn't a tradition of clean, organic, artisan farming in America.  In Europe, vines are older and winemaking is cleaner."