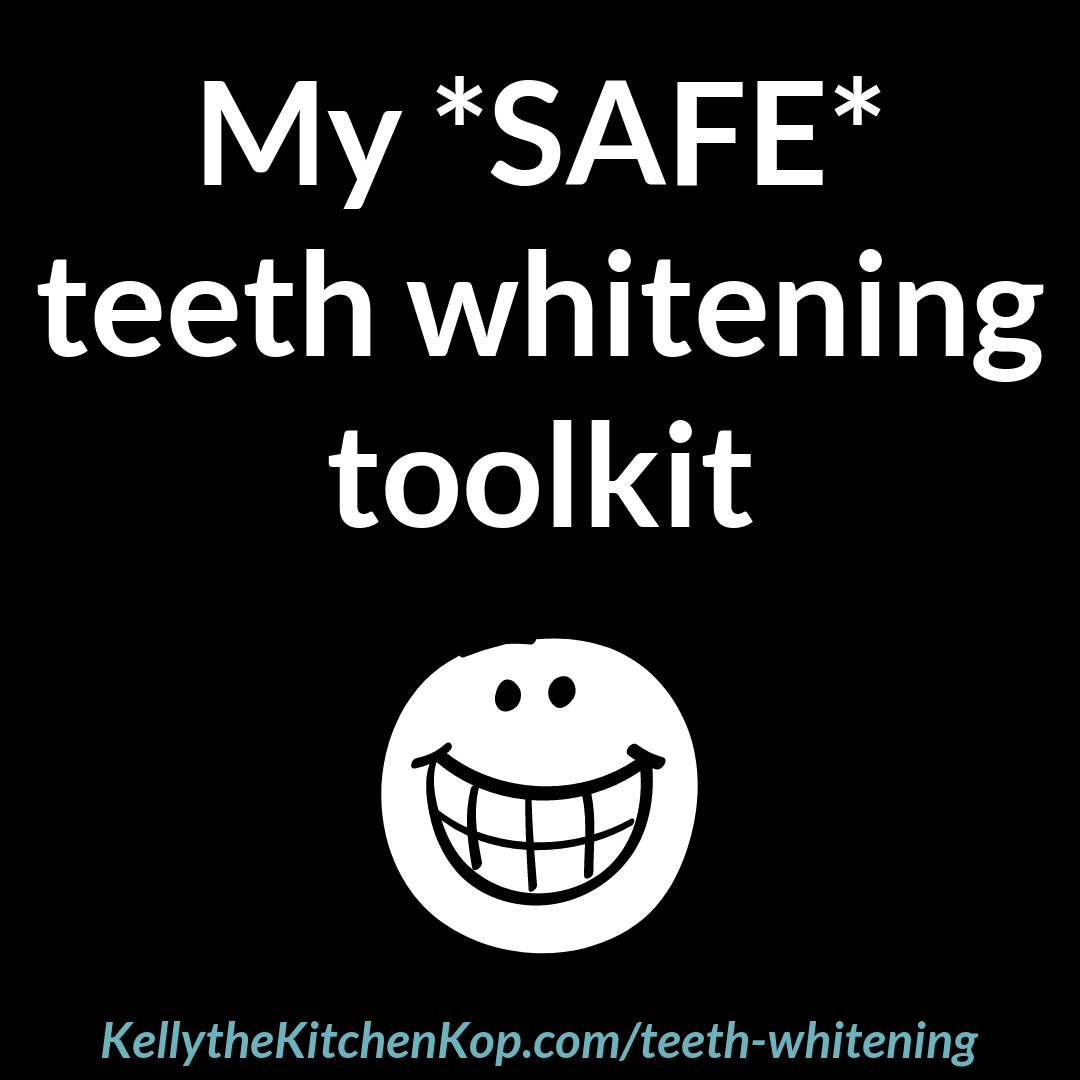 Safe teeth whitening is possible!
I can't even tell you guys how many times I've been THIS close to using those toxic bleach strips for teeth whitening, but thankfully every time something stopped me…
It could be that over the years I've been trying to get away from bleach around the house–I'm down to just a splash every few months in our laundry, and it's very rare to use it for any cleaning these days.
Or maybe it's that we pay for filters to keep the Chlorine out of our drinking water and showering water.
So the thought of putting toxic bleach into my mouth on purpose grosses me out.
And I just knew there had to be other options, so I started experimenting with quite a few and I'm so glad I did!
I was ready to be DONE with the Tom's Fluoride-free toothpaste that we'd been using for years.  
I didn't put this together until our son said to me one day, "could this be MAKING our teeth yellow??"  I found out that it has glycerin, and most glycerin is derived from GMO vegetable oils–this ingredient in Tom's (and other toothpastes) can cause plaque build up and the formation of "a sticky layer" on your teeth.  It makes sense that this would be one cause for yellowing!  (Scroll all the way to the bottom to see specific studies about this.)
My safe teeth whitening tools are helping!
It's a slower process than the results I could get with bleach strips, but the safer products I've been using ARE working since I've been consistent with using them.  I've noticed in recent photos that my teeth, while not perfectly sparkly white yet, are getting better for sure!  Of course I stink at remembering to take before and after photos, but this one at least gives you an idea: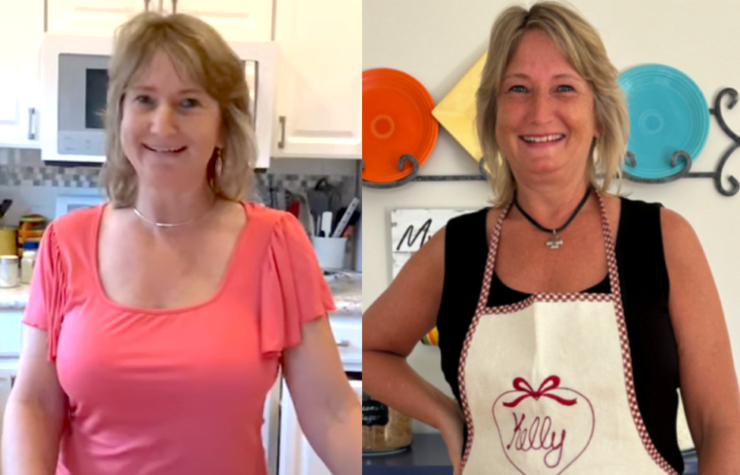 So here's what sits on my bathroom counter: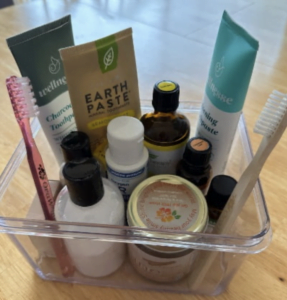 I'll share my routine and explain one-by-one what these safe teeth whitening tools are and how I use them.  You can try one at a time if you'd like–or start with one and add more as you can, but I'm inpatient and prefer to hit things from all sides, so I use a combination of products…
In the morning I put just a little of each of these first three powders into my hand:
On alternate mornings or when I'm in a hurry, I use this whitening toothpaste, because sometimes you just want a toothpaste!
I try to remember to rinse my mouth out after drinking my morning coffee or after having red wine, although I'm normally a white wine gal.
When I brush before bed I use this charcoal whitening toothpaste.  In the past I used my friend Jill's charcoal whitening powder, but it was messy.  If you want to save some money you could try that though and the other options at that post.
Need one more mint-free option?  I also sometimes use this lemon toothpaste, again, if I'm taking a homeopathic remedy for some reason.  This one isn't necessarily for whitening, but it also has no glycerin, Fluoride, or other junk.
See photos of all of these below!
How to SAVE $$$ on these safe teeth whitening tools & more about the benefits:
Use the code KOP to get a discount at this link to get the following:  

The Shine powder has white kaolin clay powder for whitening without damaging enamel, AND Hydroxyapatite for remineralizing! It lasts for a LONG time.
The toothbrushes we love are biodegradable and they just plain clean your teeth better because of the bristles–most toothbrushes have the bristles too close together so you can't effectively wiggle between the teeth and down into the gum line.  I just saw this on their site:  "We're donating 100% of the profits from BrushEco sales to organizations that are committed to creating and implementing solutions to our global plastic problem."  Wow!!!
And the Healthy Mouth Blend fights bad breath, it's organic, gluten free, soy free, GMO free, Fluoride-free (Fluoride can cause mottling on teeth over time), SLS free, glycerin free, and NO additives, toxins, 'questionable ingredients', or artificial anything!
That sale ends soon, so order before you forget!

Use the code KOP for 15% off on new orders at this link to get the following:

The charcoal whitening toothpaste pulls out toxins, it's glycerin-free, Fluoride-free–no poison control warning needed like in conventional toothpastes!
The whitening toothpaste is also glycerin-free, Fluoride-free, and has the Hydroxyapatite for remineralizing.
The silk antimicrobial dental floss has a safe wax so it glides nicely.
The safer flosser picks are non-toxic and biodegradable too!
The kids strawberry toothpaste has the same safe ingredients as the adult formulas, with a flavor kids often like better than mint.
Try their new probiotic mints to help with a healthy gut!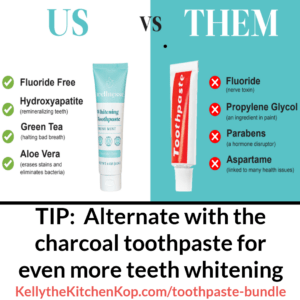 Here are a few photos of my favorite safe teeth whitening tools!
Let me know if you have any questions about safe teeth whitening or anything else!
More you might like for dental health: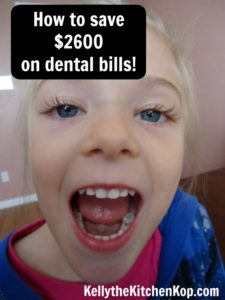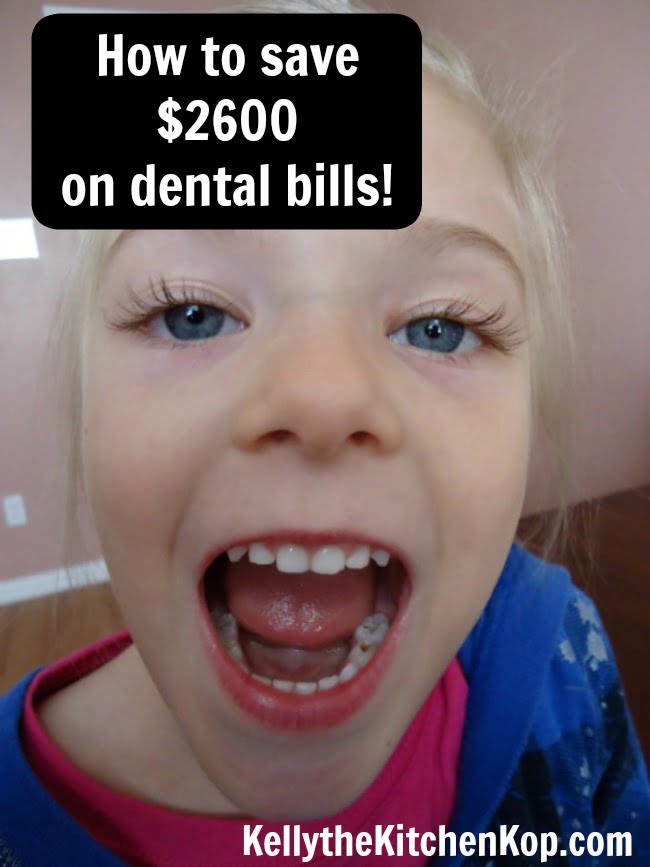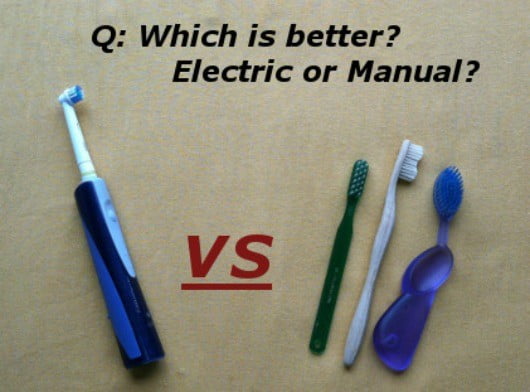 ————————
Studies found by Katie at Wellnesse showing how glycerin can cause plaque build up and the formation of "a sticky layer" on your teeth:
Rios, D., Amaechi, B.T., & Ccahuana-Vasquez, R.A. (2015). Effects of Glycerin on Dental Plaque Accumulation: A Systematic Review. Journal of Dental Research, 94(2_suppl), 167S-176S.
Findings: The review found that glycerin can increase the amount of dental plaque on teeth, which can lead to tooth decay and gum disease.
Al-Omari, W.M., & Al-Hiyasat, A.S. (2017). The Effect of Glycerin on Enamel Surfaces: An in vitro Study. Journal of Clinical Pediatric Dentistry, 41(3), 205-208.
Findings: The study found that exposing enamel to glycerin for just one minute caused significant changes in the enamel's surface, including the formation of a sticky layer that could promote plaque buildup.
Islam, B., Khan, S.N., & Khan, A.U. (2017). Dental caries: From infection to prevention. Medical Science Monitor, 23, 5261-5271.
Findings: The review article discusses how glycerin can promote the growth of dental plaque, which can lead to tooth decay.
Shetty, V., Kothari, M., & Baig, A. (2018). Comparative evaluation of plaque removal efficacy of a commercially available herbal and a non-herbal dentifrice: An in vitro study. Journal of Indian Society of Periodontology, 22(4), 317-321.
Findings: The study found that a non-herbal toothpaste containing glycerin was less effective at removing plaque than a herbal toothpaste.
If you've found natural ways to have safe teeth whitening success, please tell me about it in the comments below!