For the 2011 Weight Loss & Wellness Adventure, I wasn't going to start until Monday, and if you choose to wait 'til then, obviously that's totally up to you (Mondays are always good days to start new plans).  However, I realize that many of you may be ready to rock on January 1st, so especially if your wellness goals include weight loss or going grain-free for whatever reason, here's what I suggest you do today..
1.  Plan your meals and go to the store.
Monday we'll start our discussion on low-carb/grain-free diets and other wellness topics, but for today, just work on getting some low-carb food in the house.
2.  Note your weight and take measurements of your problem areas so you can gauge your loss of weight and/or inches!  If you are diabetic or pre-diabetic, hopefully you've already been monitoring your blood sugars so you can note any differences there.  Also, be sure to note how you have been feeling, your energy levels, any health concerns, even your libido (yep, I said it), so you can gauge those important changes, too.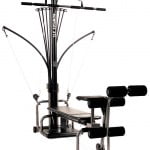 3.  Soon we'll also talk more about exercise, but if you're itching to get moving today, go ahead and GET.  It's supposed to be nice and warm here in Michigan, so I'm going out for a run/walk for sure, and if I'm really feeling it, I'll also get on the Bowflex
downstairs.  (I cannot believe how cheap those are now compared to when we bought ours years ago, and I LOVE that it's right here at home.  You can add extra weights or doohickeys so you can do all different exercises on it.)
Either of those alone pretty much guarantees I'll be SORE tomorrow since I've been on my butt for so many weeks, and if I do both, I'll really be hurting…
Let's all whine together on Monday, ya wanna?
Go to main 2011 Weight Loss & Wellness Adventure post with links to ALL the posts so far.