Are you often overwhelmed and frazzled, sometimes to the point of tears, with a to-do list so heavy that you feel buried under the weight?  And then do you feel guilty for fretting over something as unimportant as a list, when some are dealing with things like poor health or other real problems?
You might say that I know the feeling.
(Before we go further, you may want to check out this post:  20 ways to fight anxiety and depression naturally.  Or this one:  My all natural chill pill.)
Lately, however, I'm gaining new clarity about this struggle in my life and getting a much better handle on it, mostly thanks to my friend, Jen.  In recent years, much of the meaningful advice or helpful observations that I've come across on motherhood, time management, and peace were from Jen's blog.  (Sadly, her old posts are no longer available on her new site.)
Like this:  The Courage to Rest.  In that post she shares a powerful story about the daily schedule of Mother Teresa's Missionaries of Charity, and she explains how bringing peace to our household often comes at the sacrifice of a large chunk of our to-do lists.
I found that more than anything it was an exercise in letting go of control. I understood on a visceral level why it's monks and nuns who are known to have the most peaceful daily routines: because it requires great trust in God to walk away from your endless list of demands when there is still technically time to get a few more things done.
It requires tremendous faith to rest.
As I find myself getting overwhelmed yet again by having one (or fifty) too many things piled on my plate, I've been thinking about this lesson often. There's an almost exhilarating rush in those moments when I close the laptop with so many emails left unread, shove the laundry baskets aside, and push the paperwork into a pile to be sorted tomorrow. It feels dramatically counter-cultural, and even exciting in an odd way, when I muster up the courage to rest."
"God is not asking you to do what He does not give you the time (or health, or resources) to do. So be at peace."
There are many more nuggets in that post that I still haven't fully grabbed onto yet, so I'll be going back to it now and then.
As if all of that weren't enough, the other day I read her new e-book, The Family First Creative – 42 Tips for Following Your Dreams While Putting Your Family First, which helped me pull it all together even more.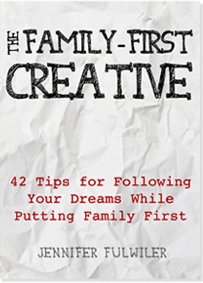 She gives tips for figuring out what your passions in life are (in case you don't know already) by asking: 
What gifts did God give you to help the world in a way that only you can?  Gifts that when you use them, you are energized?
My passion for helping people become healthier helps to pay our bills, but it's not that way for everyone.  For some, pursuing their passion doesn't bring in any income at all, but it gives them something else tangible:  the energy needed to thrive in other areas of their lives, like motherhood, or in different ways if you don't have kids.
She encourages writing out a "Family Vision": 
Sit down and figure out what you wish you could fit into your week when you consider your spouse and their passion/what gives them energy, your kids needs, and your own passion/what gives you energy.  Then plug things in to make your priorities match up to how you actually spend your limited waking hours.  Once this match-up happens (and you decide what to pursue now and what may need to wait for another stage in your life), it helps you to live the life of peace, joy and service that you were called to live.
It really helped to get it all down on paper and realize that, thankfully, I'm not all that far off from where I'd like to be.  Most of my day reflects my priorities, except the times when I work on the computer too much!  It really helps to have renewed my commitment to keep the laptop closed on Sundays.  (Read more about that in the comments here:  Has Technology Stolen Your Evenings, Weekends, and Vacations?)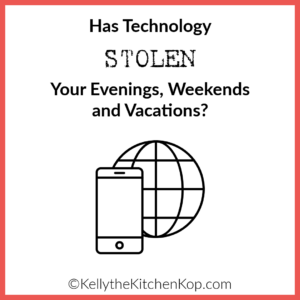 If you have any insights or tips on all of this, I'd love to hear it!
Of course taking stock and making a new plan won't mean every moment in life will be all sparkly.  And as Jen says, sometimes you'll need to kick into "survival mode" to get through extra busy times, but if you know that you're generally headed in the right direction you'll still be at peace.
More joy and peace = less stress and anxiety = healthier bodies, families, and souls!
Her mini book, The Family First Creative – 42 Tips for Following Your Dreams While Putting Your Family First was free for those who pre-ordered her main book, Something Other Than God, here's a little excerpt:
"I pushed the official pre-order announcement date way back because I didn't want to cut anything helpful from the book, and I needed the time to get it all down. (Without letting my house fall to pieces in the process. Which is totally something I would do: Yell at the half-naked five-year-old to get her sister more Cheetos for lunch because mommy is stressed about writing her book about making family your first priority.)"
Haha, she cracks me up!  As a matter of fact, she's now an on-stage comedian, talk about a plot twist!  
Follow her on Instagram @jenniferfulwiler for some laughs!
More you might like: