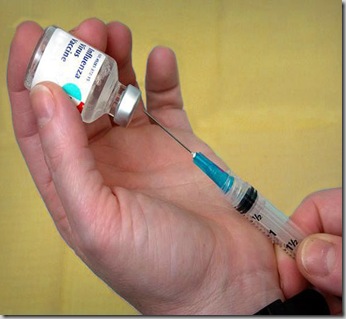 Below you'll find a list of all past posts on the vaccination issue. (More will be added later, I'm only just gettin' goin'.)
If you want to see these posts in a prettier format, go here.  That's where I'm adding new posts these days.

And you may want to check out this DVD:  Vaccines: The Risks, The Benefits, The Choices.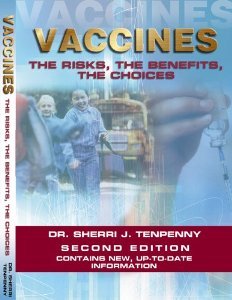 But first, please read this important information:
Do not make your decisions about immunizations based on what you read here.  Take everything into consideration, yes, but do not rely totally only on what I share with you, because there is way too much that I don't know.  I've done a good bit of research on this issue, enough that I can put a few sentences together and you may think I've got a solid handle on it, but I'm not even completely confident with our own decisions, let alone feeling OK about directing others – it's all too confusing with valid arguments on each side to ever know for sure.  (I often think maybe we should've refused to have our kids get any vaccines after all.)  Use what you read here to motivate you to do more research on your own.  I'll tell you what decisions we made after a LOT of reading and research, but do not blindly follow what we did.  Ask your doctor, read books, devour websites (Google "immunization safety" and you'll have enough to keep you busy for hours), and get both sides of the argument so you can make an informed decision on what is best for your child and your family.  As with almost every topic, especially a hot one like this, there are just as many opinions "for" shots as there are "against".  I will not tell you what to do, and I wouldn't want you to listen to me if I did – as I say all the time here on the blog:  doubt me!  Doubt everyone.  Ask questions.  This is your child. Even though it's difficult and time-consuming, start the research process yourself. Let these posts be a starting point…
PAST POSTS ON VACCINATION DECISIONS
How we came to our personal vaccination choices:  Part 1: Vaccination safety issues and the 7 factors that led to our decisions.  Part 2: Our 5-part plan for vaccinations and how do school exemptions work?      
***This is the form we used for the schools AND for the doctor's office when opting out of certain vaccines.
Is the School Pressuring You to Follow the "Required" Immunization Schedule for Kids (or Pressure from Work?)
Healthcare workers:  how to refuse mandatory vaccines and not get fired.  More posts on mandatory flu vaccinations.  And another:  150 Employees Fired for Not Getting the Flu Shot.  See all my flu shot related posts.
Read about a chat I had with the nurse at our doctor's office. And here's the follow-up story to that post.  And one last update to the story with info on the school getting in on all this, too, and what my doctor said when we sat down to discuss everything.
Read about about another visit to the doctor's office for our 4 year old's shots…see if you get as riled up as I did.  This is where it was proven to me for SURE that docs, the CDC, none of them know what they're doing.
A post with quotes from Jenny McCarthy & Jim Carey on vaccinations that are right on the mark!
Books on vaccines from Barbara Loe Fisher
A good book on the topic:  A Shot in the Dark
A sad news post about STD's.
Check out the comparison of "mandatory" vaccines in 1983 vs. 2010.
This MSNBC article makes me want to FIGHT, because that's what I'll do if they try to give it to *my* school aged kids.
Here's a great post from the Corganic blog on the Swine Flu: Dan says, "This is a must see video before accepting any vaccine, especially a swine flu shot." After watching that I received this email from my friend, Natalie:  "Did you see the small article on page A2 of the Grand Rapids Press today, Friday, July 10, entitled "Kids focus of flu vaccine"?  The article states that school-age children will be a key target population for a pandemic flu vaccine in the fall, and they may get their shots at school in a mass vaccination campaign not seen since the polio epidemics of 1950s." I couldn't find this on MLive, but as Natalie guessed, this had me fuming.  The school certainly had better send home forms first so I can put a big red "don't even think about it" on the paper and send it back.
Baby Care/Natural parenting, with a little info on vaccinating your baby – PLEASE research this before you let them pump your newborns full of foreign substances!
Newsmax reports that the government finally admits link between vaccines and autism. It's about time they took responsibility!
Read this article from Natural News for a good overview on the Hepatitis B Vaccine.  Here's a scary one:  Newborn Taken From Parents Who Refuse Hepatitis B Vaccine and Ask Too Many Questions.
More about Vaccine Overload
Be sure to watch this for more helpful information:  The Greater Good
Building up your immune system – your very best option for good health!
2 more Vaccine gripes – one on the flu shot, the other on the Rotavirus vaccine
Read the 6 reasons why Sarah avoids vaccines and her follow-up post:  How to resist Pediatrician pro-vaccination tactics.
Watch this Vaccine Debate for a fairly balanced look at things.
What part did the vaccine play in the the decline of polio?
Is the School Pressuring You to Follow the "Required" Immunization Schedule for Kids (or Pressure from Work?)
This one is a "mix-up" post with lots of different info, but one thing included here is a video that shows how measles was viewed not that many years ago.  Click here to watch it.
photo:  AJC1