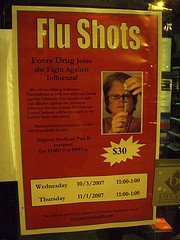 Oh how savvy those drug companies are.  Thank you Lori, for sending this to me:
"Kelly, did you see this?  It's a popular PBS kids show promoting the flu vax. I saw this while my son was watching TV. I wouldn't be surprised if the pharmaceutical companies paid for this program. It's called 'Sid the Science Kid'…"
Flu Propaganda for Children
I'd love to hear your thoughts, or rants, about this!