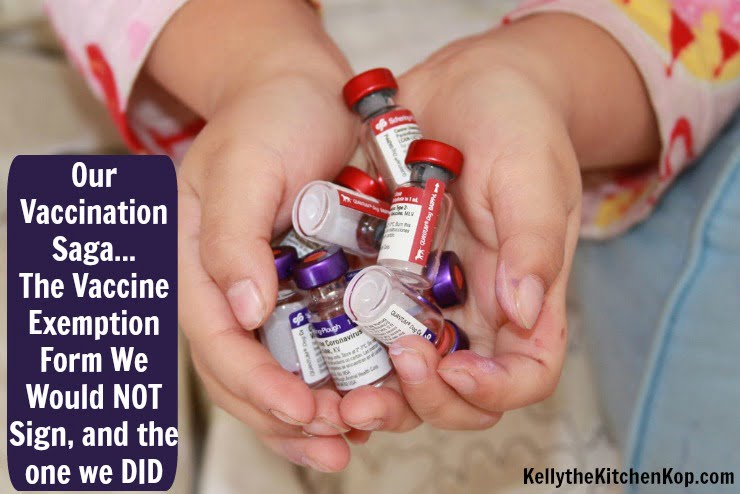 Our vaccination saga and the only vaccine exemption form we would sign…
A lot has happened since the certified mail came from our doctor's office with big red letters stamped across the top:  "Third notice! Your child is overdue for their vaccinations!"  I've got the latest scoop on our saga for you today, and the story has taken even more twists when the school got into it, too…
First, if you haven't read the back-story, it's all here:
So all this began because we have chosen not to vaccinate on the health department's schedule. 
We do some vaccines but not all, based on the research we have done and the information we've learned about immunizations.  (And the more I learn, the more I wonder if we'd get any shots if we had to do it all over again…  I'd have to do some more digging and research EACH shot first.  Plus I'd watch these again:  Vaxxed and the Greater Good.)
Where the school came into all this…
(Note that we homeschool now, but didn't when I wrote this post.)  Right in the middle of getting the first, second, and third certified mail notices from the doctor's office, we also got a notice from the nurse's office at the middle school saying that our 11 year old is due for the Varicella and Meningococcal vaccines.  I threw it away and eventually got a phone call.  You guessed it, they need us to sign their waiver form, so I asked her to send it to me. It was from the health department and full of phrases like, "I understand I am putting my child at great risk of disease by not vaccinating."
Why would we sign that form that would basically make it look like we are negligent parents? 
This is the vaccine exemption form we did sign and sent back to them:  upload the form here.  (Note that that is an older version that you could copy to use similar wording.  Find more info here.)  It says that I understand there are risks of not vaccinating, and I also understand that vaccinations have risks, and we have chosen not to vaccinate.  The nurse's office secretary called me because she was unsure if that one would be accepted.  I said, "This is a valid State of Michigan exemption form and legally the health department has to take it."  She was nice but said, "They told us that ALL parents have to sign the new 2010 form, or else we are not compliant.  It's the law, it's just the way it is."  I said, "Can you just send it in and see if it gets through, and if they contact you, have them call me?"
She was very sweet, almost apologetic, and said that this is just her job.  I empathized with her and asked if this part of her job was a nightmare.  She said, "It's a GIGANTIC part of my job. We have to collect all these forms by a certain date and then file the HUGE report."  I asked her to have the nurse call me.
When the nurse called she was really nice, too, and I remembered how she impressed me last spring at middle school orientation when she matter-of-factly said that parents can just sign a waiver form if they choose not to vaccinate.  She obviously gets it and is very frustrated by the whole process, too.  She explained that they have to file gads and gads of forms by a certain date or they are "non-compliant" and can lose funding.  (Can you believe how smart the drug companies are?! They got government agencies to mandate pumping our kids full of drugs, it's brilliant on their part! Completely sick and wrong, but brilliant.)  She said that each year they have to apply for an extension because all the kids needing vaccines can't get into the health department for their free shots in time before the deadline.  "Every school nurse I know is pulling their hair out right now."  (This same school nurse was awesome during our saga with trying to get rid of lice naturally!)
Apparently there's only one other Mom in the whole district (we live in a huge school district) who has turned in the same form as we did.  She said she'll try her best to get it through, but if they don't approve it, "You'll need to sign their form or they won't let your son go to school."  She was just telling me where it could potentially lead, and it was obvious that she knew how ludicrous this was.  It was still refreshing to talk to her, because she was very understanding as to why we wouldn't sign that form.
Another source who I can't name because he's afraid he'll lose his job for telling me this, said that the health department and doctors don't even agree on much of this.  For example, the meningococcal shot they want our son to have is up for debate as to when it should even be given.  Docs say it shouldn't be until kids are older, and the health department says kids need it at middle school age and that "doctors just need to be educated".  They can't get it straight between them and yet we're supposed to just follow along?!  These are our KIDS!
Is there really any wonder why we don't blindly trust any of them?!
A few weeks later I ran into the school nurse and asked if my form got through and she said it did!  One hurdle down, and one to go with the doctor's office…
We won't be signing their form either…
So I didn't sign any of the doctor's office vaccination exemption forms, and then they began breathing down my back because 2 of our kids were due for well child checks.  When the next set of papers came, again certified mail, stamped with big red letters "THIRD NOTICE!", I was really feeling torn inside.  They sat on our kitchen counter for a couple of weeks and I fretted and prayed, and Kent and I talked with each other and some friends — we just didn't know what to do.  I knew I wasn't giving my kids shots that we'd already decided NO on, and that we weren't signing their form for sure.  I also knew our kids didn't even need well-child checks.  But on the other hand, I was thinking of those times when we just might need a medical doc, and I didn't want to give up the relationship we've already built with our doctor unless we absolutely didn't have a choice.  So Kent and I decided to try to preserve that relationship if possible, and that it was worth the co-pay fee for three well-child checks.  I decided to fill out the forms I DO like and set up the appointments with our doc and just ask if he would accept them.  We've always been able to talk openly in the past, so I was hoping things wouldn't be any different now.
I've gone to this office for many years, including throughout all our miscarriages, and walking in and seeing the staff and our doctor feels like seeing old friends (even though, thankfully, we very rarely see them anymore). When he came in I was reminded of what a nice, 'normal' guy he is, a Dad himself, and really easy to talk to.  I told him about all the big red-lettered papers sent from his office and about the form that I wouldn't sign because the wording was so rotten (yes, that's exactly how I said it), and asked if he'd accept the ones I brought.  He said, "Yeah, that's no problem.  We just have to have something signed on file showing that we've talked about it, and that you know the risks of not vaccinating."
I told you he was a good guy.  (See my newer post:  Why I Love Our Doctor Even Though We *Strongly* Disagree.)
Agreeing to disagree works for us.
He made it clear today and in the past that he believes vaccinations are important, and his kids do get the shots, so I said, "I know we disagree on this issue, but I really appreciate that you still respect our choice, because a lot of docs don't."  He said, "Yeah, some doctors or clinics won't even see patients who won't vaccinate, but I can't make you give your kids shots and I'm not gonna tell someone they can't come back over it."
Obviously, I'd rather our family doctor was on the same page as we are, but having someone who at least respects our decisions, even if he doesn't agree with them, is fine with us.
Hopefully I'll get to him one way or another…
On a side note…  I saw the latest Readers Digest in the waiting room with the article from Gary Taubes which challenges the theory that fat is bad for us, so as I was walking out I said to him, "Have you seen this article? Will you read it for me?"  He said, "Thanks for the homework!  OK, I'll read it." I replied, "I knew you would, that's why I love ya!"
So if I can't convert him on the vaccine issue, maybe I can win him over on the issue of saturated fats.  🙂
Related info, exemption forms, and more:
Again, this is the vaccine exemption form we DID sign
How I Ended up on Fox TV News Yesterday… (on vaccines)
The other side of the recent Pertussis story from Dr. Tenpenny (It's about half-way down that page.  Even further down on the right is a scary video about mysterious vaccines given to our military…)
Finding a doctor who will be with you on these issues
My friend, Amy, found this on why NOT to sign self-incriminating forms from doctors or schools
NOTE that now, years after this post was written, we are homeschooling, and don't need to concern ourselves with what the school wants anymore.  Sadly, though, the shots issue will rear its ugly head again and again through the years as our kids head to college and the workplace…
Here is another sample exemption form that you could use to help you write your own if needed, but at that link they explain that as far as they know, a doctor has never signed that form.  It also says there:  "I would personally not submit a letter like this to a physician or a school board until I had done a lot of homework on vaccination exemptions in your area and state to make sure I wasn't shooting myself in the foot regarding an exemption by presenting the letter as written below. I encourage you, therefore, to use this letter more as a resource to learn about vaccinations rather than as a boilerplate to be presented to the authorities who think they have the right to tell you what to put in the bloodstream of your child."