Foods that increase fertility–could infertility and nutrition be linked?!
Below you'll find many helpful links, but first the back-story…
When Mother's Day rolls around each year, my heart always gets a little heavy when I think of those who feel sadness on this day.  Whether they're missing their Moms like I am, or for those who long to be mothers (and fathers) and who ache for a child of their own to love and to raise.
Kent and I know that feeling well.  
We struggled with infertility for a few years, both with conceiving and carrying a baby to term (we've got a whole team of precious souls waiting for us in heaven), but at the time I thanked God often that our problems began after we already had our oldest.  It didn't make any of it easy, but it sure helped because I could say, "At least I'm a Mom."  I said that so many times over the years that I lost count, and it not only brought me comfort, but it also served as a reminder to pray even more for those who go through all that pain and don't have any children yet.
It wasn't until our son was six that we were finally able to conceive and carry another healthy baby to term.  
By that time we'd already built our new home with his room, our room, and a "guest room", fully expecting that we'd forever be a family of three.  Thank God He wasn't done growing our family and now we have four kids and we filled this house right up!
Sometimes it seems like forever ago that we struggled with infertility.
I've had trouble getting pregnant and also carrying babies to term. I've had many miscarriages, and with 10 babies waiting for us in heaven, what a party we'll have someday!
We saw a fertility specialist and tried a few different things.  We weren't exactly faithful Catholics back then, but Kent just knew there was a line he wasn't comfortable crossing, so we never did artificial insemination/in-vitro fertilization.  We tried shots to increase my fertility, but they didn't help much.  Once I was pregnant with twins, but I miscarried them.  🙁
It wasn't until we "gave up" ever having more kids that we were able to conceive again, and yes I think stress is a factor, but I did still have miscarriages on and off after that.  Due at least partly to what I found out later was a genetic translocation that I carried which can cause miscarriages.
God helped us through it all, and sometimes I still can't believe we were finally able to have FOUR kids. This picture is one of my favorites, taken after our youngest was born.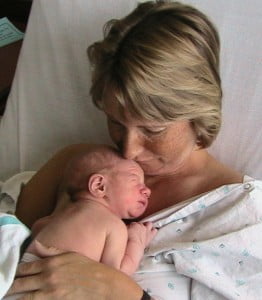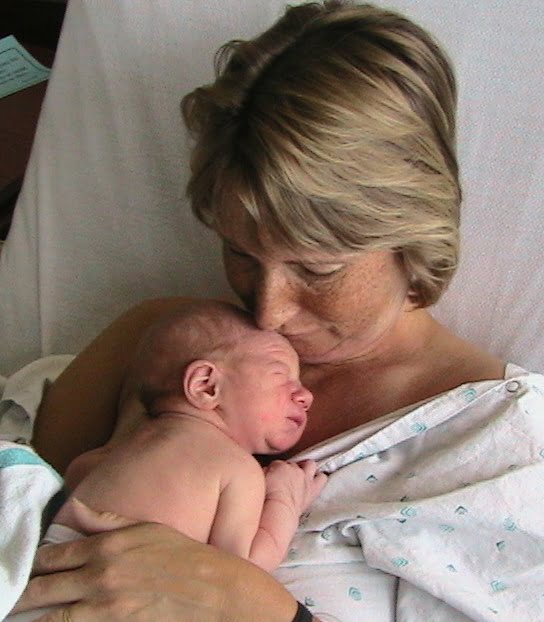 Be open to where God may lead you…
I'm sure now that along with many prayers, nutrition played a part in my inability to conceive for a number of years, but I blindly followed whatever the docs said, and trust me, they know nothing about nutrition.  I didn't even THINK to look into a connection between infertility and food, or to try and find foods that increase fertility.  I also didn't look at other natural options to increase our chances to conceive and finally have another baby.  If you're struggling with infertility now, I hope that you'll be open to a variety of ways to finally conceive, not just conventional/medical options.
The nutritional or more natural solutions in the links below have helped many women conceive and carry babies to term.  
Please check those links out.  (Or if you know someone fighting this battle right now, please share this post with them!)
Foods that increase fertility…
If it weren't for what happened with me, and the stories I've heard over and over since then, I probably wouldn't believe how powerful real, traditional foods can be.  But once I found the Weston Price Foundation (read my "food conversion' story here) and learned the principles of true nourishment, my body became healthy after years of eating so many rotten foods that I had no idea how bad they really were for me.
Not only does eating better help women get pregnant and have healthier pregnancies, it also makes healthier babies too!  
Our youngest, born after I learned about these real foods, has by far been our healthiest and easiest to raise because of his easy-going temperament, and learning comes easier to him as well.  (Having kids who struggle with behavior and learning is very stressful on parents!)  As I said, if it was just my own story I may not have believed the difference it can make, but I've gotten a ton of emails over the years from those who have seen the same results after changing their diets.  It's not even that tricky, real food tastes so good!  (Need help?  Get a free grocery cheat sheet here when you sign up for my newsletters.  If you're already signed up but need access, just email me:  [email protected].  Or get my book here.)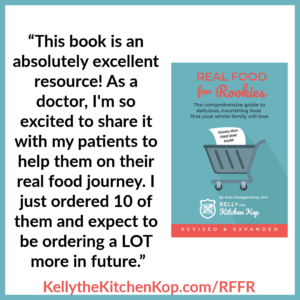 Be sure to read more about the foods that increase fertility in the links below!
"But what if I STILL can't get pregnant?"
After you've explored it all, implemented a healthier diet, and tried everything, what if you're still unable to conceive?  I pray that your heart is at peace with it, so you can still enjoy this amazing life that you've been given. Whether it's by using your gifts to help others in some way other than motherhood, or by opening your heart up to adopting a child who needs a home. God is still good, even when we don't understand all that life brings us.
I've often shared this story with friends who are trying to conceive…  
There were many moments when I felt angry and confused, but once when leaving the hospital after another ultrasound showing no heartbeat, I knew what was to come since I'd been through it so many times before:  The waiting, sometimes it took weeks, for the baby to pass, then the very heavy cramping and bleeding, sometimes over a period of days until I knew it was over.  This day I was heading out toward my car with tears streaming down my face and felt thankful that instead of the typical "Why me?" questions, that day He gave me the grace to pray, "Lord, I will trust You still…"
That particular miscarriage was after our second son was born.  We've been blessed to have two more babies since then, and I learned just how powerful that prayer of surrender can be.
If you've had similar issues and learned about foods that increase fertility, nourishing diets, and more natural infertility treatments, etc., please comment below and share your story with us!
***Information and links on overcoming infertility, and the connection between infertility and nutrition: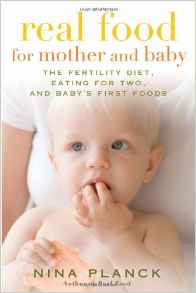 For later or if you already have children…