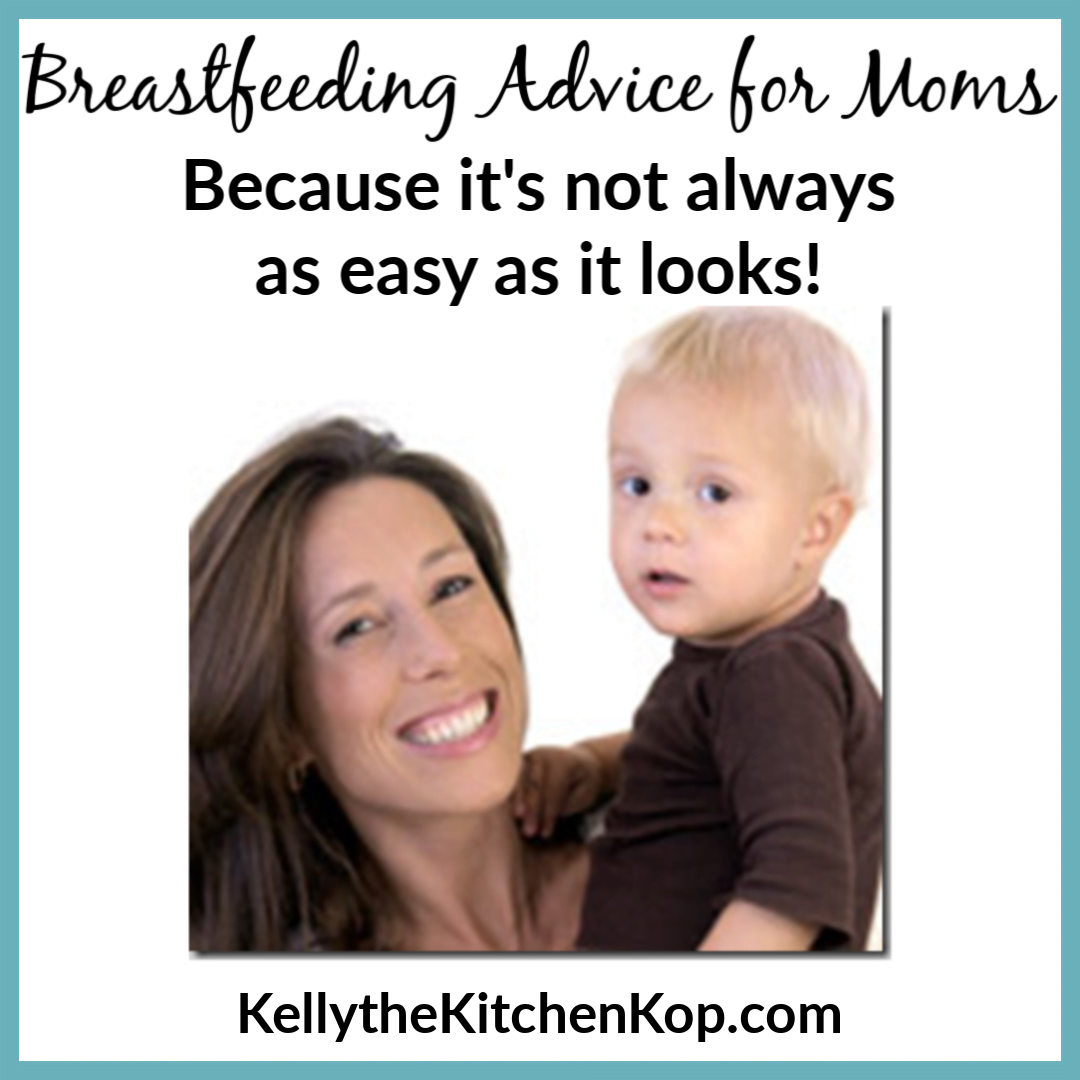 Today I'm sharing advice for breastfeeding moms, because it's not easy for everyone and often it takes a few days to get into the groove!
When we went through our years of infertility struggles after our first baby (who I only nursed a short time because I didn't know what I was doing and sadly didn't have anyone to support and help me with that), all I wanted was to have another baby to nurse – my heart would ache when I saw new moms breastfeeding.  I still don't take it for granted that God blessed me with 3 more babies to feed in this beautiful way.  But…it wasn't as easy as it always looked when I saw other moms with their babies, not at first, and not for me anyway.
When breastfeeding is difficult it is SO stressful!
After a few days we got into our groove and it became a wonderful experience.  It was also super convenient (Nina describes that below and you can also read about how easy it eventually became for us at this baby care post), but at first it was not easy…
Advice for breastfeeding moms:  when they're not latching on.  Thankfully I became close friends with Tricia, a lactation nurse who lived near us, so she was a great help and support when our second baby wouldn't latch on.  She helped him AND me figure out what we were doing.  If you are struggling DON'T WAIT until you're tempted to supplement, call the hospital where you gave birth and ask to speak to their lactation specialist, or call La Leche League – they love to help new moms.  (Just don't listen to their dietary advice.)
Advice for breastfeeding moms:  when you become engorged.  When my milk came in, one side became so hard and engorged that he wouldn't nurse on that side at all. I cried for almost 24 hours straight, devastated that I may not get to continue nursing after all, until Tricia came over and casually said, "Okay, show me the goods…", motioning for me to unbutton my shirt.  (If this freaks you out, rest assured, at this stage in the game nobody cares, and it felt good to laugh at that point!)  Within only 10 minutes she aggressively massaged the clogged ducts out and had him nursing perfectly.  I was so unbelievably relieved and thankful.  So again, don't wait to ask for help!
Advice for breastfeeding moms:  listen to your heart and don't be too quick to give up and supplement with formula.  There are other issues that may come up with breastfeeding besides what I've dealt with, and many will try to convince you to give formula when it may not be needed.  They'll feel bad that you're struggling and tell you to "just give them a bottle"!  But breast milk is the best for your baby, so if you can get over one or two bumps in the beginning, you'll be so glad you stuck with it in a very short time.  (It does get much easier!!)  If you give up too quickly and supplement "just a little", that's often the beginning of the end.  YOU know what your baby needs.  Ask trusted friends who nursed their babies for help and support.  Search online to see what others did, the answers are out there, you're not alone!
Advice for breastfeeding moms:  if supplementing is needed for whatever reason (for a few that happens, and again it's okay, you're still a great mom!), I would suggest NOT using commercial formulas!  Not even the organic kinds–while they're MUCH better than the regular kind, they're still highly processed, and often full of junk, similar to other processed foods on the market.  Here's the only baby formula I'd suggest –> go here for the complete homemade baby formula KIT with everything you need all in one spot…except the fresh milk of course.  Read over these FAQ's on this homemade baby formula and there you'll also find another link to a yahoo support group for moms who are making this formula!  Making your own formula is not as easy as popping open a can of commercial powdered mix, but just as you're (hopefully) moving away from processed foods in your own diet, it's even more crucial when feeding your baby and worth it!
"I was not in a hurry for Julian to start eating real food.  It was not that I wanted to breast-feed forever.  I didn't.  It was not that I enjoyed Julian's total dependence on me and no one else.  I didn't.  When he started to last for longer stretches without nursing, I was delighted.  Things were more flexible.  But most of all, I didn't feel quite so much like a bucket of milk on two legs.  I loved getting a babysitter, rummaging in the back of the closet for a dress you couldn't nurse in, and going out with Rob.
But there was something utopian about nursing.  My breasts met Julian's nutritional needs.  Anywhere we went, I carried his breakfast, lunch, dinner, and snacks in the perfect container.  I didn't have to think.  Julian was eight months old when we went on tour to promote the paperback edition of Real Food.  Travel was a breeze.  I didn't have to buy, pack, cook, or wash anything.  Long flights, short ones, delays, bad hotel food, time zone changes–none of it mattered.  There was nothing to take, spill, or spoil.  Extreme conditions were no problem.  On a windy sand dune or a desert hike in the blazing sun, Julian didn't even need water.  I had it.  Nursing was a kind of Eden."
Do you have any advice for breastfeeding moms?  What were some of your struggles? Share in the comments.  🙂
This cracks me up from @MamaNatural on Instagram: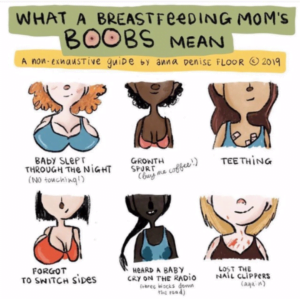 More you might like:
Hey Moms: Did you know that you should never have products with fragrances near your baby (including when you're pregnant)? These are not safe and may contain any combination of 3,000-plus chemical ingredients, including hormone disruptors and allergens. The companies don't even have to tell you which chemicals are in there because their formulas are protected under "trade secrets" and can remain undisclosed! Our kids are past that stage (I miss it!), but I'll keep this info handy for our grand babies someday. 🙂   Get some safer baby balm here.