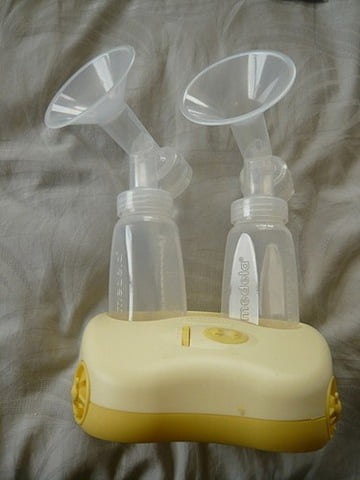 If you are or have been a breastfeeding Mom, I'm curious how pumping went for you?
A commenter, Beck, at my recent breastfeeding and the La Leche League post, prompted me to write a long comment about breastfeeding and pumping that I decided to turn into a new post of its own.  Based on all the comments there, I know that quite a few of you are interested in the topic.
Some new moms may be wondering why they just can't pump?

I've written here on the blog about how I didn't know what I was doing and didn't have the support I needed to nurse our oldest more than 3 weeks or so, and most of that was supplementing with bottles.  (I'm SO sad to think of it now. I remember the last time he nursed, I can picture the chair and the room clearly in my mind.  It still wasn't going well and I sat there with tears streaming down my face knowing he was just going to have to be bottle fed…it still makes me cry to think of it now…especially knowing now that it wasn't too late at that point, not even close!  Had I brought him right to bed with us and let him nurse as needed like I did with the others, he'd have been FINE. But all I knew and heard then was "Babies need to sleep in their own beds."  Read more about natural parenting.)
Anyway, so my experience with breastfeeding was only with our last 3 babies.  Thank God I found some help with #2 and this was after years of infertility and I knew I was GOING to nurse my baby this time, now that we finally got to have another.  Our babies all did great breastfeeding (once we got going that is) and I knew they were getting enough because:
I could hear them gulping the milk
They were satisfied and content afterward
They had plenty of wet diapers
They were growing well
Yet when I tried to pump I'd MAYBE get a couple ounces after 20 minutes.  My friend, Meg, who I talk about on the blog sometimes, could get 8 ounces in less than 5 minutes!  She has always drank a LOT of water each day and I wonder if that was it.  I also wonder if I was taking in enough calories back then.  Either way, it didn't matter to me because thank God I was able to stay home with all our babies (and did daycare here) so I didn't have a need for pumping.  If I went anywhere in the first few months they just went with me, which felt perfectly natural and right anyway.  Once they were 6 months or so, they could go longer between feedings and I could get out a little to go to the store, and I remember how nice it felt to have free hands!
I'd love to know what your experience with pumping has been.  Were you able to?