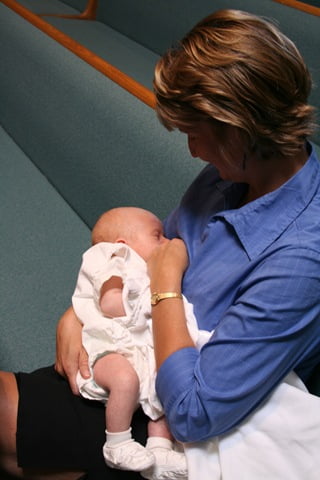 Breastfeeding was very unpopular for a time…
"In the mid 50's only about 20% of U.S. babies were breast-fed.  Nursing rates had dropped sharply after WWII with the wider availability of formula."
It's crazy to think about how unpopular breastfeeding was for a big chunk of the 1900's.  My Mom didn't nurse any of her five babies, few did in the 50's and 60's.
If you felt as blessed when you were breastfeeding your babies as I did, you'll especially enjoy watching this video about the women who founded the La Leche League:
Did you know that I'm a contributing author in this new book by Lisa Hendey from CatholicMom.com?  Click here to get it:  The Handbook for Catholic Moms: Nurturing Your Heart, Mind, Body, and Soul.
Read my other post about breastfeeding (joys & struggles), including my personal story, and also what to do if you really are unable to nurse your baby and you don't want to feed them the JUNK commercial formulas out there right now.  (Seriously, they are so bad.  Can you even pronounce most of those words?  Do you know they are a super-processed "food", and most are full of soy?)  Instead make this homemade formula!
All about feeding your baby
Infertility issues – yep, I struggled with that one, too…
A new study on the benefits of breastfeeding from the Huffington Post
Read this interesting thumbs down book review of the La Leche League's book, "The Womanly Art of Breastfeeding."
Note:  The picture above is on our youngest child's baptism day, it's such a special picture to me!