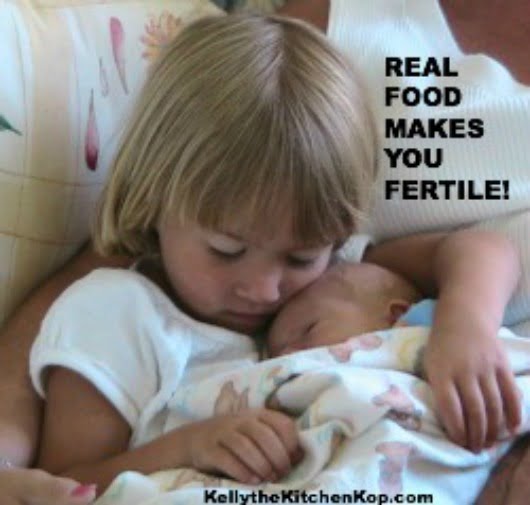 Real Food and Infertility Miracles
How much do you think infertility and nutrition are related to each other?
A reader sent me a beautiful email that I can finally share with you. It is one of my very favorite emails since I began blogging and it shows how much God can do through REAL FOOD when we give our bodies what they need to be well.
Hi Kelly,
I thought I would write you a note to share my good news.  I'm pregnant with number four.  This is a complete shock and I wanted to thank you for helping us.
I will try to keep my history as brief as possible.
I have Polycystic Ovarian Syndrome.  I was not able to conceive.  In 2004 we went to a fertility clinic where they put me on the highest dosage of Clomid allowed to finally get me to ovulate and we had artificial insemination because my husband's sperm numbers were not the best.  Through much prayer and this method, we eventually got pregnant with my oldest son.  We used this same method again to conceive my second son.
When we went back to the fertility clinic to try for number three, we were told that my husband's sperm numbers at this point were so bad and my ovulation had become so unlikely that we would probably not be able to conceive without using IVF.  My husband and I did not want to go down that road and asked if we could please just try using the high dosage of Clomid and artificial insemination again.  We thought it a tremendous miracle when we conceived our daughter.
After having our little girl we decided we were done having children.  We didn't want to spend any more money on fertility treatments especially when things looked so bleak.  Plus we had our three healthy children who we love more than anything.  We are blessed.
Sometime after having our little girl, I found your blog and the Weston Price site.  We completely changed the way we ate.  We now eat organic pastured meat, raw milk, and started to eat a lot more pastured organic eggs.  I started us on the CLO.  We completely cut back on any processed foods from a box or bag or with long unpronounceable ingredient labels.
I was completely SHOCKED a few weeks ago when I took a pregnancy test and it was positive.  We were NOT trying to conceive and I'm still nursing our little girl 4-6 times a day.  In my head, the chances of us having another baby were 0%, but here we are.  We had an early sonogram and there is indeed a little baby in there.
I am overwhelmed at the thought of having four children four and under, but I feel tremendously blessed at the same time.  I realize God must have other plans for us.  And I can't help but wonder if food had anything to do with this miraculous conception.
Thank you for your blog.  It just may have played into our having another baby on the way!
Sincerely, Lori"
Keep reading, it got even better when I asked her if I could share her story with all of you… (MORE infertility miracles!)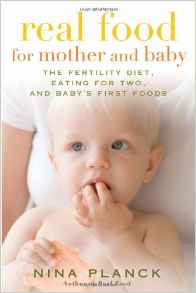 I'm not ready to share yet since we haven't told all our family and friends, but I will when the time is right.  Last night I called my sister (she is 38).  I was absolutely dreading telling her about my pregnancy because she has been trying to get pregnant for years.  A few months ago I gave her Nina's new book and she did change to more traditional eating also.  Well, after I told her my news, she didn't say anything for a moment, and then said, "me too."  Our due dates are a week apart.  So I guess my miraculous God and food story gets even more interesting!"
I couldn't wait to tell you all about this, but waited until I received this email from Lori with the go-ahead to share her story:
I wanted to update you that both my sister and I had our 20 week ultrasounds and everything looks great!  We were excited to find out that another baby girl is on the way to us."
WOW!!!  I'd love to hear stories of your infertility miracles too!
Read about my own infertility story — other links there talk about infertility & PCOS.