I just don't get it.  How could an organization that does SO much to help people find the Truth about God and put their lives back together, and who makes commercials like these, and who helped Kent and I save our broken marriage, get this thing so wrong?
How can they still be so in the dark on this issue?
I suppose it's partly because in any large population group, Christian or not, they are made up of people.  People who are just as susceptible to slick advertising and brainwashing from corrupt financial or governmental shenanigans as anyone.  Sadly, it seems like so many in our society bury their heads in the sand and want to believe that the higher ups can be trusted.
(Notice when this post was originally written, before all of the Covid shenanigans.  I wonder if Focus on the Family is starting to wake up now?!)
Where Focus on the Family is WRONG
As much as I've always loved Focus on the Family, I'm disappointed, but not exactly surprised, about their blind spot when it comes to vaccines…
Here's an excerpt from Focus on the Family's official stance on vaccinations.
The first thing you need to know is that, contrary to the claims of some groups and individuals, vaccines are safe. Before any vaccine reaches your doctor's office, it has undergone several rounds of rigorous clinical testing. The government continues to monitor all vaccines after their release to ensure that they are as safe as possible. 
To which I say…  Uhhh, actually NO.  
The "safety studies" conducted by the CDC, which has incestuous relationships with the various pharmaceutical companies whose products they are supposed to objectively evaluate, is infamous for manipulating the results of their safety studies to exclude cohorts that would show vaccines have negative health consequences. The CDC also has a non-profit arm called the "CDC Foundation" which is heavily supported by pharmaceutical companies.  No conflicts of interest there.  (Source.)
More from Focus on the Family: 
While a small minority of children may experience mild reactions, including irritability, tenderness in the area of injection and low-grade fever, the likelihood of a severe reaction to a vaccine is extremely small – much smaller than the likelihood of complications due to the disease.  
Again, I say…  Tell this Mom of triplets that, who now has THREE vaccine-injured kids.  That doesn't sound like a "small chance" to me at all, and their reactions certainly aren't mild.  
And did you know this?  One in every 30 kids in US has autism — a 50% jump from 2017!!!
Read Focus on the Family's entire statement here.
Pretty frustrating isn't it?
Now read a quote from this article:
Many of the same legislators demanding that Planned Parenthood be defunded to prevent them from selling aborted baby parts, are hypocritically supporting mandates that would force parents to inject their children with them. It's the equivalent of saying, let's ban sugar while mandating that parents feed their children sugar cookies and pretending that the sugar cookies don't contain sugar. It makes absolutely zero sense.
Many of the same parents holding up a pro-life sign on Sunday, are leading the charge against others for not vaccinating their children with vaccines containing aborted baby ingredients on well-check baby Monday.
In fact, some of the biggest Christian organizations and magazine publications have promoted vaccines containing aborted baby ingredients and have given platforms to atheists bashing the religious reasons for opting out, while demanding that we stand up against abortion.
Hello? Hypocrisy anyone? No wonder people are confused. You've got the church telling you to vaccinate your kid, the state shoving it down your throat, religious leaders preaching all things pro-life, and the vaccine enthusiasts pretending the entire issue doesn't exist."
More…
But you know the argument, murdering one life (or 68 to get "the" cell line) to protect millions of kids from a benign childhood illness that yields lifetime immunity and protection against more serious diseases as adults, is worth it if we can make a vaccine that provides 4-10 years of junk immunity, causes serious adverse reactions, and sheds – infecting the immunocompromised, babies, and pregnant women, and gives Grandma the gift that keeps on giving…shingles."
If you, like me, couldn't force yourself to watch the Planned Parenthood horror videos that came out a while back, at the very least read this entire enlightening, but not pleasant, article here:   Abortion doctor admits… 
Did you notice that the link above to Focus on the Family's official stance on vaccines had NO mention of the aborted fetal parts?
Also, here is the viral reaction on my Facebook page to this topic and the news that a new fetal cell line has been developed and is now being used.
Dear Focus on the Family,
We need to talk. Sister to brother, friend to friend, one Christian homie to another. Recently, I've seen several other Christian organizations whose opinions I typically value, step into the vaccination controversy. These articles have all had three things in common: they support vaccines, are void of scientific and biblical citation, and fail to address the valid religious objections Christians have (or should have) to vaccines. 
Imagine the surprise of thousands (if not millions) of parents — some of whom have vaccine injured children or children who will never be able to subscribe to your magazine (because they were killed by a routine vaccination) — when they opened up your highly anticipated "Thriving Family Magazine," only to see your stance on a polarizing subject that was neither scientific, nor biblically based.
Because I am a Christian who cares deeply for your organization and our religious liberties, let me tell you, in love, where this article went sorely wrong and why you should retreat from your stance on vaccines until it is aligned properly with the scripture that forms the foundation of your organization…"  (Read the rest here.)
Watch this video that explains everything clearly
It explains not just the issue of how aborted babies are used in vaccines, and how many abortions were involved, but also what IS a religious exemption, WHY it is that churches aren't looking closer at this, and I think most shocking was that there is some evidence showing how DNA fragments from aborted babies can lead to an increase in lymphoma and leukemia, auto-immune disorders, and gender identity confusion, which is a leading cause of teen suicide!!!!!
It just keeps getting worse:
Oh great, this video has been taken down too, because it dared to question vaccine safety!  It may be on Rumble or Bitchute now, but I can't find it.  🙁
How do you feel about this?  Do you agree that Focus on the Family is wrong and want to let them know what you think?
You can contact them at this email address:  [email protected].  Even better, forward them this post or share it with them on social media using the social buttons.
You might even want to send this to your own pastor, that's what I'm doing, they may not know this stuff, I know mine doesn't!
I'm also sending this to the President of Right to Life in Michigan, I know her personally and she's awesome.  We've GOT to get this information out there.
Start talking to your friends and family more about this topic, and please will you share this post using the social buttons?!
Important:
The vaccination issue is like everything I discuss here on the Kitchen Kop blog, and I say this all of the time:  you need to do your own digging and think for yourself.  I hope my posts help to open your eyes to the "other side" of the issues, so you can hear viewpoints that you won't be exposed to in the mainstream, but only use what you read here as a starting point.  There's still a LOT I don't know, so please don't depend on what you read here to make big decisions about your family's health.  Research it!
More:
As I continue to learn, I'm finding more that makes me thankful for where the Catholic Church is falling on this issue, especially as a pro-life, pro-family, pro-parental rights Catholic Christian myself.  Read more at this link.  And here.  And here.  One more link here.  Basically the Church says that alternatives should be sought, but if there are no alternatives available, parents can use those vaccines if they feel it is necessary, but that they would also be justified for following their conscience and refusing them if they choose.  So basically Catholic schools especially should never be forcing parents to give these vaccines as an enrollment requirement!!!!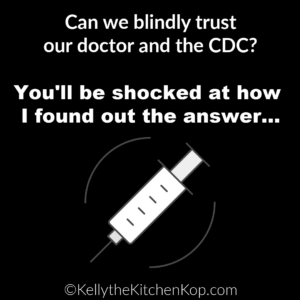 More you might like: