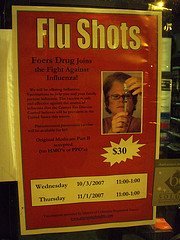 My friend, Liz, sent me an article on kids, germs and the flu vaccine, and wanted my thoughts. Everyone has to decide on their own (do some research!), but personally, after learning in the past few years about the many risks with vaccines, short term and long term, there's no way I'd let anyone in my family get a flu shot.
We'll still take our chances on the natural way.
Hopefully our healthier diets are building up our immune system so we either don't get it at all (we normally haven't in the past), or if we do get the flu, that it is short-lived and mild, and that our immune systems end up stronger afterward due to the work it was forced to do to fight the illness off.
Read the article and see what you think: MSNBC article on kids, germs & the flu vaccine.
Read this from Chet Day: "Why I never get flu shots or snorts" – he's got some strong views that will make you think.
Here's an excerpt:
I don't think toxic chemicals and virus strains grown on living tissue and/or genetically modified in sterile laboratories belong in the human body, even when they're packaged in glass vials or nasal inhaler mechanisms and "delivered" into your body by a medical doctor, registered nurse, or licensed pharmacist.

Interestingly enough, I'm not alone in this thinking.

You see, in the fall of 2006 the prestigious British Medical Journal published a paper by respected vaccine researcher Dr. Tom Jefferson. Entitled Influenza vaccination: policy versus evidence, the paper supported my long-held personal opinion that flu vaccine programs may be worthless.
Kent also sent me this article from CNN: 30 million more children should get flu vaccinations", he knew it would get me all riled up. In this article it says, "Last year at this time, we had indications that the vaccine might not be as effective," Jernigan said. "This year, we have no such indication." That's really comforting, so why were they pushing them on us at all last year? It makes no sense. It's about as comforting as all the shots we "had" to give our kids, then a short time later they would take another one off the market after more studies were done, and kids were harmed, saying it wasn't safe. And what really gets me going are things like the CDC requiring hepatitis B shots for all newborns while they're still in the hospital, even if they're no where close to being in a high risk group!
Yay for them…
The drug companies must be positively giddy at the latest "recommendations". They are the best marketers I've ever seen. I don't know how they do it, but if it's not the "too high cholesterol numbers" dictating our "need" for more statin drugs, then it's adding more and more "recommended" groups of people who "should" get the flu vaccines – somehow they get the CDC and the doctors to push their products like crazy!
With that kind of cash flow, you could get "studies" to show anything you wanted.
In one of Sally Fallon's talks at the Deidre Currie Festival, she showed a picture of a display at a pharmaceutical conference for a research company and on their big sign it said, "We'll get you the results you want." No need to worry about getting accurate results that convey the truth, it's all about getting the results to show what the money is paying for it to show.
No, I don't think money is the ONLY factor in all this, and I know many truly believe that vaccines are worth the risks, but let's be real: money is certainly a HUGE part.
All I ask is that you don't blindly follow your doctor, your mother, the article by Chet Day above, or especially ME – take the time to do some reading and decide for yourself.
So how about it? Are you still getting the flu shot this year?