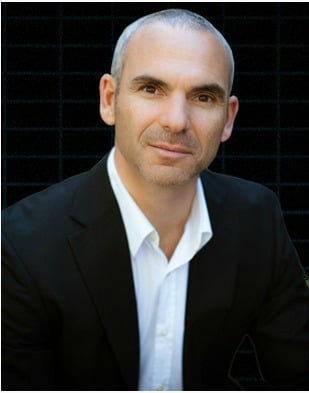 What's that?  A DOCTOR who has common sense about the Measles vaccine?
I – Love – This – Guy.  See if you do, too.
Dr. Jack Wolfson encourages us to direct our anger at the REAL culprits in our world today:  Food companies, fast food restaurants, doctors, pharmaceutical companies, and yes, even OURSELVES…
Here's an excerpt:
I recently did an interview which was aired on NBC Phoenix. I was asked my opinion on vaccinations in response to the current measles outbreaks that have occurred at Disneyland in California. My reply has generated quite a bit of anger in thousands of people.

There has also been a tremendous amount of support to my comments and opinions. In short, The Society Against Injecting Our Kids With Chemicals (TSAIOKWC for short) has a lot of followers.

I want to address all this misguided anger and see if we can re-direct it where it belongs.

1.  Be angry at food companies. Sugar cereals, donuts, cookies, and cupcakes lead to millions of deaths per year. At its worst, chicken pox killed 100 people per year. If those chicken pox people didn't eat cereal and donuts, they may still be alive. Call up Nabisco and Kellogg's and complain. Protest their products. Send THEM hate-mail.

2.  Be angry at fast food restaurants. Tortured meat burgers, pesticide fries, and hormone milkshakes are the problem. The problem is not Hepatitis B which is a virus contracted by drug users and those who sleep with prostitutes. And you want to inject that vaccine into your newborn?

3.  Be angry at the companies who make your toxic laundry detergent, fabric softener, and dryer sheets. You and your children are wearing and breathing known carcinogens (they cause cancer). Call Bounce and Downy and let them know. These products kill more people than mumps, a virus which actually doesn't cause anyone to die. Same with hepatitis A, a watery diarrhea.            
HERE'S ANOTHER MUST-READ if your parental rights are important to you:
First, notice in this graphic when the Measles vaccine was introduced…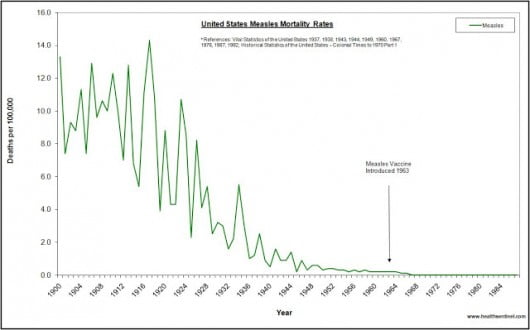 Read four (separate) excerpts from A parent's response to the New York Times article:  "Eliminate Vaccine Exemptions" — the whole article will rock your socks off, I had trouble picking which parts to share here, be sure and read the whole thing:
…There was a piece published by the New York Times recently written by Dr. Kristen Feemster (a pediatric infectious disease physician who profits from "professionally advising" pharmaceutical companies and feels that a parent's decision not to vaccinate may warrant a call to Child Protective Services) that urged the scientific and public health communities to curtail vaccine exemptions. In case you're wondering, a vaccine exemption allows an individual to forgo the vaccination for medical, religious, and sometimes philosophical reasons. The reason for trumping these rights? The public good.  I had many problems with this article, and you should too…

…I am sorry to hear that you deem a parent's choice of whether or not to vaccinate with so little regard. Need I refer you to the United States Constitution where it has been decided and upheld by the United States Supreme Court on numerous occasions that parents have the right to the care, custody, and control of their children, freedom to rear their children without  government interference, the freedom of expression and religion, freedom of privacy, and protection under the first, ninth, and 14th amendments. The right to raise my child as I see fit and the right to decide what I do and do not put into my body or my child's is a fundamental right granted to me as a citizen of the United States of America. (See Prince v. Commonwealth of Massachusetts, Wisconsin v. Yoder, Cleveland Board of Education v. LaFleur, Pierce v. Society of Sisters, Meyer v. Nebraska,  City of Akron v. Akron Center for Reproductive Health Inc., Thornburgh v. American College of Obstetricians and Gynecologists, Stanley v Illinois, Quilloin v. Walcott, Parham v. J. R, etc.) 


…I'm sorry, I'm vaccinating against a rash that has a less chance of causing death than you falling out your bedroom window, being struck by lightening, and drowning in a puddle, so that I can increase my child's chance of getting one of the side-effects listed above? No thanks. I don't gamble (especially with those odds). That's not safe or effective.

…I find this correlation (that the vaccine eradicated or reduced these illnesses) interesting especially because the first measles vaccine wasn't even put on the market until 1963. So we have twenty years unaccounted for here and the actual data shows a stark decline in mortality of measles before the vaccine was introduced. Isn't that convenient? The same is true for polio, pertussis, diphtheria, and the rest. (Here's a good read on that). 
***CLICK HERE TO READ THE REST and again, come back to tell me what you think!
If you liked these articles, will you please share them using the buttons below?  Thanks!
Don't miss these links!