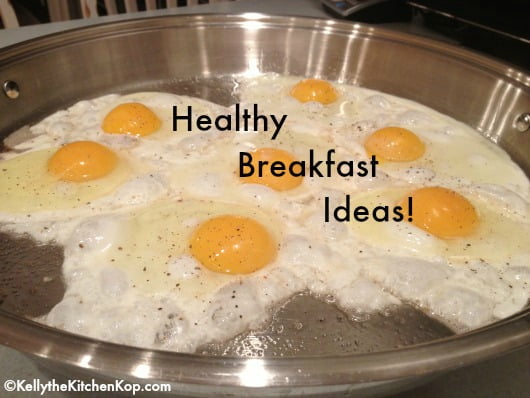 (Prettier pictures are there, too!)
Do you struggle with finding enough healthy breakfast ideas like I do?  Do you wonder if there is such a thing as healthy breakfast cereals?  I hope the following list will help, but be sure to check back in the comments below, I'm hoping many of you will share your best healthy breakfast ideas, too!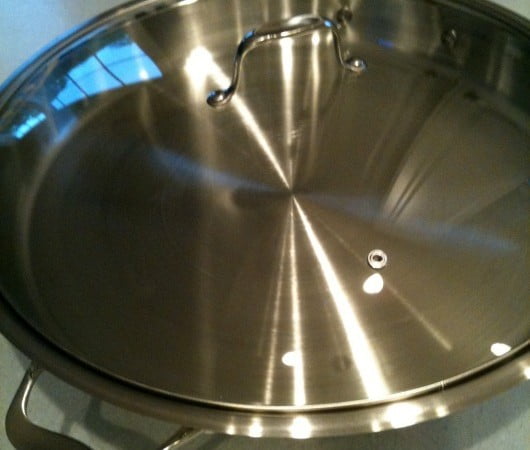 As you scroll through this list, many of the ideas here can be whipped up easily, like the eggs, pancakes, French toast, etc., for a big family or a crowd of company with this, my FAVORITE kitchen gadget:  a stainless steel electric frying pan!  (Avoid dangerous Teflon.)
Since writing Monday's post about breakfast cereals (and another one "What's wrong with breakfast cereals?"), I'm re-thinking whether we should go back to not buying any boxed cereals again. With boxed cereals, we're spending a lot more money for very little nutrition, it doesn't make sense. If it weren't for my complaining teenager, it wouldn't be such a big deal. The others just happily eat whatever I put in front of them, my husband included – he'll eat whatever we have here, and thankfully is completely on board with our goal of eating healthier. But our oldest is not as easy to please (not unusual for a teen, I know) and loves a bowl of cereal now and then. More and more, I'm going to focus on the healthier options below…as a matter of fact, I've got some oatmeal soaking right now for breakfast in the morning! (See the post at the oatmeal link below if you don't know what I mean by "soaking" – and don't worry, not long ago, I didn't have a clue either.)  ***Update:  click here for a sprouted breakfast cereal.
One more, do you wonder, Is there such a thing as a healthy breakfast juice?
10 HEALTHY BREAKFAST IDEAS:
Note: Some of these are really carb-heavy, so if you're watching your carbs, beware.  Choose eggs, veggies, and pastured breakfast meats from healthy farms instead!  Also keep in mind, moms, the beauty of cooking your kids' breakfast yourself is that YOU can control how much sugar is going into their bodies in the mornings!
See my entire list of Breakfast Pancake Recipes (or waffle recipes) and the different options here, including gluten-free options.  Some you start the night before for extra nutrition, but others are healthy last-minute versions! Be sure and serve with plenty of pastured butter and real maple syrup. 🙂  Also, don't forget to freeze any extras to pop into the toaster on busy mornings for a quick breakfast.  You could serve with fresh fruit and/or some farm-fresh sausage or bacon — find healthy pastured meats online here that have no MSG or nasty preservatives.
Whole milk yogurt – even better: homemade raw milk yogurt. Remember, it's not easy to find something other than low-fat yogurt, but whole milk products are much healthier, and watch the sugar content.  Some are really high.
Sometimes if we're on the go or if the kids aren't in the mood to sit down long enough to eat breakfast, they'll just have some cheese and/or dried fruit, like organic raisins or cranberries.
Don't forget about breakfast meats, like bacon or sausage, from a local farm where they raise their animals well, or if you don't have a good local source, get safe healthy meat here.
Try this quick Real Food Protein Drink that isn't made from an unnatural soybean protein (ick) but instead it's made with traditional, superfoods!
What a great idea for make-ahead sausage, egg & cheese biscuits from Megan in the comments at another post: I know it can be hard having breakfast on the table every morning before the hubby leaves. This is what works perfectly at our house. I make up a batch (12-14 at a time) of soaked, whole wheat biscuits. I then cook a lb of sausage (shaped into patties) from a local farm and a dozen or so free range fried eggs. I then assemble them and freeze (I was really unsure of how the fried eggs would taste after being frozen, but it works just fine). Every night before we go to bed we take one out of the freezer and put it in the fridge to thaw. In the morning he just pops it in the toaster oven with a small slice of cheese and he has a very filling, homemade breakfast ready to go every morning even if I'm not up yet. This has made such a difference for me knowing that I don't have to get up even earlier than him every morning ( I have a toddler and another one on the way). I know, I know, it would be even better if breakfast every morning involved fruits and veggies; but we're getting there, one step at a time.

I'll add this one from the comments (forgot to include it with the original post):  homemade ice cream for breakfast!  Obviously the kids love it, and the ingredients are so good for them – with less sugar than they'd have on a pancake!
These ideas aren't just for breakfast. We'll often have blueberry pancakes or egg sandwiches when we need a quick dinner…or for those times I forget to make anything until it's 5:00 and Kent is on his way home!
WHAT HEALTHY BREAKFAST IDEAS DO YOU HAVE TO SHARE?
Please comment below!
More you might like: