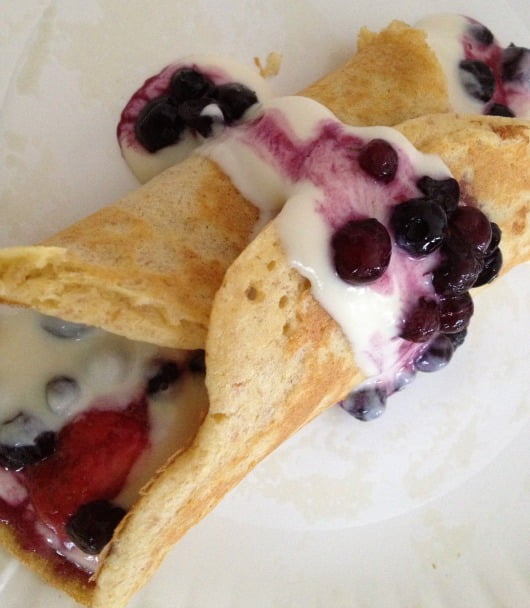 Think it's impossible to find a fast, easy, healthy breakfast for kids?
Are you tempted to give your kids sugar-bomb breakfast cereals because it is fast and easy in the mornings? I'll tell you what happened here last week to show you how simple healthier options can be.
Have you ever fed 5 kids a healthy breakfast in 5 minutes?
Our son had two friends sleep over one night last week, so I fed five kids breakfast in the morning.  As I put it in front of them, I was feeling so good about what they ate, I thought I'd share how easy it was. Using only a toaster and my hot water tap, it all took about 5 minutes to pull together.
FAST, EASY, and HEALTHY Breakfast for Kids
A couple also had some frozen local blueberries in a cup, which I ran under my hot water tap to thaw, and then drained.
My daughter asked for some frozen peas to eat alongside her pancake, (I was shocked, but loved it), which I ran under hot water to thaw. One of the other kids saw that and asked for them, too!
They really like it!
I was telling my friend, Sonia about all this (her son was one of our guests) and she said, "You know, people say you can't get kids to eat healthy, but here you had kids from three different families, happily eating all that healthy food!" I said, "Yep, and I think it's because I only had healthy options here."  I know what you're thinking… but they all had seconds, so it wasn't that they didn't like it and only forced it down to be polite or because it was all we had!
Now if I had offered them Fruit Loops or Pop Tarts, I wonder what they would've chosen?
Believe me, my kids still eat stuff they shouldn't and get plenty of treats. I just made cookies yesterday when a bunch of neighbor kids were here. But they're homemade, I cut down the sugar in the recipes, and use only healthy, and mostly organic, ingredients. (And still the kids often tell me that I make the best cookies!) Most importantly, I only use healthy fats when I cook and bake. All this is much better than whatever you could buy at the store. Also, I always make and freeze extras (or freeze extra dough), then we have more for a treat later – this is a big time-saver.
Moms, it's up to you. Just don't buy the crap, and if it's not in the house, they can't eat it.
Find the recipe pictured above:  Breakfast crepes!
Need more help getting your family onto real food?  Click here to get my book, Real Food for Rookies!