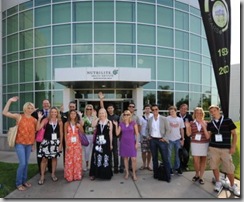 Our Trip to California:
Part 1 – Our son's dream come true
Part 3 – My fitness evaluation and a 10-minute workout (Hint: I was not happy with my results.  Also, a way to lose 10 pounds instantly – sounds hokey but it's true!)
Part 4 – Do you take supplements as an "insurance policy"?  I didn't mean to drag out the posts on our trip, but there was a lot to share, too much for one post!
As most of you know, I'm ALL about getting your nutrients from nutrient-dense traditional foods instead of from more isolated nutrients in pill form, but we do still take supplements as an insurance policy.
(See my newer post with everything I'm taking now:  Why I Love Our Doctor Even Though We *Strongly* Disagree & which Supplements I Take)
Even though we do our best with our diet, it's always been worth the money for us to take what we can on the chance that it may provide any nutrients we're missing, and prevent who knows what down the road.
As I've written about before, choosing which supplements to take can be overwhelming.
I've always looked for supplements that were from a reputable, solid, scientifically based supplement company that has been around a long time. 

Last weekend I had the opportunity to visit the Nutrilite facility in California and would now feel comfortable buying from them for the same reasons. 

(I actually plan to look into some of Nutrilite's products and compare them with what we take now.)
Here are a few things I learned, and really liked, about Nutrilite:
Their supplements are plant-based and "as close to the real thing (fruits and vegetables) as possible".  (I still say, why don't you just eat the real thing then?  Grow your own garden, or buy local, and organic if possible, produce.  But if you don't do that, and you won't start doing that, you might want to look into these.)
The ingredients in their products come from their certified organic farms.  (I love that they're supporting sustainable agriculture.)
They are big on utilizing the disease preventing properties in fruits and vegetables and including phytonutrients in their products.
I was relieved to hear them stress a healthy diet (along with exercise, of course) as the keys to optimal health, not just taking a supplement.
There were a few sports bloggers there as well, so we heard about Nutrilite's sports products.  I don't go for those so much, and here's why:
Here are a few things I didn't hear them say about good health, but wish they had (although in all fairness, we didn't have much time):
Arthritis pain
One Nutrilite product I'm excited to try, or have my Mom try I should say, is their Glucosomine.  Granted, I'd much rather Mom drink homemade bone broths for natural glucosomine, but since she's older and set in her ways, and I know she won't, then I can't wait to see if this brings relief from her joint discomfort.
I'd love to hear from you.
Are you confident enough with how you feed yourself and your family that you don't take any supplements?  Or are you more like us:  you do the best you can, but take a very few supplements as an "insurance policy".
Kent sent me an article that said 35% of people take supplements – this surprised me, I thought it would be higher.
If you've missed any of the 4 posts on our trip, see the top of this page for links.  Also, you can read about the trip from other bloggers who were there, too:
Jordan's post
Aly's post
Eddy's post
If you were there and wrote a post about it that I haven't seen, let me know so I can add it!
Note:  My trip was paid for, but there were no expectations for posting about any of it, and I'm not being paid by Nutrilite at all.  In case you were wonderin'…