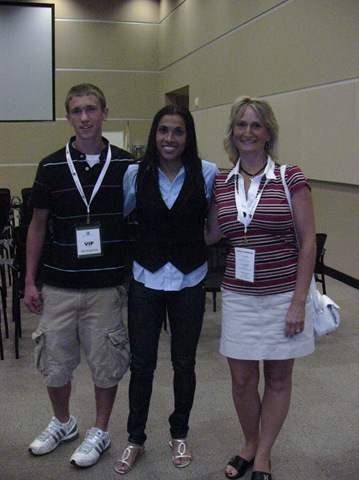 Our Trip to California:
NOTE: As I mentioned last time, part 1 & Part 2 don't relate directly to Health & Nutrition, but they do relate to this blog and they also give you the back-story for parts 3 & 4, so I hope you don't mind me sharing it all with you!
In part 1 I promised to tell you more about meeting Marta during our morning visit at the Nutrilite facility – Kal tells me she's the best women's soccer player in the world, and she plays on the team, L.A. Sol.  (Nutrilite sponsors her along with AC Milan.) The bloggers each had a chance to sit down with her for a short time and through a translator I asked a few quick questions:
What was your favorite food growing up as a child? Rice and beans.
What is your favorite *healthy* food now? I like to cook for myself when at home and I make traditional Brazilian foods like beans, salad and chicken.
What is your favorite "junk food"? French Fries. (I asked her if she liked chocolate and she said she doesn't like sweets, but "a little is OK"!  She's so tiny, I guess I'll eat a little less chocolate and a few more beans…)
Read what Jordan, a 15 year old blogger who we met that day, had to say about meeting Marta:
"Marta, the world's best women's soccer player, came and spoke about Nutrilite. I actually got to sit down with her, one on one, and ask her a question. I asked her, "what she does physically, mentally, or emotionally before or after a game that separates her from all of the other players?" She started to tear up a bit and said that "she prays and that she thinks about how far she has come as a soccer player and that she has been doing her best all of her life and she wants to keep doing her best." She seemed like a great and emotional person." (Jordan's entire post is here.)
Kal was pinching himself!
Get this:  next they took us to the Ritz Carlton hotel in Marina Del Ray to meet the players of the AC Milan soccer team!  Yes, this includes Ronaldinho!!!
First we waited in a room across the hall from where they were finishing their lunch.  I was so excited and caught up in the moment, even though a few days prior I had never heard of Ronaldinho or AC Milan!  Kal had, though, that's for sure, he's been a huge soccer fan for years.  He's had the soccer jerseys and soccer screen savers, and all the stuff kids love, so he couldn't even believe where he was.  They gave us jerseys and a ball to have signed – so fun!  Here's a picture of Ronaldinho signing Kal's jersey.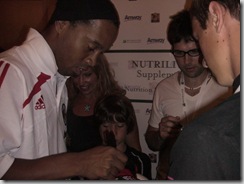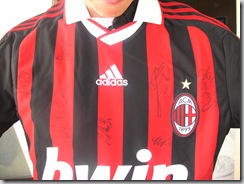 More pics with a couple of the players (the lighting was not so good):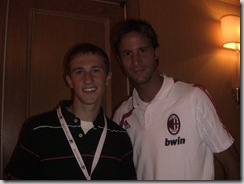 Later we went to the Home Depot Center to watch the game between AC Milan and L.A. Galaxy in Nutrilite's suite where they continued to treat us very well.  This was the game that they were talking about on the news all last week – the one when the L.A. fans were booing their own player, David Beckham, whenever he'd go near the ball.  Not a little, either, they were booing very loudly, it was quite a scene.  I thought it was a bit harsh, but Kal & others nearby thought that he just might have deserved it.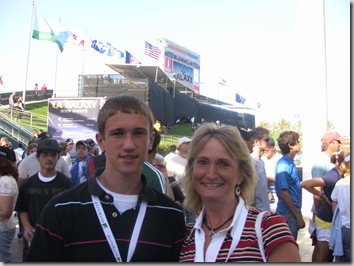 What an amazing day, and a birthday gift that Kal will never forget.
Couldn't care less about soccer?  Maybe you haven't seen these posts…