Creamy Cashew Chicken Recipe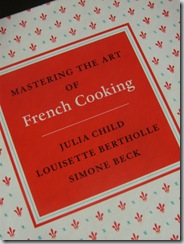 My friend Megan shared this creamy cashew chicken recipe, and you will love it.  It calls for canned cream of mushroom soup, though, and while I'm not above buying the organic version (to avoid MSG, trans fats, and other nasty preservatives and stuff), I decided to try a recipe from my new Julia Child cookbook.  If you have Mastering the Art of French Cooking, please tell us what is your favorite recipe?  I'm not sure what to try next.  Here's what I made:
"Potage Velouté aux Champignons" or Fresh Creamy Mushroom Soup
It was definitely more work than pre-made soup, but oooooh my, was it ever wonderful, and I don't even like mushrooms!
Check out some of the nutrient-packed ingredients in this homemade soup recipe:
Chicken stock full of minerals — I now know how quick and simple pressure cooker broth is so I can make some mineral-rich broth more quickly in a pinch.  If you just don't think you will make it or want some on hand for when you're really crunched for time, try this bone broth — it's 100% grass-fed with a bunch of gelatin, organic ingredients, and it's shelf stable!  I love keeping their beef and chicken broth on-hand for quick recipes because they make it just like I do here, and without the nasty msg-like ingredients, additives, or preservatives that store-bought has.  Also, here's how to make broth for rookies.  🙂
Cream – raw is best, but at least buy the kind that is pasteurized but NOT ultra-pasteurized (click here to find out why that's so important)
Parsley, thyme and a bay leaf – we usually have at least some herbs growing on our deck or downstairs if it's winter.  I feel rich when I can go grab a handful of fresh herbs just a few steps from my kitchen!  (Or get safe herbs here to have on hand:  parsley or thyme or bay leaf)
Eggs – they're a superfood — click here to read why!
Butter – have you read about the 20 Health Benefits of Real Butter?
Onions — also full of health benefits, especially if grown in nutrient dense soil!
What do you think Julia Child would've thought about using organic canned mushrooms?  It's all I had!  Fresh would be better, though.
Print
Creamy Cashew Chicken Recipe (with GF options)
Yield 6 servings
Ingredients
6 chicken breasts from a farmer you trust and who you know raises them outside as much as possible, and preferably not given soy feed.  Find a safe source for pastured chicken here if you don't have a good local option.
4 Tablespoons butter or ghee, pastured butter is best (plus extra for greasing the pan)
Sea salt & Pepper
1 medium chopped onion or 1 Tablespoon dried onion
2 containers of organic cream of mushroom soup, or about 3-4 cups of homemade (if you're gluten-free, you can make your homemade soup using arrowroot for thickening instead of flour).  You could also use part organic cream of mushroom soup AND part organic cream of chicken soup.  If I use pre-made organic soup, I'll usually add a little extra homemade chicken stock for the extra nutrition.
1/2 cup dry white wine (Meg recommends chardonnay)
1 cup sour cream
1/2 cup finely crushed up crispy cashews (and more for the top) — by the way, my Hubs doesn't love cashews, so this recipe is also good without the nuts!
About 1 teaspoon paprika, or more to your taste preference
Red peppers, optional
Rice or pasta, if desired — we like spelt pasta or einkorn pasta (to avoid conventional wheat when possible), but if you're gluten-free, you could use rice pasta, or just regular rice (I love this brand with the velcro close top) OR eat it plain, it's delicious by itself!
Instructions
You can make this in the oven (you could make it ahead and bake later!) or in a big pan…
For the oven:
Melt butter in a cast iron pan and brown both sides of the chicken, seasoning with the salt and pepper.  Remove chicken and place in a buttered baking pan.
Add the onions to the frying pan with more butter if needed, and cook until lightly golden – 3-4 minutes.  Stir cream of mushroom soup in, along with the wine, optional peppers, paprika, sour cream and cashews.  Season with more salt and pepper if needed — taste test to get it right.  Let simmer a few minutes.  Pour sauce over the chicken.
Bake 30-45 minutes at 350*, just until chicken is done, don't over bake or it'll be dry.  Serve over noodles or rice, or eat it plain for a delicious low-carb meal (find more low-carb ideas here).  Add a few more whole cashews on top for presentation or for those who like them.  We had it with this yummy Asian Napa salad.
For the pan:
If I don't feel like baking it, I'll use my favorite pan, this nice, big 16″ stainless steel electric skillet, I love it!
Brown the onions in ghee, then add the raw chicken (cut into hunks), and fry that until golden on both sides.  Add the wine, sour cream, paprika, cream of mushroom, and cream of chicken soup.  Season with salt and pepper — again, taste test to get it right.  Cook until chicken is done and serve over noodles or rice, see above.
Did you make a real food recipe?
I want to see it! Tag @KitchenKop on Instagram and hashtag it #KitchenKopRecipes OR share anything you know I'll love by tagging @KitchenKop and hashtag #KitchenKop -- see you over there!
You'll love this creamy cashew chicken recipe, it's flavorful and delicious — great for an everyday meal or for company!
More you might like:
Meal Planning Help!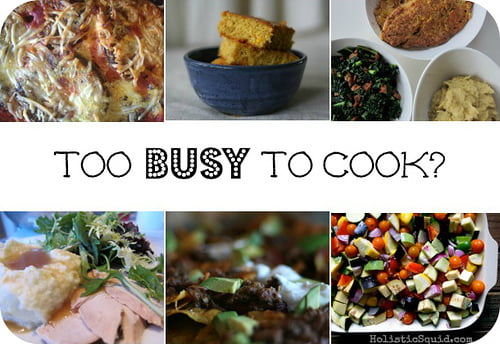 Sick of planning meals and answering the question, "What am I going to feed these people?" No matter what kind of eater you are (traditional, GF, paleo, vegetarian)… Check out these affordable interactive easy-to-use meal plans where the work is done for you.  NOW recipes also available from Nom Nom Paleo, The Paleo Mom, and Wellness Mama all in one spot!  You can read over my review here.