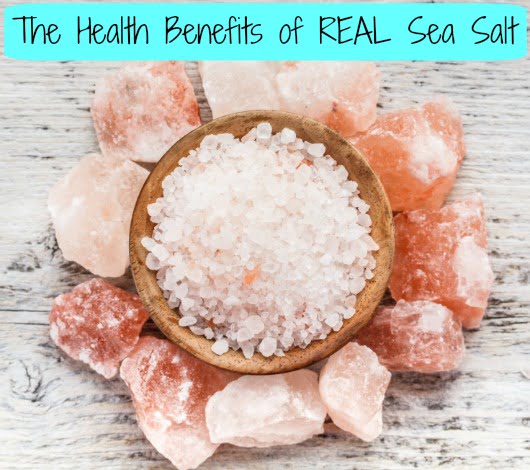 Unlike regular table salt that isn't good for you, there are many sea salt health benefits!
First, if you just want to know where to get it, here's where to find the good-for-you, mineral-rich sea salt that is discussed in this post…
Did you know that everyday table salt is highly processed and very different from high-quality sea salt?
Salt is essential in our diets.  We use real sea salt for everything, and we use it liberally, too.  Be sure you buy unrefined (not all sea salts are) and unbleached, with no anti-caking agents or iodine added (which we can get from other sources), it tastes great, and is also very beneficial to our bodies because it is full of natural minerals. This is especially important at our house because we have a Reverse Osmosis water system, which is good for the filtering, but bad because the minerals are all taken out as well.  (See this post on Why we ditched reverse osmosis drinking water and what we got instead.)
The bad stuff
Many are still using regular table salt, and not only is it a very processed and denatured food, the same is true of the salt found in the huge amounts of packaged, boxes, processed foods that too many people are still consuming.  Unless you're one of the rare people with a salt sensitivity, THIS is where the problem with salt in our diets comes in, not with the real stuff.
Colorful salt
True sea salt will have different colors and specks in it, which show you the various minerals are there!  If it's pure white, you'll know it's probably refined and bleached.
Sea salt and high blood pressure
An interesting tidbit about this salt: for many people with high blood pressure, it doesn't affect them. Don't go crazy trying this the first time, you might try just a little and see how you do. (You may also want to check with your doctor first.)
As a matter of fact, it turns out that everything we've been told for years about the importance of limiting salt for our health may be ALL wrong…
Bad advice all based on ONE bad study:
If you repeat something long enough, people will believe it's true. And this seems to be the case with salt. The genesis of the sodium myth lies with one study that seemed to show a link between salt and hypertension.

Yes, just ONE study.

In 1997, the DASH-sodium study was conducted to determine whether or not a low-salt diet would control hypertension. The DASH diet consists largely of fresh vegetables and fruits, lean protein, whole grains, and low-fat dairy, and is very low in salt. But it's ALSO low in sugar/fructose. So, while people on DASH diets do show reduced hypertension, the reason for this is not the reduction in salt, but the reduction in fructose.

Hypertension is actually promoted more by excess fructose than excess salt!"  (Read more from Dr. Mercola:  Add salt to your food daily, despite what your doctor says.)

Salt Restriction Dangerous for your heart?
While salt-induced hypertension is typically blamed as a cause of heart disease, a low salt intake is associated with higher mortality from cardiovascular events. A 2011 study in the Journal of the American Medical Association demonstrates a low-salt zone where stroke, heart attack and death are more likely. (3) Compared with moderate sodium excretion, there was an association between low sodium excretion and cardiovascular (CVD) death and hospitalization for coronary heart failure. These findings demonstrate the lowest risk of death for sodium excretion between 4 and 5.99 grams per day. (Figure 1.)"  (More here from Chris Kresser:  The Dangers of Salt Restriction)
Here's where to find this nutritious sea salt.
More posts to check out about this topic:
Interesting information about salt and blood pressure
More posts you may want to look over: