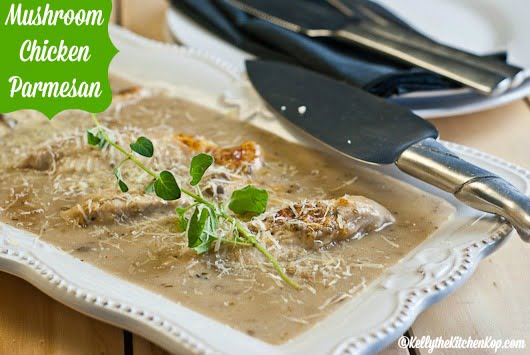 Remember when I posted about our bible study potluck dinner last month?  Well I'm slowly getting all those promised recipes up, and today's is a delicious main dish chicken recipe, Mushroom Chicken Parmesan, that looks and tastes like it was much more work than it really is.
Print
Lyn's Mushroom Chicken Parmesan
Ingredients
4 – 5 boneless, skinless chicken breast halves (I cut them each in 1/2 again) Note from Kelly:  You could also use leftover roasted chicken:  How to bake a whole chicken.  I make this with the bone-in chicken, too.  (If you don't have a good local source for safe meat, you can buy healthy meat online here.)
2 – 4 pats of butter, pastured butter is best
Shredded fresh Parmesan cheese, we like a lot
Instructions
Place chicken pieces in 9×13 baking pan.  Pour cream of mushroom soup over the chicken.  Put pats of butter on top.  Sprinkle seasonings and Parmesan cheese (generous amount) over each piece of chicken.  Bake at 350* until done (about 30 minutes).
Did you make a real food recipe?
I want to see it! Tag @KitchenKop on Instagram and hashtag it #KitchenKopRecipes OR share anything you know I'll love by tagging @KitchenKop and hashtag #KitchenKop -- see you over there!
Great served over Sue's Cashew Rice.  Thanks, Lyn!

Meal Planning Help!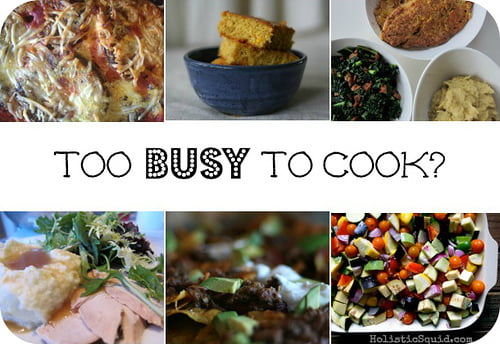 Sick of planning meals and answering the question, "What am I going to feed these people?" No matter what kind of eater you are (traditional, GF, paleo, vegetarian)… Check out these affordable interactive easy-to-use meal plans where the work is done for you.  NOW recipes also available from Nom Nom Paleo, The Paleo Mom, and Wellness Mama all in one spot!  You can read over my review here. 🙂