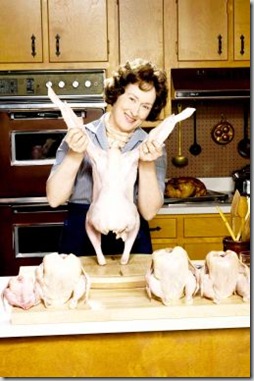 Even though the trailer for the Julie and Julia movie definitely had the feel of a "chick flick", Bob and Kent agreed to go with Sonia and I to see it the other night.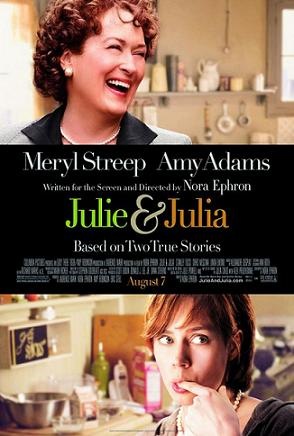 I wasn't sure what we would think after reading this article in the Los Angeles Times — the writer knew Julia Child personally and has some interesting scoop about what she thought of Julie Powell.
However, we all DID really like this film
We laughed out loud several times!  Meryl Streep was phenomenal, as expected.  And Kent, Bob and Sonia agreed that the Julia Child parts of the film were more entertaining (she's just so lovable!), and that Julie Powell's character was a bit pathetic at times; but they did think that the way the scenes went back and forth between the two women's lives was interesting and done well.
I, however, enjoyed both aspects of the film equally.
Yes, Julia Child seems to have been an amazing person – I loved her great attitude and how she was LOUD (like I tend to be).  Her husband, Paul, was super-sweet and added a neat love story to the film.  And of course, what's not to love about a movie that screams of political incorrectness as it touts how amazing butter and eggs are?  (By the way, I just updated my how to make mayo post with a tip I learned at this movie!)
But Julie Powell appealed to me as well.
First, she also had a super-sweet husband who was as patient as mine is with my blogging, but here was the biggest thing:  she was REAL and made me feel normal for not always keeping it all together! I don't often share this with you, my reader friends, but this blogging stuff is not easy at times.  I, too, have bawled my eyes out when the latest glitch wiped away a post I'd just worked hours on.  I, too, mess up recipes often (I'm really not a great cook), but that usually will bring on the cursing under my breath more than the bawling.  So while blogging definitely has its good points and can be a lot of fun (like meeting YOU from all over the world!), I like that Julie didn't make it out to always be a sparkly experience!
The blog that inspired the Julie and Julia Movie
Now, having said all that, I just took a look at the "Julie & Julia Project" blog (which inspired the whole movie) and was utterly unimpressed.  Granted, I didn't go very deep into it, so keep that in mind, but anytime someone has to swear using God's name (aren't there enough other options without using those words?), I'm turned off immediately; but also the whiny attitude comes through more there than it did in the movie.  So my advice is to definitely see the movie, but skip the blog.
Did you see the Julie and Julia Movie?  Please tell us what you thought! 
And if you remember watching Julia Child on TV, tell us what you remember about that, too.  🙂
More you might like:
Kent said he remembers watching Julia Child's show when he was a kid, but unfortunately we never did.  Now that I'm completely hooked on her, though, I'm adding these to my wish list:  Julia Child Books.
Photo from Columbia Pictures.