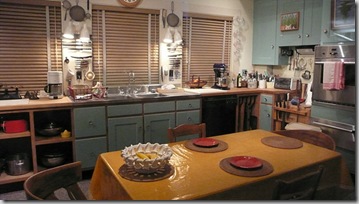 Best Julia Child Quotes & Clips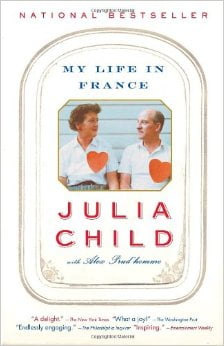 I'm reading Julia Child's charming book, "My Life in France", and wanted to find some old video clips so I could see her in real life.  As I've mentioned in my Julie & Julia movie review, I never watched her show when I was younger.  I just wasn't into cooking like I am now, but the Julie & Julia movie has really fired me up to find out more about this famous chef.  Apparently I'm not the only one, as her cookbook is now #1 on the New York Times Best Seller List. I just read this article about it, "After 48 Years, Julia Has a Big Best Seller, Butter and All", and got ticked off mostly.  People are still so dense when it comes to butter and cream, but Julia wasn't:
Ms. Child, who died in 2004 at the age of 91, liked to say, " 'Oh, butter never hurts you,' " her editor, Judith Jones, recalls. "In this country, we sort of have a love-hate relationship with food — we love it, but we're also afraid of this whole fear-of-fat mania." (Not convinced yet that the fear over saturated fats is completely misplaced?  Read more about healthy fats and oils, and then decide.)
Obviously, her critics and all the "wise" anti-saturated fat folks irritated her, as you can read about in this article from 1990.  Sadly, they convinced her to eat only 2 tablespoons of butter a day!  Little did she or any of them know at the time that the French had it right, and butter is actually good for us!
In one clip I watched, which was actually a full PBS show, she said wonderful things like, "You'll need to butter this pan very very heavily!"
One of my favorite Julia Child quotes:  "If you're afraid of butter, use cream."
I thought you might like to see a few of the clips I found when poking around online…
Here is the famous clip with her chickens:
By the way, keep in mind with this next one that MOST restaurants use the same crappy heart-killer oils (because they were all told it was "better"), so it's not just McDonald's.  Isn't this a cute clip?  (Read more about tallow!)
Now, one more.  It's fairly long (11 minutes or so), but a cute interview if you're still completely into the whole Julie & Julia thing like I am.  In fact, I really want to see the movie again now that I'm so into this book.  I feel like I know Julia Child better now and I'd catch a lot more the second time around.
Have you seen this letter written by Jeanmarie to Nora Ephron?
I'm on the waiting list at the library for more Julia Child Books, and when I see which cookbook I can't live without, I'm buying it.  I'll let you know what I pick.
Do you have a favorite Julia Child cookbook or even a favorite recipe to share with us?
photo: staxnet