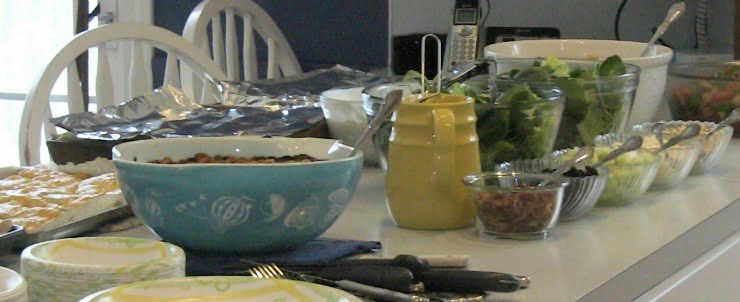 How to Feed a Healthy Meal to a Big Group
Feeding a big group of people can be overwhelming and stressful.  Saturday we had a family party for our daughter's birthday, and as I was planning the meal, I thought I'd show you how I go about feeding 24 people – not a huge number as far as feeding groups go, but huge for me!  If feeding a lot of people is something you'll need to do soon, maybe these ideas will help you.
First, I had to figure out the menu
A month or so before the party date, I sat down to think about the menu, and these were my criteria:
It had to be delicious, of course. Big surprise:  some of them consider me a "health nut" (imagine that!) and think we never eat anything "good" around here, so I felt the pressure!
Easy recipes to pull together.  I have to be realistic and avoid extra stress.  With my kids, my day care, my blog, and other "life", I just don't have time to get fancy.
I knew I needed to choose some dishes that could be made ahead, so the day of the party I wouldn't feel like my hair was on fire.
I needed to be sure I'd have enough oven space/fridge space for everything I was planning.
Our 9 year old was playing around with the camera that morning.
The menu I came up with: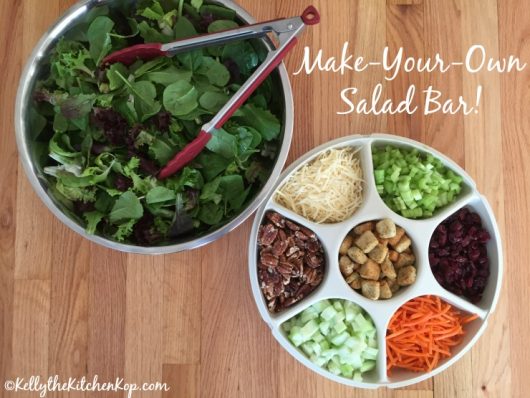 Mixed fruit (try to find it all from the USA if you're so lucky – this time of year that's tricky in Michigan:  I used grapes, clementines, & strawberries), and then I added a can of pineapple "tidbits" (no high fructose corn syrup) along with a lime squeezed over the top for a sweet citrus dressing.
Mom made her mac & cheese.
Instead of setting out candy, like I used to for parties, instead I set out some mixed nuts – everyone likes those.
Of course for dessert we had cake and ice cream.  I didn't have the time to make all homemade ice cream, so I bought 2 gallons of Breyers Neopolitan because those 3 flavors have very short ingredient labels.  For the cake our daughter wanted us to make one together, so I got organic cake mixes and added a few melted chocolate chips to make it a bit tastier (those boxes are blah, I should've just made my own, but I don't often make cake and didn't want to experiment with guests).  We made buttercream frosting and she wanted to decorate it with those artificial colored-chemical-laden crap tubes of squirt frosting…so I got them for her…reluctantly!  (See what I did for birthday cake the the next time we had birthday parties at our house here.)
For drinks we had beer and iced tea, and I also got some pop, believe it or not.  I think my family would revolt if I didn't have some pop here, so I got sprite, it at least doesn't have caffeine to shoot our kids to the moon.  Also, I was going to make some lemonade from the frozen section at the store, (I couldn't make everything homemade!), but I couldn't find any without HFCS.  So I found a 100% juice orange, peach, passion fruit juice that I'll mix up and the younger kids can have that.  (Updating this later — I don't buy that anymore, I just can't.  Now there are good options of more natural soda pops, thankfully!)
So here is how everything went down and how to feed a healthy meal to a big group: (if you're not a detail person, just skip all this!)

A month or so prior, after the menu is decided, take some time to figure out when you'll need to shop for everything.  Some things can be bought ahead, but not others.  Also, make a detailed list of what you can do each day of the week before the party, to break the work into manageable chunks.
Tuesday morning:  1st trip to the grocery store for anything I could get ahead – ingredients for the Caprese salad and the fruit salad had to wait until Friday.
Tuesday evening:  started a batch of bread in the Bosch for the breadsticks. (I used 2 loave's worth to make about 36 breadsticks.)
Wednesday morning:  finished the bread dough, rolled out the breadsticks and prepared them to freeze:  lay them on parchment paper, freeze a few hours, then transfer to a baggie. (I also had to call the plumber that morning to fix the frozen drain under our kitchen sink…)
Thursday morning: bacon, shredded cheeses & chicken to the fridge, borrowed Susan's cake pans and 4 of Megan's cookie sheets (for the breadsticks because I used mine for the chicken), got the chicken from the farm store – 36 breasts.  (And I called the plumber, because the water was overflowing again. and leaking onto the ceiling in our son's bedroom below.)
Thursday evening (Kent & the kids helped a lot with this):  cleaned the house – ick.  I hate cleaning.
Friday during the day (I had day care kids that day, so they played nearby while I did these things):  lay the chicken out onto 4 cookie sheets lined with parchment paper (for easier clean-up), covered and put them back into the fridge, made both dipping sauces (they only take a few minutes), fried the bacon while the kids ate lunch, made the salad dressing, made the pitchers of juice and tea.
Friday when the kids got home from school:  made the cake with the birthday girl!
Friday after bible study, we ran to Meijer for the last-minute stuff, and I got the breadsticks out of the freezer before bed, so they were sure to thaw and rise in time.
Saturday morning:  (the kids helped with a lot of this stuff, plus my sister was here, thankfully, and Kent was clearing out our frozen drain again…) Partially baked the breadsticks, put the mixed nuts into serving bowls, got the paper products & silverware out, set up a cake table and got the Polly Pocket tablecloths on, set out serving utensils, made the Caprese salad, cut up the fruit and added the citrus dressing, got the toppings and greens for the big salad out and into serving bowls, melted the butter for the breadsticks.
About an hour before we were eating, I got the chicken out, salt & peppered it, and sprinkled generously with cheese.  When it was done, we covered it well to keep the heat in while I put the breadsticks back in to get golden brown, and then brushed with melted butter.
While the chicken was baking, got out the Caprese salad, the other salad stuff, the fruit, & the dipping sauces.  (Kent and our oldest son were taking food back and forth from Meg & Joe's oven next door, and my Mom and sisters were all helping with this last-minute stuff.)
It all went pretty smooth and I wasn't stressed at all!
I was so thankful, even with all the plumbing issues, that I didn't get frazzled.  OH, and I fell down the steps Friday when I was buzzing around here.  I was carrying the vacuum, my palmer and the phone and hit hard, what a klutz.  I was only bruised a little, and learned to slow down a bit and not carry so much crap up and down the steps!
Hopefully this post didn't bore you to death.
If you often throw big bashes, I'd love to hear any more tips you can share with us!