This first book is one my kids love to hear over and over…
The Gulps – I love reading this book as much as my kids love to listen.  It's neat how the pictures show such a huge difference in this family before and after they begin to take better care of themselves, and you'll laugh as you read.  (We all see a little of ourselves in the Gulps.)
MY TOP BOOK SUGGESTIONS:
(Also, see the Top Ten Books My Readers Go Crazy Over and Why I Love Them, Too.)
The Diet Cure —by Julia Ross
Atkins Diabetes Revolution LP : The Groundbreaking Approach to Preventing and Controlling Type 2 Diabetes – If I had diabetes I would be following the advice in this book NOW, and even now I am following more and more of these principles.
Real Food: What to Eat and Whyby Nina Planck – she is singing my song…or rather, I guess I'm singing hers, since she was here first!
Nourishing Traditions: The Cookbook that Challenges Politically Correct Nutrition and the Diet Dictocrats by Sally Fallon —this cookbook is so much more than recipes! There are many very helpful recipes, especially if some of you grew up in homes where you weren't taught traditional methods of cooking. Mine looks well-worn after only a few years of owning it.
Nutrition and Physical Degeneration by Weston A. Price —it's a classic and a book that has changed many lives.
by Natasha Campbell-McBride —the more I hear from this author and the more I read, I believe that within these pages lies the cure for most of the health problems we all hear about. A big statement, I know. Read it yourself and see.
by Natasha Campbell-McBride—her newest book on the real cause and cure for heart disease. I can't wait to dig into this one next.
The Schwarzbein Principle: The Truth About Losing Weight, Being Healthy, and Feeling Younger by Diana Schwarzbein–I've only read excerpts of this book, but wow, it makes so much sense! As soon as I get my reading pile down a bit, this one is next.
Eat Fat, Lose Fat: The Healthy Alternative to Trans Fats by Mary Enig & Sally Fallon —this book is a condensed version of some of the information on fats in the book above, very interesting about how saturated fats got such a bad rap. There is a lot of information in here about the benefits of coconut oil and recipes showing how to get more of it into your diet. It explains why eating the right fats, really does help you lose weight!
The Maker's Diet by Jordan Rubin —this book tells how the author ate the right foods to cure himself of colon disease, then goes on to discuss many other health & dieting topics. Some recipes are included too.
Good Calories, Bad Calories: Fats, Carbs, and the Controversial Science of Diet and Health (Vintage) by Gary Taubes—I can't wait to read this! It was recommended to me by Anna, and I trust her when she says I should read something. Read part of a review at Amazon: In the end, the most compelling case Taubes builds is one against stark dietary advice of any kind; nothing simple can capture the complex reasons for the epidemic rise in obesity. H.L. Mencken once said, "There is always an easy solution to every human problem — neat, plausible, and wrong."
BOOKS UNRELATED TO NUTRITION:
Anything by Max Lucado – a great Christian author who has a writing style that is as easy and fun to read as good fiction. He's a great teacher on the basics of Christianity. (He also wrote one of my all-time favorite childrens books below.)
"Surprised by Truth" book series by Patrick Madrid – great information to dispel common myths about what Catholics do and do not believe. Also helps you learn about how the sacraments draw us closer to Him. Surprised by Truth: 11 Converts Give the Biblical and Historical Reasons for Becoming Catholic / Surprised By Truth 2: 15 Men and Women Give the Biblical and Historical Reasons For Becoming Catholic / Surprised by Truth 3: 10 More Converts Explain the Biblical and Historical Reason for Becoming Catholic
Feel the Fear . . . and Do It Anyway by Susan Jeffers – just the title is motivating! This book has helped me a lot in the past. It teaches how to shut off the "chatterbox" in your brain that keeps you from doing what you should, something I think many people struggle with. The only problem with the book is that since it isn't Christian based, it stops short of the full Truth and doesn't explain how Jesus can give us the courage, strength & healing we need in our lives.
Good News About Sex and Marriage: Answers to Your Honest Questions About Catholic Teaching by Christopher West —another book that explains very well what the Catholic Church really teaches on often misunderstood topics.
Hidden Keys of a Loving, Lasting Marriage by Gary Smalley – this book was a great help when Kent and I went through a tough time in our marriage years ago. (A very painful time and we surely would have divorced if not for Jesus showing us the way back – feel free to e-mail if you'd like to know more or if I can help you somehow.)
Praying the Bible for Your Children – This book has been part of my morning "quiet time" since 2003. It helped me get past the same prayers for my children that I always prayed("Lord, please keep them safe, healthy & close to You"), and instead helped me pray more deeply for them using verses from the bible. There are 122 prayers in all, and each day I also note the date on the bottom of the page, so someday my children will see how often they were "lifted up" in prayer by their Mom! I use it not only to help me pray for our children, but also to pray for all the children in our lives. Whether it's relatives, our friend's kids, or other children who we know are hurting.
Love Your Neighbor – This is the sweetest book. I told my kids after we read it tonight that I want them to be that friend to someone else who doesn't feel they have a friend in the world. It will help teach your kids to be a light in the world by loving others.
This is one of my all-time favorite children's books, You Are Special by Max Lucado (anything written by him is so good). This books gives all of us (adults too!) good lessons about not letting what others think matter so much to us.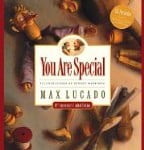 Helpful Marriage/Sex Books– That link has a list of books by Michelle Weiner-Davis.  I've only read her book, "Divorce Busting", and while it isn't Christian-based, it still made great sense and helped me a lot when Kent & I were having marriage trouble.  Also, scroll down at that link to see other books she's written called, "The Sex-Starved Marriage" and "The Sex-Starved Wife", both books that I think will help commenters at my post about Passion in Marriage.
I recently suggested these two books for a friend who found out her husband was having an affair:  Love Must Be Tough: New Hope for Marriages in Crisisand Boundaries: When to Say Yes, When to Say No to Take Control of Your Life.

The best for last: the BIBLE – I wish everyone would read through the whole bible at least once – getting the "big picture" has helped me understand so much more. There are great sites to help you do this in one year, here is one. If you prefer to have it broken down for you right in your bible, you can get that here: The One Year Bible NLT, Catholic Edition. (After that, find a good daily devotional book to help you digest more day-to-day.) If you don't think you would read the whole thing, at least try to read the book of John – you'll learn some basics: how much Jesus loves you and how to be more like Him.  Or listen to the Bible in a Year podcast with Father Mike Schmitz!
FAVORITE FICTIONAL BOOKS:
Vince Flynn's books – be sure you start with the first one: Term Limits,and don't begin until you can plan on reading without stopping for a while, because you won't be able to. (The second in his series is my very favorite though: Transfer of Power)
Note:  I'll receive a small commission if you buy through one of these links.  (And thank you!)