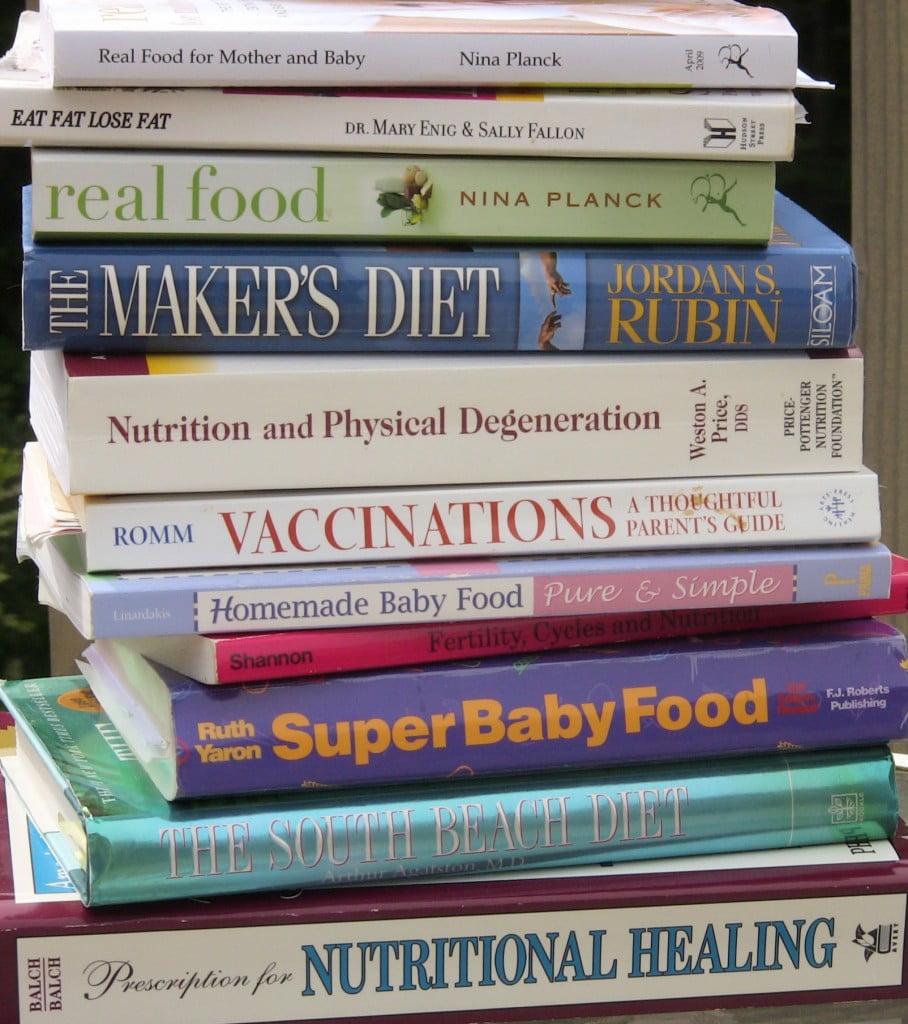 Books make great Christmas gifts, and maybe I feel that way because I love them so much myself.  And all of you, my faithful readers, don't read just blogs, obviously, most of you also love to read books like I do, only I don't get to do it as much as I'd like anymore.  But I won't get all whiny right now.  I wanted to share the top ten books that readers of my blog order through links on my site.  They're in order, beginning with the most popular on top…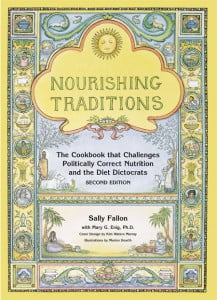 Nourishing Traditions by Sally Fallon – no big surprise there!  No Real Foodie kitchen is complete without it and for many, it's the beginning of their whole journey toward a more healthful life.
Folks, This Ain't Normal by Joel Salatin – and get this!  He's coming to Grand Rapids to speak next month, and the date happens to fall right when our next Weston Price local chapter meeting is, so we're toying with the idea of asking him to pop in.  Guess it depends on if we can come up with the $5000 he gets for speaking gigs…yeah, I guess not.
Tender Grassfed Barbecue: Traditional, Primal & Paleoby Stanley Fishman, who is the nicest guy in the whole world, in case some of you didn't know this, and he knows how to cook REAL (pastured) meats.  For such a gentle-hearted man, he writes some knock-out comments around here all of the time.  I'm seriously thinking of doing a "Best-of" blog post with these someday.  🙂  Here's his first book, which I pull out often: Tender Grassfed Meat: Traditional Ways to Cook Healthy Meat.
Death By Supermarket: The Fattening, Dumbing Down, and Poisoning of Americaby Nancy Deville – I haven't read this one, but doesn't just the title make you want to read it?  If you have, let us know what you thought.
One Thousand Gifts: A Dare to Live Fully Right Where You Areby Ann Voskamp – OK so it's not food related, but it did show up in my top ten list.  This is another present that I ordered for myself from my sister who drew my name.  Don't we all want to 'live more fully right where we are', instead of being sucked down by daily stress?  I'd heard about this book all over the place so I got a copy at the library, and then promptly returned it once I read a few chapters, knowing I needed my own so I could underline like crazy.  Also, I've got a great idea for everyone in our family this year, although I doubt anyone else is going to go for it as much as I will.  It might take some time for them to see the benefits, especially Kal, our 19 year old… BUT here's what I did, and if you've read the book, you'll love this.  I got each of us a journal (one with pink and yellow stripes for our daughter and I, and blue and green stripes for Kent and the three boys, for you folks who are as visual as I am), and on Christmas Eve I'm breaking these babies out and asking them each to write THREE things EVERY day that they're thankful for.  I could do 50 a day easily.  If they end up doing this once a WEEK I'll be excited.  So we'll see…  Kent, if you happen to read this far into the post (I'm betting he doesn't), then pleeeease go along with this idea for me!
GAPS Guide (Simple Steps to Heal Bowels, Body and Brain)by Baden Lashkov – a great tool for those of you going on GAPS in 2012!
The Magnesium Miracleby Carolyn Dean – this book is one I read recently and as I did I found myself calling friends and family with various health ailments telling them all, "Maybe you're just deficient in Magnesium!"
Eat Fat Lose Fatby Mary Enig and Sally Fallon – A great read on the benefits of coconut oil in your diet and how it can help you lose weight!
Wheat Belly: Lose the Wheat, Lose the Weight, and Find Your Path Back to Healthby Dr. William Davis – This book is still getting a lot of attention, and yes, I know I promised you one more 'wrap up' post on this topic, so I'll get to it soon.  There's always just so much I want to post about!  🙂
Three Paleo books made a showing near the top, so I'm including them all: Paleo Comfort Foods: Homestyle Cooking for a Gluten-Free Kitchen, Everyday Paleo, and Make it Paleo: Over 200 Grain Free Recipes For Any Occasion.  All great for new grain-free recipes!
Tell us, if you had to say what book you loved more than any other, what would it be?  Let's have two categories:  Health and nutrition books AND any other type of book.  OR just tell us the best book you've read in 2011?