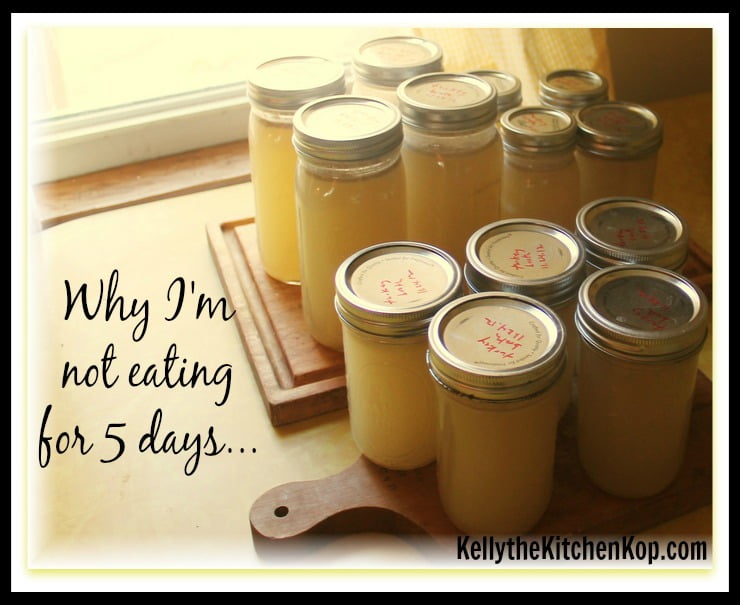 Soon I'm doing a 5-day bone broth fast.
My sister and I (and many of you too) have been motivated to step up our game when it comes to our health.  I already knew that healthy fat was good (yes I'm talking about saturated fats:  butter, lard, tallow, ghee, coconut oil, bacon fat, and other healthy fats too: avocado oil, olive oil), but it's wonderfully refreshing to hear so many others finally singing the praises of healthy fats, and explaining the science behind it so clearly.  PLUS now my sister is finally on board — especially since she began increasing her daily fat intake and her joint pain is completely gone!
For years I'd try to convince her that butter is SO good for us and she'd say, "I eat butter," which meant she was eating only a tablespoon or two a day on her veggies.  Weight Watchers had so ingrained in her the need to count calories that it was difficult for her to move past that old way of thinking–that was true for me many years ago too, and probably all of us, since the government had brainwashed us with their bogus and harmful information on health.  But now she's putting healthy fat on everything she possibly can!  (Read more here:  The biggest myth in medical history.)
Where fasting comes in…
I've recently been reminded of the power of fasting that I'd written about before (yes, I need lots of reminders!), and then I saw this with the different benefits depending on which type of fast you do, check out this graphic:
So I'm doing a 5-day bone broth fast along with Kent and my sister, maybe you'll join us?
*It may not be for everyone, so use common sense and maybe even check with your doctor, because obviously, I'm not a doctor.
Who should NOT do a fast:
You shouldn't do the 5-day bone broth fast with us if you're pregnant, nursing, or if you're young — I'd say only if you're in your 30's or over unless you have a chronic disease or you're obese.  There are also certain health conditions that could be a concern, like diabetes, adrenal fatigue and others, so if you're not sure, DO ask your doctor about it.  (Hopefully a more natural-minded doc who gets all of this.)
How and why I'm doing a 5-day bone broth fast:
First HOW to do a 5-day bone broth fast (and this is the beauty of fasting, it's so cheap and simple!): 
Bone broth and water only — lots of one or the other though to prevent dehydration.  I may add in black coffee but plan to try without first.
WHY to do a 5-day bone broth fast:
So my sister is doing it to lose more weight and hopefully get off her diabetes drug Metformin once and for all.
I asked Kent to join us because there were a few mentions in the talks about how periodic long fasts like these can prevent Alzheimers, which runs in his family.  (As well as shorter fasts as a regular part of life, which Kent already does.)
I'm doing it for my own reasons…

To decrease diabetes risk (My Mom had it and ALL of my siblings have it).
For a cellular "reset", which apparently can decrease cancer risk drastically along with other chronic diseases.
And yes, a little autophagy (fat burning) would be nice.
Also to deepen my prayer life as I offer up these tiny sacrifices.
I already do intermittent fasting for 24 hours at least once a week (only eat supper), and the other days I mostly do 16-18 hour fasts (no breakfast).  However I may add in this longer 5-day bone broth fast either quarterly or at least yearly to get the results of the more extended fast.  (The last time I did a longer fast, 3 days that time, was about a year ago.)  For meals I'm still trying to eat more keto-ish/low-carb foods, with plentiful healthy fats, pastured meats, organic veggies, and limited carbs — my lifestyle is just too sedentary, because I'm on the computer so much, to eat how I did before menopause.  But it's definitely not strict — at times I'll have a piece of sourdough bread or some Einkorn pasta, so then it becomes more about portion sizes.  (I always have it with plenty of butter though, which slows down the insulin response.)  I completely fall off the whole thing now and then too, for instance when our daughter is making her homemade Einkorn pasta or when Kasey is baking AGAIN!  Other times it's because of this Danish bread!
I love my
keto wine
so no matter what, I know I can have that without any guilt, and it's so good! 
Read more about it here
 (no more headaches after this wine either).
Here are more fasting benefits from this book: The Complete Guide to Fasting:
Increases mental clarity and concentration
Induces weight loss and body fat loss
Lowers blood sugar levels
Improves insulin sensitivity
Increases energy
Improves fat-burning
Lowers blood cholesterol (I'm actually not worried about that one)
Prevents Alzheimers disease
Extends life
Reverses the aging process
Decreases inflammation (and therefore can eliminate chronic pain!)
What about exercise?
I'm not one to do super intense workouts, but I still plan to get my walks in as usual during the 5-day bone broth fast.  For those who DO exercise hard, apparently you can still do that as long as you're drinking enough water.  If that's you though, please consult someone else who is more knowledgeable than I am about that before beginning.
More you might like:
photo credit with this license and added text.