Your guests will love these ice cream sundae toppings for a yummy sundae bar!
Lately when we have people over I've been offering foods that can be served with options, this is great not just for friends with kids who are picky eaters, but also for those with food allergies or those who don't eat grains, or meat, or whatever it is.  While it's not complicated, it does usually involve more prep work and is not as simple as a one-dish recipe, but it's fun for something different.  Read my other post about this with lots of allergy-friendly meal ideas for a crowd.
I've already showed you how to pull together a healthy salad bar (click that link for the details and yummy salad dressing options) and check out my picture!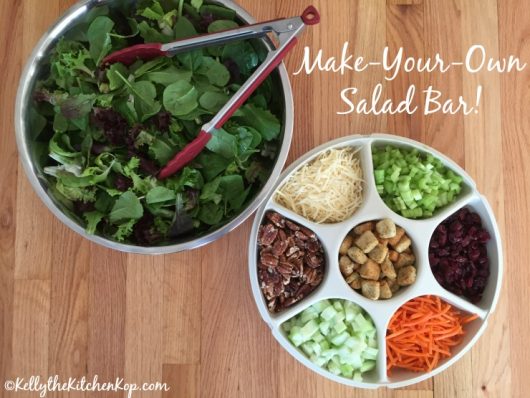 And here's my baked potato bar: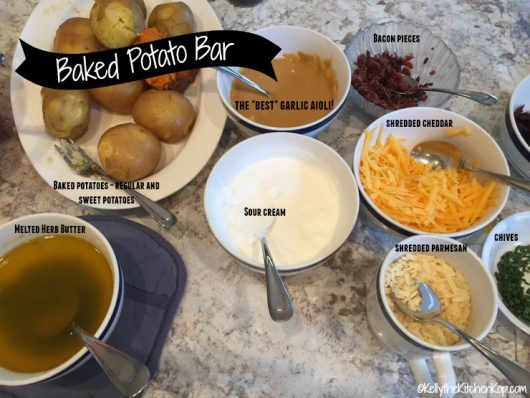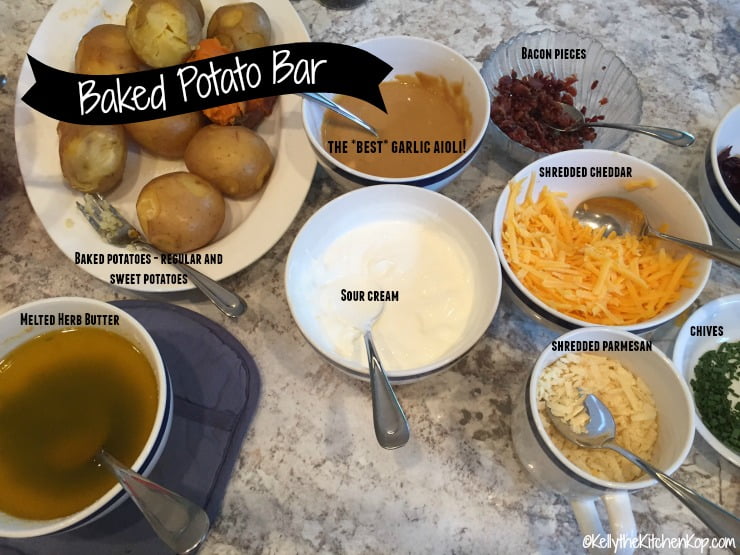 Today I'll show you how I pull together an sundae bar with these yummy ice cream sundae toppings…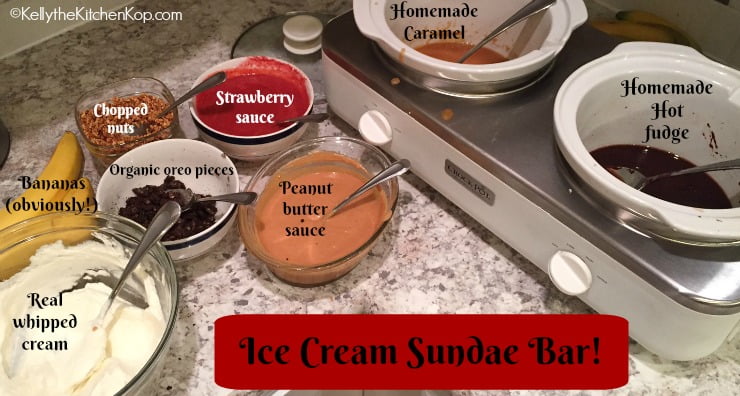 By the way, you could make homemade ice cream, but we had a lot of guests coming, so I just bought the kind at the store that has a nice short ingredient list.  This limits us to chocolate and vanilla only, but that's okay.
Here are some ice cream sundae toppings to choose from:  
Note:  There's not a lot of health food options here, it is a dessert after all, but it's a fun treat to serve guests, and obviously you can make homemade sauces which not only taste SO much better than store-bought (no chemical after-taste), but they also don't have all the scary ingredients that those have.
Obviously you don't have to use ALL of these ice cream sundae toppings, I just listed a bunch to give you options and you can tailor it to your crowd, your budget, or whatever you might have on hand…
Banana slices, or other fruits like strawberry pieces or pineapple bits.
You could also serve brownie bites — just make some brownies, like this homemade brownie recipe or one of the other recipes in my dessert list, and cut them up into small-ish pieces.
Homemade peanut butter sauce:  1 cup organic peanut butter, 1/4 cup butter.  Melt and whisk these together in a pan over low heat, turn off the heat then whisk in organic powdered sugar — start with 1/4 cup and taste to see if you need more, don't add too much or it'll be too thick — if that happens, just add a little more melted butter so it's a good sauce consistency.  Nothing has to be exact here.  (If you have leftovers, this is delicious with bananas dipped into it.)
Homemade strawberry sauce:  Again, nothing needs to be exact.  Add about 2-3 cups fresh or frozen strawberries to your blender with water (1/2 cup or more as needed) until it's all blended up very small.  Pour this into a medium saucepan over low heat and add sugar (organic cane sugar or palm sugar) — start with about 1/4 cup and taste.  Turn the heat up a little and let it boil down a bit until it's the consistency you like for a strawberry sauce.  (If you end up with leftovers, use it to make this yummy cloud dessert.)
Homemade caramel sauce like this one.  *Make it a sea salt caramel by adding 1 teaspoon sea salt when you add in the vanilla!  Be careful, this caramel is super hot.
Chopped nuts of choice, like peanuts, pecans, almonds, walnuts, pistachios, etc.  Crispy nuts would be best.  We had chopped peanuts, which I toasted a bit in a pan on low-heat with 2 Tablespoons butter until golden and extra crunchy.
Make sea salt caramel nuts!  Use the recipe for caramel above.  Right after you add the vanilla and sea salt, stir in 4 cups crispy nuts (or roasted nuts) of choice: pecans, cashews, walnuts, almonds, or any mix.  Quickly spread them out onto a parchment paper lined cookie sheet, sprinkle with another teaspoon of sea salt, then cool.  (Again, be careful, this is very hot.)  Once cool, break them apart and store them in a covered dish until serving.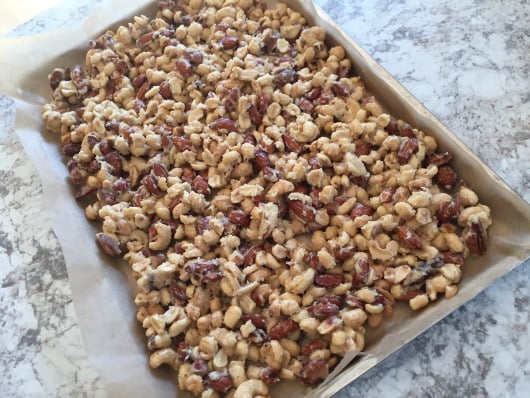 If you have more ideas for options to serve, please share in the comments!
All of these ice cream sundae toppings can be made ahead and then just pull it out when it's time to serve.  Except for the hot fudge and caramel sauce, those would be best kept in a buffet warmer (or just warm up quick before serving).  A friend let me borrow hers, but I'm thinking about buying a buffet warmer like one of these.
My favorite purchase in a long time:  a new ice cream scoop!!!
At the get together when we had this sundae bar, some friends told me about their new ice cream scooper and I was surprised at how excited they were about it, until the other day when we made some homemade ice cream and I tried it myself!  You know how homemade ice cream tends to be really hard, because it doesn't have the weird ingredients in it that store-bought ice cream has to make it more scoopable?   Well I guess there's gel inside the handle of this scoop or something, but whatever it is, it WORKS!  I've never made such pretty rounded scoops before, especially not with homemade ice cream!  It just rolls the ice cream smoothly into a ball and it drops easily into the dish.  Note that it's NOT dishwasher safe, but I just rinse it good, dry it, and put it back into the drawer for next time.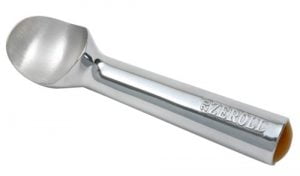 And here's my ice cream maker: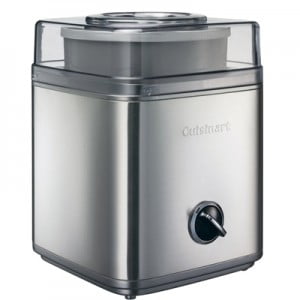 What ice cream sundae toppings did I forget?  Please share in the comments and I'll add them.  🙂
More you might like: