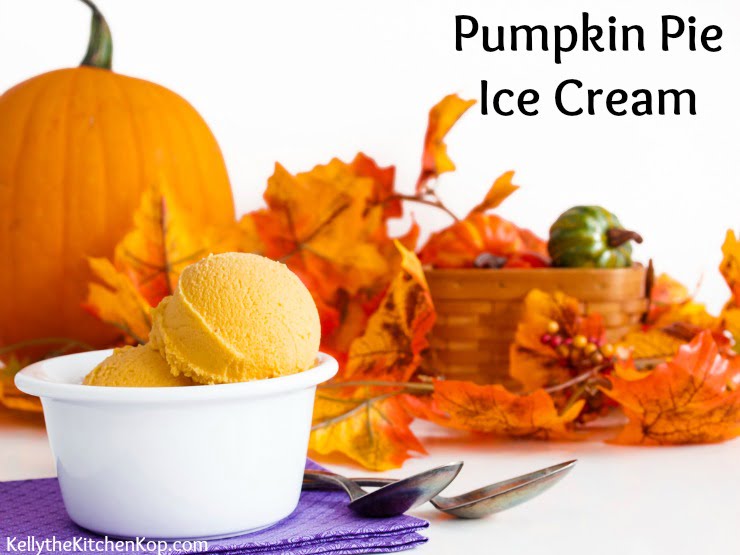 Do you love pumpkin pie but don't want more grains in your life, or maybe you're too busy to mess with making a pie crust?  This pumpkin pie ice cream is just the thing for you!  It's super simple, too.
Our five year old woke up yesterday and said, "Mom, can you make me pumpkin pie?  No wait!  I want pumpkin pie ice cream!"  I figured I could tweak my homemade vanilla ice cream recipe easy enough, and so it began.  It turned out DREAMY-LICIOUS I tell ya.
I hope you'll share some of YOUR favorite gluten-free, grain-free pumpkin recipes in the comments.  🙂
Print
Pumpkin Pie Ice Cream
Yield 2 Quarts
If you're craving a cold treat on an Autumn day, this is perfect for you.
Instructions
Mix all ingredients together well (in a bowl with tall sides) using a stick blender.  Follow directions for your ice cream maker and enjoy!  Here's the Ice Cream Maker I use and love.  I just keep the bowl in the freezer so whenever we have the cream and want to make some, it's all ready to go.
Did you make a real food recipe?
I want to see it! Tag @KitchenKop on Instagram and hashtag it #KitchenKopRecipes OR share anything you know I'll love by tagging @KitchenKop and hashtag #KitchenKop -- see you over there!
Let me know what you think, dear readers!