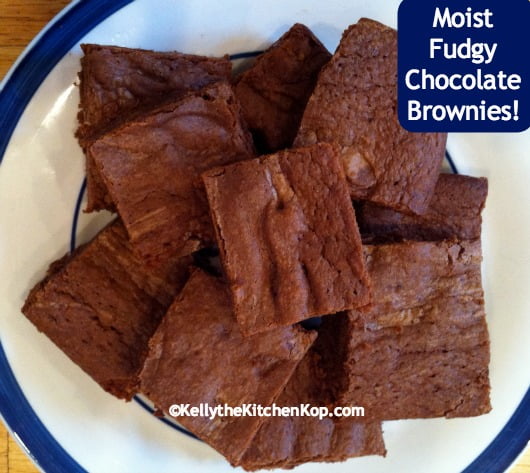 It's pretty sad to have boxed fudge brownies as my comparison point, huh?  But I used to love those dumb boxed chocolate brownies and haven't had them in years.  Do you know that besides the preservatives and other nasty ingredients, they all still have trans fats in them?!  (I just checked again recently!)
These easy homemade chocolate brownies really do taste as good as boxed!
Homemade Fudge Brownies
Preheat oven to 350*.  Butter and dust with flour around a 9×13 glass or stainless steel baking pan.  (Or halve this recipe for an 8×8.)  In a heavy large saucepan, melt chocolate and butter over low heat, stirring as it gets smooth.  Remove from heat and cool.  Stir in sugar, vanilla and eggs and mix well.  Add in flour, salt and baking powder and mix well.  Stir in chocolate chips.  Pour batter evenly into the pan and bake for 25-40 minutes (depends on how much oven temps might vary), until the middle is set but not too firm or they'll be dry.  (Less time for an 8×8.)
NOTE:  If you want a chocolatey top for your brownies, don't stir the chocolate chips into the dough, and instead wait until the brownies come out of the oven and sprinkle them on the top.  Wait a few minutes and spread them around like frosting.
Let me know what you think when you try them!  If you have a different homemade brownie recipe, please share it with us in the comments.