I told you before about a great recipe for getting liver into your family, but that's only one recipe.  A reader at that post reminded me of another way, and it's more versatile too, so I decided to give it a try…
And by the way, it's not just the kids who I want to eat more liver, I need to find a way to eat more, too, so this is just the thing!
First a liver recap:  why should you get your kids to eat liver and/or beef heart?
Because liver contains more nutrients gram for gram than ANY OTHER FOOD!
Liver has the most concentrated sources of vitamin A — it helps digestion, keeps sex organs/reproductive organs healthy, and is a powerful antioxidant.
It's a great source of Vitamin B12 — improves muscle fatigue, sleep disorders, memory loss, anger issues, and impaired mental function, it's also a great source of folic acid, which works with B vitamins.
Liver has a highly usable form of iron, which transfers oxygen to our bodies, needed for proper development of the brain and great for the immune system — iron in liver is 2-3x more absorbable than the kind added to conventional bread.
Liver contains an unidentified anti-fatigue factor, which is probably why athletes use liver to maintain stamina and energy.
It's a great source of nitrogen-containing compounds that are building blocks for DNA & RNA, and especially good for people with Alzheimers or any dementia.  (Source)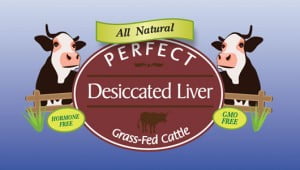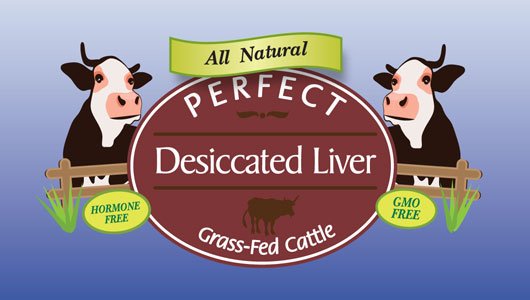 What if you just WON'T do what I'm going to describe (even though it's super simple) and you know you won't eat it (even though you can't taste the liver)?
Then you should at least take these desiccated liver pills daily.  We actually take those anyway, just because we still don't eat liver enough.
The BEST way to get your kids to eat liver and/or beef heart (and everyone else, too)
Find a local butcher who sells grass fed beef and pastured pork, or take in yours from your farmer and maybe you can just pay him to grind up what you already have.
Ask him to grind up 1# grass fed beef liver and mix with 2.5# ground beef and 1# ground pork.
If he has beef heart, you could have him add that in too, in order to get in even more superfood nutrients!  Remember that beef heart actually doesn't taste any different than just ground beef, though, so this one is easy to slip in, but it has more concentrated nutrients like CoQ10, B vitamins, folic acid, Selenium, Phosphorus, Zinc, and Amino Acids that help with fat-burning, energy stores, stamina and endurance! (Read more about the benefits of getting beef heart into your diet here.)
I brought this home and put it in my awesome pressure cooker out on the deck, in case there was a weird smell.  I didn't want the kids declaring they hated it before I even got it mixed into my final sauce. Thankfully there was very little smell, probably because it was all mixed in with the other meats.  You could also use your crock pot or even cook it up on the stove, but it just won't be as fast.
I put all the meat into the pot, then covered it about half-way up with water, about 4-6 cups, then pressed the "stew" button, which was 35 minutes.
After it beeped done, I used my special doohicky to break all the meat up into small pieces. (See the picture or get a similar one here — it works so nicely!) Our ten-year-old came out on the deck where I was stirring my potion and asked what I was doing.  "Do you mean why am I cooking it out here on the deck?  Oh, because I didn't want the meat smells mixing with our yummy homemade ice cream smells that I just started in the kitchen."  He actually bought that, lol.  🙂  (Side note:  We were making mint ice cream for St. Patrick's Day — they asked if we could add green food coloring to it.  "Uhhh NO.  You'll just have to imagine that it's green!"  Here's more about why food coloring is so bad:  Food coloring dangers are REAL.)
Next I added a whole chopped onion and 5 cloves of garlic, also chopped up, and simmered right in the pressure cooker until most of the water cooked off.  (I love that my pressure cooker can also simmer, so it's all done right in the same pot with no extra dishes!)
I let it cool and put it in separate bags for the freezer to use later in things with a red sauce, like chili, taco meat, or spaghetti sauce.  (Notice how I didn't write "liver" or "heart" on the bag, I just did a little + sign.)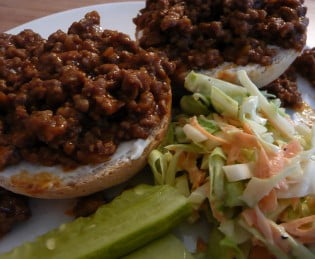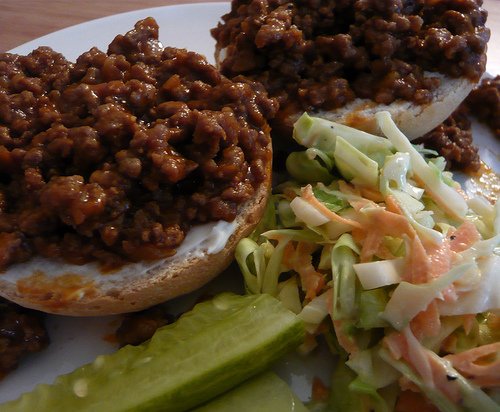 More posts you may have missed:
Homemade ice cream — we love making this and sometimes having it for breakfast, since it has less sweetener than you'd eat on a pancake.