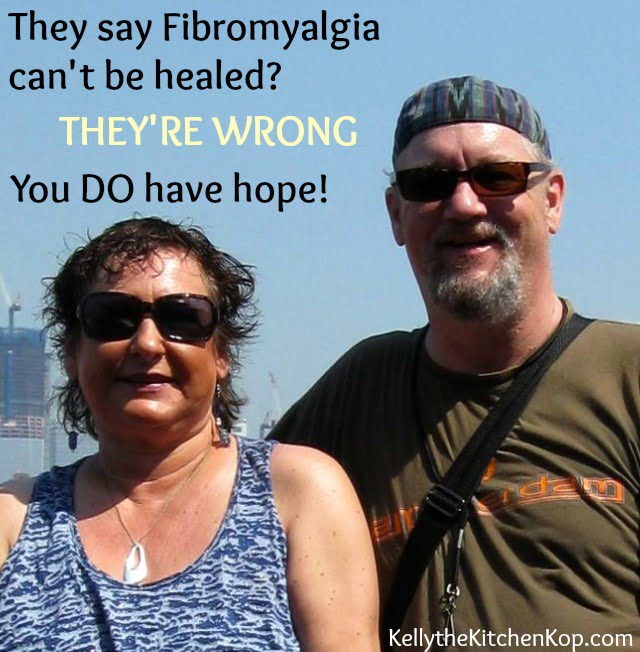 Can you Heal Fibromyalgia?!
Below you'll hear from Lisa, one of my longtime faithful reader friends who has become very special to me as we've chatted over the years.  I love her story because it will give you HOPE for finally feeling better again — you won't believe how far she's come!  I also love how she found healing through another friend, Leah, who is now called, "the Fibro Lady", because after healing herself of Fibromyalgia, she has been on a mission to help others get better too.  Read Lisa's story:
My dear friend Kelly asked me to share the story of my journey to heal Fibromyalgia. It's been a nine-year process from total health failure to finally feeling vibrant again…
I was in my forties, a newly remarried widow, with a really active lifestyle and no health issues. I exercised religiously 6 days a week and biked to and from my job teaching special needs kids, which was super physical and often included 3 P.E. classes a day. Yet I wore the kids out!  I came home and buzzed around until midnight and did it all over again. I volunteered at many music and theatre festivals and had time to indulge my many hobbies. My two grown kids were a big part of my life. All was well.
Yet after 3 pretty minor surgeries in a 3-month span, my life fell slowly to pieces.
I just couldn't get back into my beloved exercise program, a mix of yoga, weights, and cardio. The guilt was oppressive. I wasn't all of a sudden lazy as some thought!  I began to ache all over, unable to sleep at night because of the pain. Dragging myself to work without a wink of sleep became the norm. My new hubby began to think I was losing it or exaggerating my pain. Yet I knew something was seriously wrong.  Thankfully I had a great relationship with my doc of over 20 years. He agreed with me and 18 months of tests and quarts of blood yielded a diagnosis of Fibromyalgia.
Finally, a name for what was slowly killing me.
But that didn't help my life or my pain. The pain meds barely dimmed the agony that ruled my life. I lost my friends, my social life, my income and my hope. I horrified my husband when I confided in him that I had amassed a stash of sleeping pills for when I couldn't take it anymore. I was bedridden, isolated, and needed a cane to walk. I tried everything. Lyrica, Cymbalta, expensive vitamin cocktails sold by hucksters. I joined the local FM support group and took every course, missing some, because I just couldn't get out of bed.  Some days it was too much to comb my hair.  Showers hurt and standing was difficult.  I'd lay on the floor and not be able to get up.
I could write a book on the abuses I had to go through to get my short term disability.
I was turned down for my Canada Pension Plan and had to wait 3 years for a hearing, which I won, with the help of a great lawyer. All this while in agony. Thankfully, this kind of abuse of the disabled doesn't occur as much anymore. Having to fight when you are so beaten is why one Fibro doc calls us heroes, not victims.
So what happened?
One day my enlightened daughter-in-law sent me an article about a woman named Leah who claimed to have been able to heal Fibromyalgia. This was unheard of and had to be another scam. But I was ready, again, to try anything. I signed up to get Leah's information and learn how she healed herself.  It seemed simple enough, and her kind and sensible advice was the first real hope I'd had.  A few simple supplements, that I researched the heck out of, and sound nutritional advice, and I began. I was drinking too much wine, as it helped with the pain, and still smoking, but I stuck with it and after 2 1/2 long months of doing exactly what she recommended…
I woke up without pain for the first time in nine years!
I felt like I had found the Holy Grail! Now my real journey began. I was well enough to start taking my life back. I found Kelly the Kitchen Kop, filled my huge dining room table twice over with the crap that was in my cupboards and haven't looked back! I will never forget the beautiful smile on my daughter's face when she saw me up and back again. My 5 grandkids had a nana who could play with them and not just lie in bed, moan quietly, and send them home early because I was vomiting from all the pain.
My life now?
An occasional glass of my hubby's homemade wine, a kitchen bubbling with sourdough starter (we haven't bought bread in a year since I make wonderful bread), there's kefir and sauerkraut fermenting, freezers full of pastured meats and homemade stocks. I now have a garden that produces enough beans, tomatoes, herbs and salsa to get me through the year. My nut butters are made from soaked and toasted nuts, I make homemade sugar free jams and my baking is all soaked. My granddaughter just told me that I have too much food, as she happily munched her way through my kitchen. She likes to mark the rise on the starter when we make bread. My nutritional needs are a bit different, as I'm eating for FM prevention, not just nutrition, so some things are out for me.
But there is so much good stuff I can eat!
I have to thank Kel, as most of our favorite recipes come from her and her hints have made my new lifestyle what it is. A little secret…  Sometimes I proudly think that if she came for a visit, she would approve!  (Kelly here, truth is, I'd likely be squirming if SHE came to MY house!)  Honestly, she answers my questions before I can ask them.  I take this probiotic she recommends on the few days I don't have a kefir smoothie, and Green Pasture FCLO, this vitamin D3, and the few supplements recommended for FM, nothing radical.  My life is full of family, friends, and just too much to do again — I never could have imagined I would be in this place and truly feel so good. Without the help and support of Leah and Kel, I would still be in bed, lonely and in agony. What a complete circle. I love where I wound up!
Doesn't that just fill you with hope and, hopefully, make you want to share this with all those who have been suffering without answers for so long?!
That link takes you to Leah's 3-day speaker series that she only runs once a year (it's over tomorrow so hurry!), which includes an interview with Lisa herself!  🙂  She gives you hope and motivation for getting going on the healing process.  The other speakers will cover more specifics on HOW to start.  🙂  Click here to learn more about the series.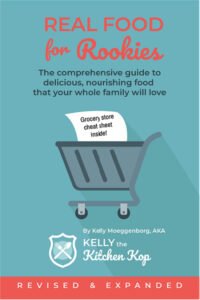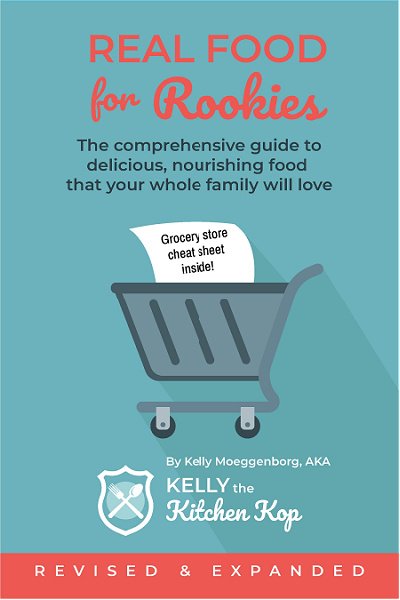 More on healing Fibromyalgia and other auto-immune diseases: