Is there another side to essential oils that you don't know about?
Some of my dearest friends are those I've met through this crazy blog.  Today you'll hear from my friend Sarah, who was a reader in another state when we first began corresponding, and then she moved near me and now we're real-life friends!  It's fun bumping into her around town at our egg drops, the homeschool building, or last week at the health food store.  🙂  She has since taken in-depth essential oil training and started her own business by helping people one-on-one, but even if you don't live near us here in West Michigan she could still help you, and today she's excited to share more here about using EO's.  (By the way, no, she's not selling essential oils with a MLM company.  And FYI, these are the essential oils I personally use now, because they're high quality AND so affordable!  They even have lots of blends to choose from.)  
Here's Sarah…
Essential oils have so many applications — here are some you probably DO know about, and then 4 more that I'll bet you haven't thought of…
You've probably known about these essential oil uses, some recipes from Kelly's blog are included here: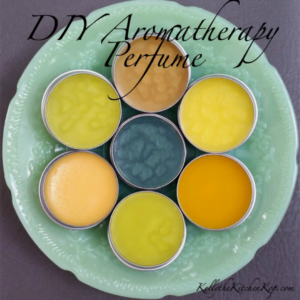 These are all fantastic ways to incorporate essential oils into our daily life.  Swapping these gentle homemade and budget-friendly options, or sourcing other non-toxic options, is a good step in lessening the toxic burden on our bodies. We can take control of our environments where we are able to and try to not worry about the rest — I have gone through more than one round of panic on this topic. Anyone else?
1.  Another Side to Essential Oils…  You may not have heard how they can be incorporated for emotional support.
In short, our sense of smell is directly tied to the limbic system. The limbic system is the seat of our emotions and memories, which explains how scent can bring on a strong emotional response.
Odors are very personal. One odor can bring out two very different responses from people. If you enjoyed camping trips with your grandparents to the Upper Peninsula of Michigan among the white pine trees, the aroma of white pine would likely bring a very pleasant feeling for you. If you were someone who hated camping and dreaded these trips, the aroma of white pine would evoke negative feelings. The memory of the scent is stored with the emotion (Battaglia, 116).
There are several essential oils that are Central Nervous System (CNS) sedatives that are calming and lower stress levels. There are other blends that are not CNS sedatives that can still bring a sense of calm due to the memory associated with that aroma.
2.  Another Side to Essential Oils…  They can help us transition through different phases in our lives.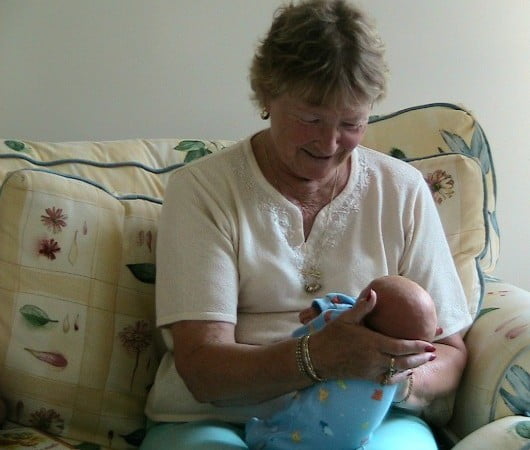 For the mom having to return to work after maternity leave she can put a low dilution of a child safe essential oil into a lotion and put that on her shoulder in the mornings.  Her baby will come to associate that aroma with mama and comfort.  The caregiver can in turn wear the same blend to help ease the baby through the transition of mama going back to work.  (Note from Kelly:  the photo here is my Mom holding our youngest.  I treasure this picture, as you can imagine…)  Certain oils are known for helping to deal with grief, whether it is loss from a move, a child leaving home, or loss of a loved one.
By the way, aromatherapy is not just essential oils. Putting the shirt from a lost loved one into a plastic zippered bag will help preserve the aroma of that person for a longer time period.
3.  Another Side to Essential Oils…  Plant aromatics can be used for learning recall.

"A study was done with 72 students who were presented with a list of 40 common adjectives and asked to write down an antonym for each. They were not informed of the plan to test their answer recall the next day. Some of the students were exposed to scents during the word matching only, some during the later recall test only, some during both sessions and others not at all. The students exposed to the aroma for both sessions recalled a considerably higher percentage of their answers than did the other groups (Battaglia,118). The same odor needed to be present during the learning and testing phase and that as long as it smelled good to the student it did not matter what the scent was (Battaglia, 118)."  I am planning on trying this with my daughter if she is willing!
4.  Another Side to Essential Oils…  One of my favorite ways to use essential oils for clients is in an aromatherapy inhaler.
Here's where you can get an aromatherapy inhaler.  These are usually a plastic tube roughly the size of chap stick that contains a cotton wick for absorbing the essential oils. It is a fantastic way for a person to have the aroma available for use without it bothering other people if they are sensitive to it. It is also very convenient to take with you on errands or to work. For a friend that is a nurse working the night shift at a hospital, I made a blend for her with the focus being on the energy of the essential oils that boost immunity, lower stress levels, and that are uplifting. Her experience with using this blend in her words, "The inhaler really helps me. Between life stress and night shift stress, I was sick all of the time. You sent me the inhaler after a many weeks-long stretch of bug after bug. I still get sick more often than when I wasn't on the night shift, but I haven't been sick nearly as often and I have missed several bugs that went through my coworkers, which I call a success! I've also noticed that when I get sick, it's for the normal length of time (the same amount that most people have the bug or less) instead of two or three times longer, like it was. Also a success!"
For my certification I had to do several case studies. One of the people I worked with had made tremendous strides in cleaning up her diet, working with her doctor to get the right supplements that she needed, and reducing stress in her life. She still struggled some days with depression that would make accomplishing daily tasks difficult. Knowing her history and aroma preferences I was able to make a blend for her that she could use as needed. After two weeks I followed up with her and she said that it was helping!  There were times that she woke up longing to smell the blend.  (Related:  How to Fight Depression and Anxiety Naturally: 20 Helpful Tips for Anxiety, Depression, and Fatigue.)
A friend at 38 years old had a breast cancer scare.  She had days to wait for the test and then the results. She was sharing this news with me and my heart dropped. Aside from praying for her all I could offer was an inhaler if she wanted to try it for taking the edge off of the scariest moments while waiting. She was willing to try, so I made the blend, took it over, and explained how to use it.  She said it did calm her, and this was good news, but even better news was that everything was okay!
Aromatherapy is an intricate working of essential oils on the physical, emotional, and mental levels.
I have completed a 235 hour certification course through Aromahead Institute and am so grateful for this training. My heart's desire is to help people in any way I can. I have found an avenue to do that while using my passion for the plants God has given us. The more I read, the more I realize how much there is to learn, so I roll up my sleeves, take a deep breath or two, add some mentally clearing oils to the diffuser for an extra boost, and dig in. I am thankful that the journey has just begun!
What are your favorite uses for essential oils?
About Sarah: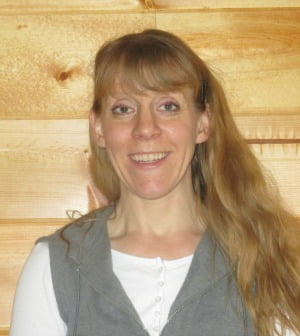 My husband and I fell in love with western Michigan 13 years ago while he was stationed in Detroit. In the waning years of his military career we searched the internet for a house in a small town that was near a city. We searched for years and then THE HOUSE came available. Though it is definitely a fixer upper, the location is unbeatable and beautiful! Retirement finally came in 2015 when we moved to Greenville, Michigan with our 3 children. In 2016 R&R Aromatics, LLC became a reality with an emphasis on personal consultations and making helpful and often healing essential oil blends based on the individual's situation. I have completed the certification program through Aromahead Instititute. We are now living the dream that we waited so long for, and after years of moving around, we have come home.
If you have any questions, even if it is just on a specific essential oil question, I would be thrilled to answer it!! I can be reached at [email protected]
More you might like:
Reference mentioned:  Battaglia, Salvatore. The Complete Guide to Aromatherapy. Second Edition. Brisbane. The International Centre of Holistic Aromatherapy, 2003.