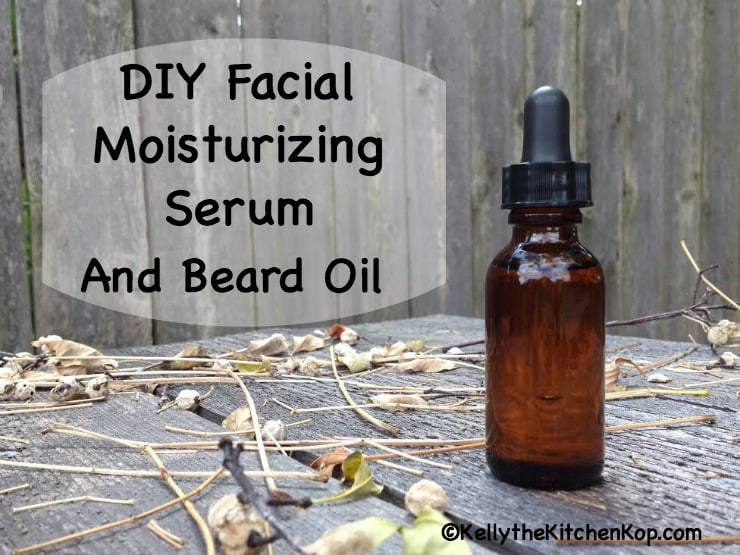 DIY Facial Serum and Beard Oil
(This is a post from my dear friend, Jill, who helps around the blog and has written super helpful posts here in the past:  See all of Jill's posts here, including more like these:  Homemade Deodorant Powder, 6 Elements of Nutrient Dense Foods,  How Real Foodies Care for Their Loved Ones with Cancer, and  How to Fight Depression and Anxiety Naturally.  Note that there are affiliate links below to help support the blog, but the cost is the same for you.  Here's Jill…)
After I learned how to make my own cleansing grains and facial toner, I began making my own facial creams. They *usually* turned out well (and when they didn't I could *usually* fix them), and I loved the fact that I could customize my formula and that it never had creepy, synthetic chemical ingredients.
However, when it comes to facial moisturizers I've seen the light…
I now prefer facial oil serums over creams, and here's why:
 It's much easier to make a serum than a cream. There is no special skill or careful process or equipment required to ensure successful emulsifying of oil and water based ingredients, as there is with making creams and lotions. ANYONE can make a serum.
Along the same lines, whenever water-based ingredients are involved, there is a potential for bacteria or mold contamination, and the product must either be used quickly enough to beat the microbes, refrigerated, or preserved. The problem with preservatives (which inhibit microbial growth in the water-based portion) is that I have yet to find one that I would eat. Since much of what is put on our skin can absorb into our bodies, I make it a point to avoid applying topical products with even remotely toxic ingredients.
My skin actually feels the best when I use serums as opposed to creams. Maybe it's the fact that serums don't contain wax (moisturizing creams usually contain either beeswax or emulsifying wax), or maybe my skin just absorbs straight oils better than it does oil and water emulsions. Customers who buy my serums say the same thing: their skin just feels better and glows more, regardless of what skin type they have.
I was first introduced to serums through Crunchy Betty's super simple 3-ingredient facial oil moisturizer recipe, but I wanted to elaborate a little more for my formula.
I like her idea of combining one base oil with one nourishing/treatment oil, but I also like having room for more options. In my own products (which I sell at our local farmer's market), I use at least 4 oils per serum, not including essential oils, because I don't want to limit myself to the benefits offered by only a couple oils. Of course you can use as few or as many as you like in yours.
How to make a DIY Facial Serum and Beard Oil for Moisturizing
Supplies:
Instructions/"The Formula" (detailed ingredient suggestions and information below):
Fill bottle 1/2 full with base oil (suggestions below). Use small funnel if you have one to help prevent dripping down the side of your serum bottle.
Fill remainder of the bottle with therapeutic oils or another base oil of choice. Be sure to leave enough space to put the dropper back in the bottle without the oil spilling out the top (oil suggestions below).
Add a few drops essential oils of choice (suggestions below). Start small and work up. I usually use about 10-12 drops total per one ounce bottle. You can always add more, but you can't take it out. 😉
Add a couple drops vitamin E oil to help prevent oxidation/rancidity. (Poke hole in end of vitamin E capsule and squeeze a couple drops out.)
Screw on the dropper lid and roll the bottle between your hands to mix.
To Use: after cleansing and toning (see posts on DIY cleansing grains and facial toner), squeeze a few drops of serum on fingertips or palm, rub hands together, and smooth or pat onto face, neck, and upper chest area. Allow a few minutes to absorb.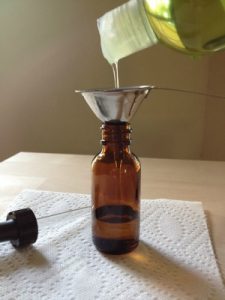 Base Oils:
Normal to Oily/Acne
All Skin Types
Dry/Mature
Therapeutic Oils
Essential Oil Suggestions (choose one or more from the following)
Sensitive Skin:
Dry/Mature Skin:
Oily Skin/Acne:
Normal Skin: Whatever smells best to you. 🙂
To avoid irritation, I recommend avoiding "hot" oils for facial care like cinnamon, clove, and ginger, as well as very strong herbal oils like oregano, and thyme. Rosemary can be helpful for oily/acne-prone skin, but use it extremely sparingly and very diluted since it is also quite strong.  Avoid rosemary essential oil if pregnant.
Sample Recipes (essential oil amounts appropriate for 1 ounce serum bottles)
Oily/Acne Skin Serum:
Dry/Mature Skin Serum:
Beard and Facial Serum for Men:
Simple Essential Oil Blends for Men
Energizing:
Sexy and Snuggly:
Earthy and Refreshing:
Smoky and Mysterious:
Ingrown Hair Prevention:
More Complex Fragrances for Aromatherapy Benefits:
Notes:
Related posts… Or not:
This is Kelly again, here are some random posts you may have missed…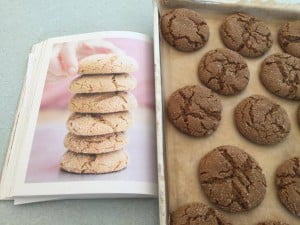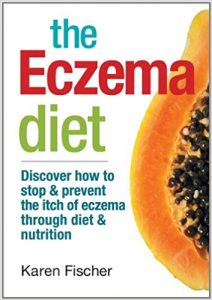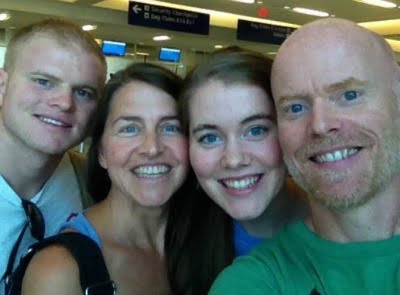 About Jill: My husband and I live in Waco, TX, along with our two awesome young adult kids. I have a small business, selling handmade personal and home care products at our farmer's market and local retail sites. I am also Kelly's blog assistant. 🙂 I am passionate about real food nutrition, natural health, local food, and I love to cook. Fortunately we have access to lots of local food via our fantastic farmer's market, nearby farms, and even a grocery store that sources much of its food locally.