Do your kids get back to school jitters?
Do your kids get back to school jitters each fall?  I used to get nervous each year before heading back to school.  My friend Mary likes to laugh about the first day of Kindergarten when I tried hiding from Mom so I didn't have to go, and when that didn't work you couldn't pry me off her leg at the bus stop.  One of my friend's daughters threw up every single first day of school, including her senior year.
So today I have some ideas for you to try, just in case that's the norm around your house.  
By the way, these methods help for adults too, for when you may be feeling some anxiety or stress in life, but that rarely happens, right?!
3 Ways to Calm the Back to School Jitters (Or Stressed Moms and Dads)
Rescue Remedy is a safe, natural supplement for episodes of anxiety that is popular for all ages, and even for pets. 
Cod liver oil has a noticeable effect on my moods, as I explain here:  My all natural chill-pill for anxiety.
This calming blend is great for young and old to help calm jittery nerves caused by long days away from mom, going to the dentist, incessant phone ringing, kids bickering, traffic jams and everyday life!   It smells awesome, too, and also comes in a portable pre-diluted roll on, which is handy when away from home.  It's a blend of Mandarin, Tangerine, Lavender, and Chamomile Roman essential oils.  Get some here.
Have you splurged yet and treated yourself to an essential oil diffuser?  This diffuser not only has great reviews, but it is loaded with nice features too.  There are many advantages to diffusing oils:
More than just passing "jitters"?
If you find that you or your child are having panic attacks or are anxious a LOT, and you feel it's more than just first-day-of-school-jitters or a passing thing, you might want to read this post: 20 tips for fighting anxiety, depression and fatigue naturally.  One thing that is covered in that post, but is so important it needs to be mentioned here as well, is this:
There is a HUGE connection between the brain and the gut — chronic anxiety is a clear sign of poor gut health, and can lead to more health issues later if not addressed now:
Such as picky eaters/food allergies, depression, auto-immune problems, ADD/behavior/learning issues, frequent illnesses, skin problems, poor digestion or even Crohn's/IBS, and more.
Read more in this book:  Gut and Psychology Syndrome.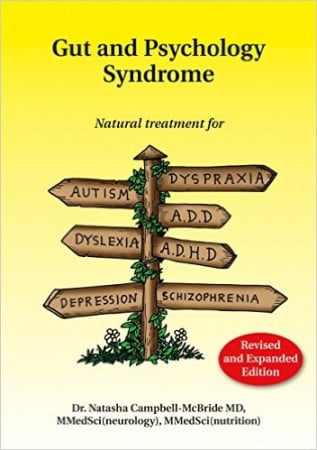 In this case, you'll want to consider a few things:
Try eliminating certain foods and see if that helps.  Begin with gluten and dairy, as those are the biggest culprits.  (That's assuming you've already ditched processed foods and sugary snacks!  Learn more here in my book, Real Food for Rookies.)
For sure add in a probiotic to rebuild healthy bacteria in the gut.  We only take this probiotic now because it actually survives to get past your stomach acid and into the gut where it needs to do its work.
What do you do in YOUR family for any passing anxiety or "back to school jitters"??
More posts and info you may like: