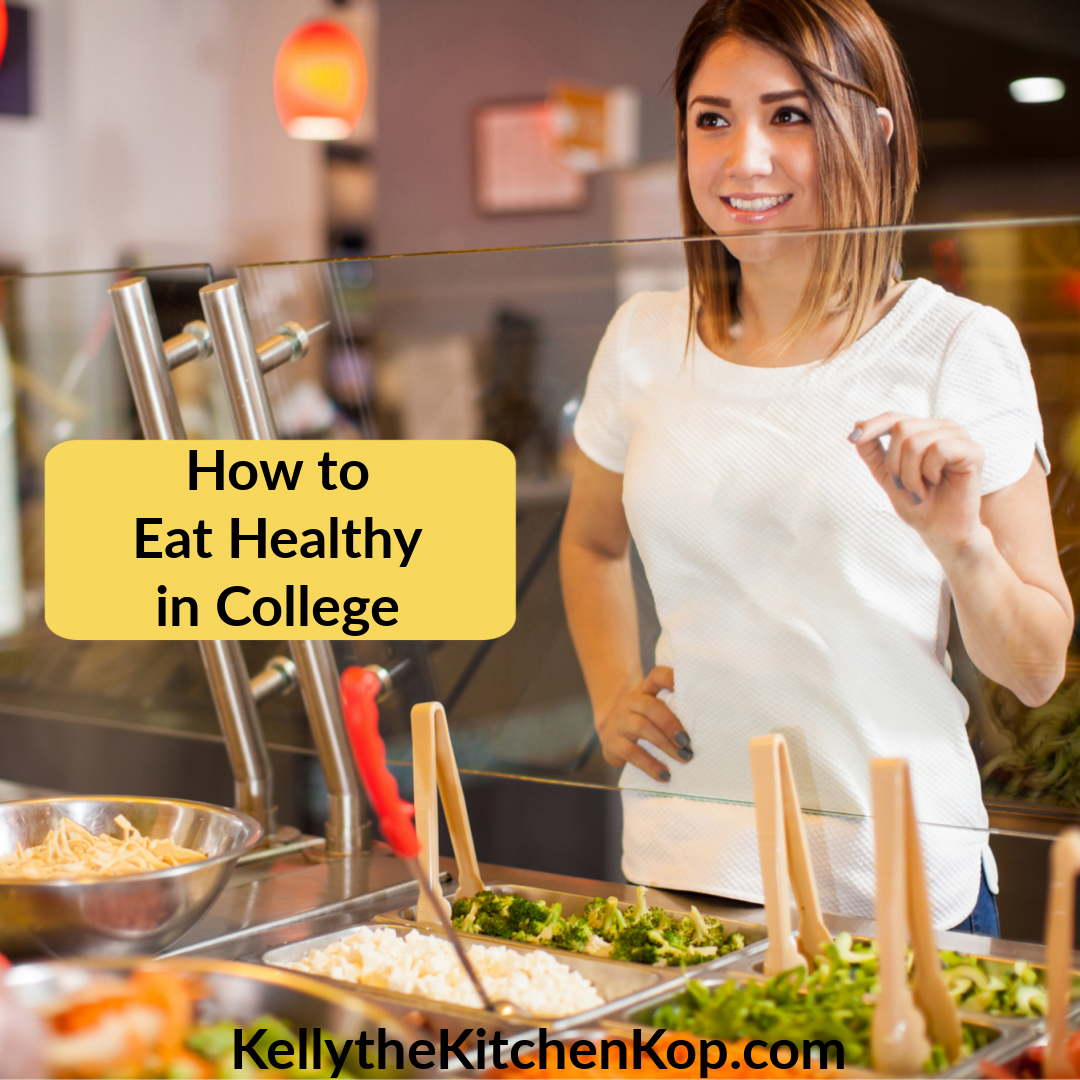 Wondering How to Eat Healthy in College?  (Here are tips to share with your kids!)
One of my longtime faithful reader friends, Susan, emailed recently about her daughter who was moving out soon, and wondered what to suggest that she eat in her college dorm.  She had a timely question that I'm sure many of you wonder about too — I know a lot of you real foodie mama and papas have already gone through this and might have some great tips for us parents who need help!
Kelly, I'd love it if you'd write about how to eat healthy while living at college and eating cafeteria food. 

My one and only little chicken is about to leave for college and I don't know how to guide her -except for what she has heard me go on and on about these past few years. She was accepted into 5 colleges, but one of the main reason she chose the one she did is because she did see some organic choices when she toured the campus. The school has a 25 acre organic farm! She was also very excited that one of the cafes on campus sells grass-fed burgers, although the burgers won't be included on her already-paid-for cafeteria card. I told her I will give her extra money to have a burger once or twice a week so I know she will get some good stuff in her!

She already did a search and found she can get Organic Pastures at a health food store only 3 miles from campus. I know she probably won't make it there every week, but she knows the importance of fresh, raw milk and said she would try her best to always have it on hand in her dorm fridge. I will also be sending her with a bottle of cod liver oil.

But other than that, I don't know what to tell her to eat! I included a sample menu from one of the cafeterias so you could check it out, but keep in mind the student population is minimal during the summer months. Once everyone shows up next month for school, the menu may expand quite a bit, but I just wanted to give you an idea of what she will be looking at when she walks into the cafeteria.

This looks like the choices they may have every day and this is a list of the restaurants… 

Notice there are a ton of options for vegans, ugh.  I told my daughter that at some point, someone got the school to honor the wishes of vegans, and maybe she can be the one who helps the school honor the wishes of those who want their damn saturated fats please!! 

I knew because you just returned from vacation that you would understand how hard it is to find something to eat!! The benefit for you is that you got to come home and start feeding everyone right again, but for the umpteen thousands of kids eating in a cafeteria daily, it's a whole different ball game!!

Thanks, Kel!

Susan
Here's my reply…
My main thought after reading this is WOW, if she can eat a once or twice a week grassfed burger, drink real milk fairly consistently, take CLO, keep real butter on hand, and then fill in with whatever she can find good in the cafeteria, she'll be doing WAY better than most kids heading off to college this fall!
I looked closer at the college nutrition link you shared.
Some of the options could be a good place to get some whole foods:  "Meals always include…  Fresh Garden Salad Bar, Downtown Deli Bar".  For breakfast, however, the only whole food on that list is the hard-boiled egg.  For lunch, at first I thought, "Well, this Creamy Tomato and Roasted Pepper Soup might not be too bad, especially if she could drop a couple dollops of butter in there", but then I read the ingredients, YUCK:
INGREDIENTS:  Water, SOUP MIX CREAMY TOMATO & PEPPER (DEHYDRATED VEGETABLES (TOMATOES, ROASTED RED BELL PEPPERS, ONIONS), BUTTERMILK POWDER, MODIFIED CORN STARCH, SUGAR, SEA SALT, CREAM (MILK), CANOLA OIL, SODIUM PHOSPHATE, SILICONE DIOXIDE (ANTI-CAKING AGENT), PAPRIKA (COLOR), SPICES, MALIC ACID, GARLIC POWDER, SOUR CREAM POWDER (CREAM, NONFAT MILK CULTURES), DISODIUM GUANYLATE, DISODIUM INOSINATE, MALTODEXTRIN, SALT, NATURAL FLAVOR (SOY), NONFAT DRY MILK, CHEDDAR CHEESE POWDER (MILK, SALT, CULTURES, ENZYMES, DISODIUM PHOSPHATE, LACTIC ACID), SOY LECITHIN, ROMANO CHEESE POWDER (MILK, CULTURES, SALT, ENZYMES, BUTTERMILK, PARTIALLY HYDROGENTATED SOYBEAN OIL, DISODIUM PHOSPHATE, CITRIC ACID), WHEAT FLOUR. )

ALLERGENS:  Milk, Wheat, Soybeans, Gluten
She could also keep things like grassfed beef jerky on hand since the meats will likely prove to be the trickiest, besides the grassfed burgers, but most colleges probably won't have that offered!
Also add in easy things like:
Raw grassfed cheese and organic crackers.
Ingredients to whip up easy salad dressings, then put them on salad options from the cafeteria.
Please share more of your ideas and wisdom in the comments, and don't miss the comments there already!
Who wants to constantly read labels before going to the cafeteria, though?  What college students have time for that, and how many would anyway??
Anyone else have some ideas?  Many Mama and Papa bears out there have gone before us, how in the world did you handle this with your kids?  
(Update/reminder:  there are some helpful comments below!)
More you might like:
You could also give them one of my books Real Food for Rookies so when they do buy themselves food, they know what to look for, what to avoid, etc.!!!