Want to Learn How To Make Perfume?
by Jill Boman
Did you know that synthetic perfume is the new second hand smoke?
Think about it. How many times have you gotten a headache, became sneezy or wheezy, or actually "tasted" someone's perfume in the air just by standing near them?
Many people don't realize that the fragrance industry is essentially unregulated. It's been a way to protect trade secrets, but it also ends up giving a free pass to all sorts of petroleum-derived chemicals—some of which are known endocrine (hormone) disruptors or allergens, while others haven't even been tested for safety, let alone the synergistic toxicity potential when these chemicals are combined!
A rose may be a rose," reports EWG. "But that rose-like fragrance in your perfume may be something else entirely, concocted from any number of the fragrance industry's 3,100 stock chemical ingredients, the blend of which is almost always kept hidden from the consumer." — from Scientific American
The obvious solution to polluting yourself and everyone within a 4 foot radius of you with these synthetic mystery chemicals is to make your own perfume using 100% essential oils!
You can purchase pre-diluted essential oils ready to apply in roller applicator bottles or mix your own in a carrier oil to fill your own applicator bottles, but my favorite way is to make solid perfumes. Since they're solid you don't need to worry about leakage and they make wonderful gifts or party favors. I made a whole bunch of different solid perfumes last Christmas and they were a big hit among all the gals in our family.
The first and easiest way to do this is to use blends or "synergies" that you already love, but I will also show you a couple other ways to formulate your own aromatherapy blends.
Here's how to make perfume:
Supplies:
Glass measuring cup with handle or smallish stainless steel bowl that can be used as a makeshift double boiler
Beakers are especially handy for measuring and weighing carrier oils but you can also just use bowls.
Something to stir with (even a beater from a hand mixer, like I used)
1/2 ounce metal tins with lids (or other small glass or aluminum containers with lids)
Kitchen scale with a tare function (optional, but helpful). A tare function allows you to place the empty container on the scale and then "zero" out the scale BEFORE adding your ingredient to the container. That way your container's weight doesn't mess up the weight reading of your ingredient. In this image I am pointing to the "tare" button. It isn't registering any weight because I pressed "tare" after I placed the empty bowl on the scale.
Small silicone spatula (optional, but helpful for scraping that last bit of perfume into your tins)

Ingredients:
Instructions on how to make perfume:
1. Fill saucepan partway with water and place glass measuring cup into saucepan, with handle hanging over the pan's edge. Check the water level. You want the water to reach most of the way up the outside of the measuring cup, but not so high that you risk water splashing in over the edge if it starts to boil or you move the pot around.
2. Place saucepan with water and measuring cup on your stove and heat over medium heat while you prepare everything else. You don't want the water to boil (because water could splash into the cup), but just come to "almost" a simmer. Once it reaches that point, lower the heat to maintain that temperature. (Keep in mind that if the measuring cup handle is hanging over the burner itself, it can get very hot. I've burned myself a few times by grabbing the hot handle.)
3. Measure 1 part beeswax by weight or 2 parts (grated or pastilles) by volume and place in the glass measuring cup "double boiler" on stove to melt.
4. Measure/weigh out your carrier oil. When wax is completely melted, slowly pour carrier oil into the melted wax, gently stirring as you go. The oil/wax mixture will become partially solidified and will need to remelt before adding your essential oils.
5. Measure out your essential oils. I usually add my vitamin e to the essential oils at this point, but you can also add it to the carrier oil in step 4. When the oil/wax mixture becomes fully liquid again, remove measuring cup from hot water and set aside for cool for a few minutes. Very hot temperatures degrade essential oils, so you want it hot enough to remain liquid until after everything is poured into your tins, but not so hot that you lose much fragrance or beneficial properties of the essential oils. Pour pre-measured essential oil blend into the melted oil/wax mixture, gently stirring as you go.
6. Immediately (but slowly so you don't spill) pour your liquified perfume into empty tins until the liquid reaches the rim of the tins. You may notice the liquid "circling" the edge of the tin when it reaches that level. Hot oil/wax mixtures always shrink slightly when they cool, so fill to the top, but don't overfill to create a convex shaped meniscus that rises above the top or it will bump into the lid.
7. Allow perfumes to cool completely before putting the lids on.
Different batch sizes broken down (be sure to work out your math before starting):
A large batch of 10 or 11 solid perfumes in 1/2 oz. tins can be made using 1 ounce beeswax, 3 ounces carrier oil, and 1 ounce total essential oils (this could be a full 1 ounce synergy).
If you use one entire 1/3 ounce (5 ml) bottle of a synergy, you will use the same weight (1/3 ounce) in beeswax and 1 full ounce of carrier oil, which will yield between 3 and 4 half ounce solid perfumes.
To make just one 1/2 ounce tin of perfume, you'll want to switch your kitchen scale to the "gram" function instead of the "ounce" function to more accurately weigh smaller amounts. In that case you'd use about 3 grams (or milliliters) essential oils, 3 grams beeswax, and 9 grams (or ml) carrier oil.
If you don't have a scale and you're only making one 1/2 ounce tin of perfume, it helps to remember that 1 Tablespoon liquid = 1/2 ounce. So you would use a little over half a teaspoon (about 50 drops) essential oils, 1 rounded teaspoon grated beeswax (or pastilles) or 1/2 slightly rounded teaspoon grated candelilla wax (or pastilles), and about 1 3/4 teaspoon (or just over 1/2 Tablespoon) carrier oil. Don't over stress about precise amounts–if you're roughly in the ball park, it smells good, and you like the texture of your cooled perfume, you did perfect!
Some synergies I've used with great success for making perfumes:
Bouquet:  This has a light, fresh floral scent with a hint of citrus (from lemon) and herb (from lavender). It's a beautiful, cheerful, feminine scent that's not *too* flowery.
Tranquil: My favorite. This one is a bit earthy (from patchouli), but the citrus components (bergamot, blood orange, and grapefruit) really brighten it up. Ylang-ylang adds softness. It's a scent with layers. To me, it's intoxicating. My daughter enjoys using it in her diffuser locket necklace.
Relax: Lavender is the predominant scent in this one, but it's combined with several other essential oils in a very soothing blend. I keep my solid Relax aromatherapy perfume in the bathroom so that I can apply it before bed, especially if I'm feeling stressed or wound up.
Worry Free: Even though it contains some of the same essential oils as Relax, it smells quite different. I find this one more of a "beautiful", uplifting and peaceful scent that I am more inclined to wear as a perfume in the traditional sense.
Meditation: A very earthy and grounding scent. I LOVE this one, but if you don't like patchouli, don't even go there because patchouli is a dominant part of the blend.
Self Esteem: This makes such a unique perfume. The spruce essential oil gives it a definite forest-y note, and the overall effect is both refreshing and grounding. Blue tansy essential oil gives it a beautiful blue color.
Sensual: An aphrodisiac blend of ylang-ylang, patchouli, orange, lavender, sandalwood, and jasmine. If nothing else, it is a relaxing blend with a beautiful scent that improves over time on the skin.
Vanilla Love: Soft, sweet, warm, and romantic. The only two essential oils here are vanilla and ylang-ylang. Very nice! I recommend shaking the bottle it comes in before using, since technically vanilla is not an essential oil per se, but an oleoresin that tends to separate and sink to the bottom of the bottle.
Calming the Child: This one reminds me of a cup of relaxing herbal tea. Chamomile, lavender, tangerine, and mandarine also makes a wonderful perfume for a child who needs a dose of "calm" periodically during the day or evening. Since this one is in the "Kid Safe" line it's perfect for children and adults alike.
I haven't used Let It Go or Balance or yet as perfumes, but the lists of essential oils tell me they would work very well. If you've smelled them and like them, definitely give them a try. Also note that Balance, while pricey, contain some exquisite and stronger scented essential oils (rose, jasmine, and neroli) so you could use quite a bit less in your formulation. Just replace some of the essential oil blend with more of your carrier oil.
Secondly, you can make beautiful and simple perfumes with only one essential oil or absolute.
Among my favorite perfumes are single notes made with only jasmine or rose. Jasmine and rose absolutes are quite pricey, but there's a way to get around some of that expense and really stretch those absolutes out. The trick to making jasmine or rose solid perfumes that don't cost an exorbitant amount of money is to use floral waxes in place of beeswax. Floral waxes are aromatic wax byproducts of absolute production. They are actual waxes from flowers that cost much less per ounce than the corresponding absolutes. Floral waxes do have a much weaker scent by comparison, but they add enough of their own fragrance that you can get away with using far less absolute. Plus both jasmine and rose absolute have very strong scents anyway, so you wouldn't use nearly as much as you would other essential oils. Note: the hardness of floral waxes can vary widely. If your wax is very soft you will need to add beeswax or candelilla wax so your solid perfume is hard enough.
To make a stunningly beautiful and intoxicating jasmine perfume, your ratios will look more like this:
1 part jasmine floral wax (sometimes this wax is soft. If so, add beeswax or candelilla wax to harden up your finished product)
3 1/2 parts carrier oil (or more)
1/2 part jasmine absolute (or much less–add it by drops so you can tell when you reach the strength you want). Jasmine absolute is VERY strong, so a little goes a long way.
The same method works for rose perfume using rose wax and rose absolute.
The third approach for how to make perfume is to formulate your own essential oil blends.
There are no hard and fast rules here, but a few guiding principles are helpful. 
Of course you don't need to blend several different essential oils to have a fragrance you will love. Single note jasmine or rose perfumes are perfect examples and I've also made a single note lavender perfume. But if you're ready to branch out, try blending just two essential oils to start with. To get an idea of which essential oils blend well together, you can look at individual essential oils on essential oil company websites, or even on Amazon and you will almost always see a list of essential oils toward the bottom of the description that blend well with the essential oil you're looking at. Here are a couple of my personal observations:
Citrus oils blend wonderfully with woody oils (like sandalwood, patchouli, or frankincense), herbal oils (like palmarosa, marjoram, or clary sage), spice oils (like cardamom, ginger, or nutmeg), and florals (like geranium, lavender, or neroli).
Lavender blends well with pretty much everything. I honestly can't think of anything it doesn't blend well with.
So starting with a citrus oil or lavender (if you like them) is an easy way to begin. What other essential oil are you drawn to? Voilà—you've got a simple blend right there.
Another option is to use an essential oil book as a guide.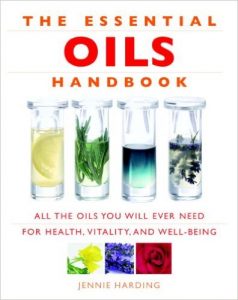 One of my favorites is The Essential Oils Handbook. It's a little (almost pocket sized) guide that's jam packed with information and simple blends of 2 to 3 essential oils. Have a headache, PMS, insomnia, or fatigue? You'll find several easy blends to suit your needs in this baby, and many of them make great perfumes. I refer to this gem all the time.
If you want more complex blends it helps to understand a little bit of perfumery theory. One of the ways fragrances are divided is into 3 categories based on how quickly they evaporate:
Top Notes: These are brighter or sharper scents that hit your nose first when you smell a blend and they also fade/evaporate the fastest after application as well. Top notes include all the citrus oils, some herb and some tree oils.
Middle Notes: This is the largest category and comprises more "full" scents that will likely dominate your blend. These last longer than top notes, and will become more noticeable after top notes have faded. Most herb and spice oils fit in this category (palmarosa, marjoram, clary sage, cinnamon, ginger, vanilla), most florals (rose, lavender, geranium, neroli, jasmine), and tree needle oils (cypress, fir, juniper).
Base Notes: These are the scents that remain after everything else fades. They anchor your blend and create a foundation for the others. Think "heavy" and "deep". Sandalwood, cedar, oak moss, patchouli, and vetiver are all base notes.
Since base notes tend to be stronger and linger, those oils are usually used in a smaller amount in a blend. An easy ratio to start out with is a 3:2:1 blend of top, middle, and base notes. Other times you might want the middle note to shine more—simply lifted with a wee bit of top note and some depth provided by a base note oil, so a 3:5:2 ratio would work well.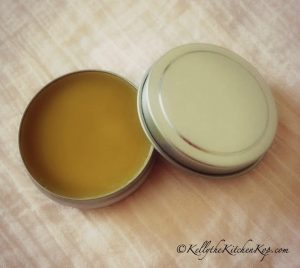 How to make perfume — Sample Blends:
If you need an attitude adjustment:
3 parts lemon
2 parts lavender
1 part patchouli or neroli. Though neroli is technically a middle note, it is often used as a base note in perfumery–this particular combination is amazing. The difference between using just 1 part patchouli and 1 part neroli is like night and day with completely different effects. This is a great example of how small tweaks can change your whole blend. Both of these are real mood-changers but one of them will put your feet on the ground while the other one will send you through the clouds!
Or something more "green" and refreshing to clear your mind and help you feel more balanced (I'm inhaling this right now and I can't get enough of it):
For very simple 2 essential oil blends that include a top note, I find myself using a 2:1 (top note to middle or base note) or 3:2 (top note to middle or base note) blend.
For an absolutely gorgeous simple blend, try:
For a warm and cozy blend, try:
For a blend that's revitalizing yet tranquil, try:
For a refreshing, soothing, and cheering blend, try:
Of course you don't need to use a top note at all, and you can use equal amounts of the oils in your blend if it smells good to you. You might really enjoy:
Again, there are no hard and fast rules. Let your nose be your guide. And while the blends I have given as examples here are simple 1, 2, or 3 essential oil blends, once you get the hang of it try gradually adding more oils to your blends to create more complex scents.
One way to test out your blend before committing to it is to apply it in drops to a cotton ball–I'll sometimes apply it to my wrist so I can see how it meshes with my own chemistry. You can then note how each part fades and what emerges in the scent over an hour or so. Then adjust to your liking, or start completely over with a new one. Just experiment and have fun with it!
If you'd like to read more about creating your own blends, you might enjoy this article or this one. Here's another with some nice blend suggestions.
Comment below if you try this DIY aromatherapy solid perfume and share your own favorite blends!  
And please send this "How to Make Perfume" post to your friends!
This is a post from my dear friend, Jill, who helps around the blog and has written super helpful posts here in the past: See all of Jill's posts here, including more like these: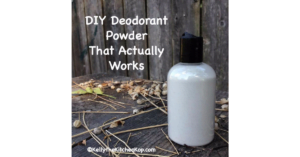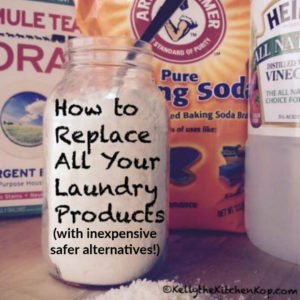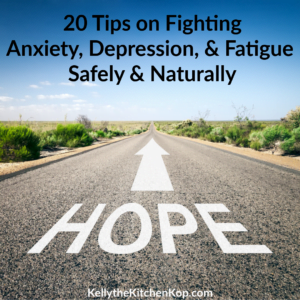 Note that there are affiliate links included here to help support the blog, but the cost is the same for you!  🙂
About Jill: My husband and I live in Waco, TX, along with our two awesome young adult kids (AND now in Dallas during the week while my husband attends chiropractic college). I have a small business selling handmade personal and home care products at our farmer's market and local retail sites. I am also Kelly's blog assistant. 🙂 I am passionate about real food nutrition, natural health, local food, and I love to cook. Fortunately we have access to lots of local food via Waco's fantastic year-round farmer's market, nearby farms, and even a grocery store that sources much of its food locally.