By Joanie Blaxter, founder of Follow Your Gut
(First a note from me, Kelly: I'm so excited about this post from Joanie because I've been feeling for a while now that I'm UNDER-using my wonderful collection of essential oils, so I just ordered the bottles she mentions below to make my own versatile spray!  Here's Joanie…)
I mean, really, we all know how evil commercial car air fresheners are, don't we? (Actually, ANY commercially made air freshener!)
Because we don't actually eat the chemicals they contain, but ONLY inhale them into our lungs to be carried directly to our bloodstream, companies are not required to reveal their ingredients.
A few companies provide ingredient lists on their website in response to consumer demand, but the word "fragrance" may hide dozens of chemicals, many of which may never have been assessed for safety.
But truth be told, I love a stinky car — I'm serious!  As long as they're not artificial, I've always enjoyed strong fragrances, particularly the bracing aromatics.  My favorites are peppermint, eucalyptus, rosemary, pine, lavender.
Those essential oils are also in the contents of the separate 1 ounce bottles I keep in my car. Depending on my mood, I sprinkle droplets of different oils on the floor and drip them onto my palms to lightly spread on my seats.
Sleepy from driving too long?  Nothin' like a good whiff of peppermint and rosemary to shake the ole brain cells awake again!
My car makes me happy every time I climb in the driver's seat, and I'm not the only one.  EVERYONE who gets in comments on how good it smells!  If I've been feeling especially pine-and-pepperminty lately, it's usually "Oh, smells like Christmas in here!"  😉
Another wonderfully easy use for a straight oil is lavender for bath time at the end of the day. When you need unwinding, place a few drops directly in the hot tub, especially when combined with Epsom salts. Lavender actually calms brain waves and the magnesium in the salts acts as a muscle relaxant – the perfect, all-natural, sleeping "pill" for overactive little bodies, including the mommies who take care of them.
And don't try to bring me artificial scents!  Any kind of artificial fragrances will immediately give me a headache, muscle aches in my neck and shoulder, and a sore throat. But, a true essential oil?  Ahhhh, the nose knows!
An auto caveat
While real essential oils do dissipate into the air very quickly, I must admit, I have been known to shock my passengers by dripping oils directly into the air vents for a quick blast of fragrance.
Honestly, while I've actually never seen any essential oil residue on my dashboard, you might want to avoid doing this if your car is your (or your husband's) "baby."  After all, essential oils are strong and can potentially damage plastic.  Hint, hint: my attitude towards my 2007 Toyota Corolla can probably best be summed up in my nickname for her: "Sturdy Pony."  🙂
Another option, of course, is to make a homemade cardboard "pine tree" to hang from your rear view mirror.  Just periodically saturate it with your own essential oils.  That way you avoid possibly damaging your car's interior.
Or Kelly said she loves using an essential oil diffuser made specifically for use in your car!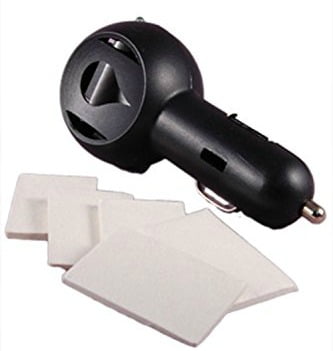 Virus & bacteria zapper
I first learned about the powerful immune-protective properties of the scents that I naturally love when I worked for a small company owned by woman in recovery from cancer.
Because her immune system was still particularly vulnerable, and she really wanted to come into work anyway, she insisted that an essential oil diffuser be dispensing aromatic oils all day long in the office air.  It was from her that I learned that hospitals in Europe and Japan were way ahead of the U.S. (big surprise) and protectively diffused aromatics in cancer wards for their antibacterial and antiviral properties.
8 Powerful Essential Oil Uses in ONE Spray Bottle!
One of the easiest and most versatile tools in my DIY kit is simply an 8 ounce spray bottle (glass is best because it doesn't react with those volatile oils) filled three quarters full with either a good organic vodka or rubbing alcohol, and then any combination of my favorite aromatic essential oils:  peppermint, eucalyptus, rosemary, pine, lavender.  (Use these 1 ounce bottles for smaller jobs.)
Note: The reason it's preferable to use alcohol rather than water is because oil and water don't mix! Alcohol dissolves oil so the essential oils combine better and don't clog up the spray nozzle.
Whenever I get tired or writer's block, a couple pumps on my palms, rubbed together and then held up to my nose does wonders for jumpstarting my thoughts with the rest spread around my neck to make the scent linger.  Since I spritz myself several times a day for this purpose, my "handy dandy" bottle lives on my desk at all times.
Hold on! There are 7 more uses for good, ole "handy dandy"!
Deodorant – You have to be careful your combination is not so strong that it stings, but all those oils, in addition to the alcohol, kill the bacteria that cause body odor.  You can also read how to make your own deodorant powder:  Homemade Deodorant Powder: DIY Recipe that actually WORKS.
Insect killer – Any aromatic oil, but particularly peppermint, will quickly soak through the exoskeleton of an insect.  When I get the occasional ant invasion, all I do is grab "handy dandy" from my desk and begin spraying.  It kills them on contact.  I've also found it to be equally effective on spiders and earwigs. For more ideas and DIY to zap those buggies, read my post: SIMPLE, Nontoxic Insect Control.
Garbage can deodorizer – Sometimes the ant invasion is due to my not taking the garbage out soon enough.  (Don't laugh, please!  It's embarrassing enough…)  Proactively, I just spray the inside and lid of the kitchen garbage can before putting in the plastic bag.  Not only discourages insects, but also bacteria, as well as garbage can odor, and makes the kitchen smell incredibly refreshing!
Scalp conditioner – Fabulous for itchy scalp!  "Handy dandy" comes into the shower with me and, after shampooing, is sprayed directly on those itchy spots.
Headache – I used to get migraines regularly until I figured out that, for me, it was caused by eating pasteurized dairy.  Until I figured that out, though, inhaling strong peppermint and rosemary while also rubbing the oil on my temples would give me some degree of relief. (For more information on migraines, see my article How to Stop a Migraine.) Nowadays, the minor, but occasional, tension headache is always helped by inhaling a few squirts of "handy dandy" on my palms.
Hand sanitizer – Spray on your hands after handling meat, changing the baby's diaper, wiping somebody's runny nose, or any time you want to avoid inadvertently spreading viruses or bacteria.  (Much better than the rotten chemical-laden hand sanitizers you see in the store!)
Cold & flu protection – Worried about getting sick?  Try this germ fighter blend from Plant Therapy.
1. Use your "handy dandy" to spritz all around the sick person's pillow, bed and environment.  2. Or, just like my ex-boss, get out the diffuser and let it dispense those powerful antibacterial, antiviral droplets into the atmosphere constantly.  3. No diffuser?  Simply place your patient next to a pot of hot water with a towel draped over the head. Splash a few drops into the water and inhale the aromatic steam! 4. Eucalyptus combined with a foodgrade vegetable oil is an oldtime favorite to help the loosen mucus associated with coughing. My favorite oil? A good organic coconut oil.  Keep in mind that anything you spread on your skin goes directly into your bloodstream so always make sure your carrier agent for your essential oil is something you'd also be willing to eat.  Rub the combination liberally on the chest and breathe deep. (Or see this great recipe for a DIY All-Natural Vapor Rub.)
***Here's the brand of essentials oil with Kelly's "seal of approval," Plant Therapy: Safe, Organic,Therapeutic Grade.
Beware cat owners
Be careful spraying these oils near your felines and never, never use them directly on your pet!  Not only is the fragrance painfully overwhelming to their sensitive noses, but they also contain compounds that can cause feline liver damage.
Cats lack the liver enzyme (glucuronyl tranferase) that would allow them to break down these compounds…

In cats, these otherwise harmless substances can build up in the liver, sometimes very quickly, depending on the amount of exposure… It's usually a slow process and doesn't show up until it's too late.

This is not the only thing cats are extremely sensitive to. Cats are also particularly sensitive to chemicals, such as insecticides, herbicides.

(Source: Essential Oil Safety with Cats.)
A homeopathic caveat
Did you know that the effectiveness of homeopathic remedies can be destroyed by strong fragrances?  This is because scents carry their own energetic signature which will interfere with that carried by the remedy.
So never store your essential oil collection near your homeopathic remedies.
Do tell!  I know you use essential oils in your daily life.  What are some of your favorite oils and why?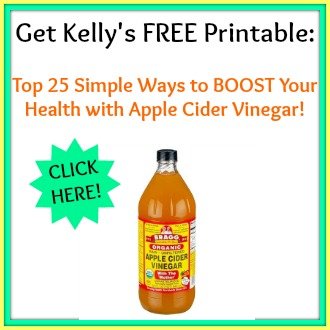 Other Resources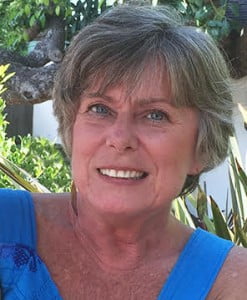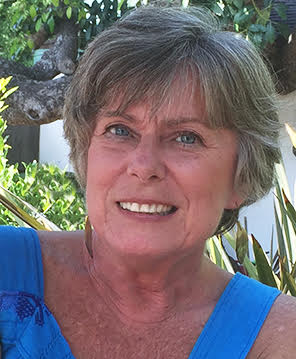 This was a post by my sweet friend, Joanie Blaxter, now a regular writer around here!
Joanie is the founder of Follow Your Gut and a health coach who has been in sales and education in the natural foods and products industry since the early 70's, with her most recent six years spent as a vitamin specialist in a natural foods store.
For dietary consultations, Joanie can be contacted here. Joanie's past articles are located here.
Disclaimer: Neither Joanie nor I are health professionals! Use what you read here for your own research and then consult with a natural-minded doctor or health professional you trust to find what is best and right for YOU. Read my entire disclaimer here, and also note that there may be affiliate links in this post.
featured photo