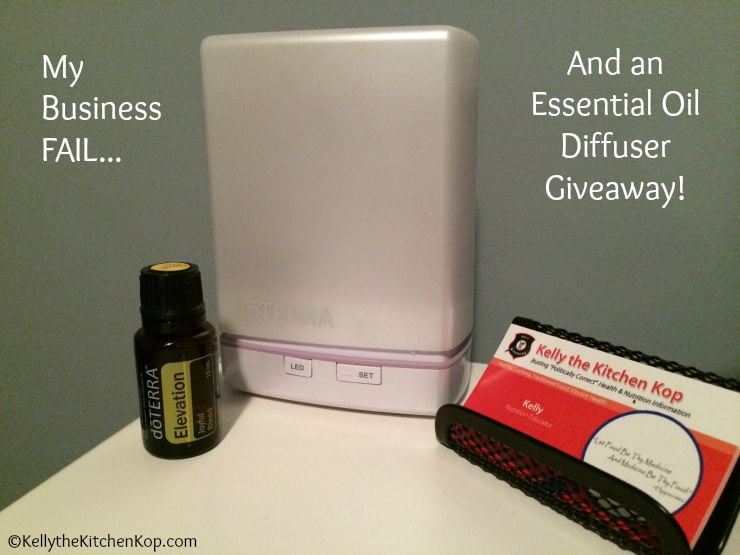 (Note the giveaway is over, but you can still learn more about essential oils and diffusers below…)
See that picture above?  That's a picture I took of my office desk today — it's what I have running most days as I'm working and I love it. I got that diffuser when I was selling Doterra Essential Oils a while back.  I've since decided that there aren't enough hours in the day for another business (duh!), and there were a few other issues that I won't go into now, but even though that whole endeavor was a big FAIL, it was a learning experience and I do still love my EO's these days.
When you're selling that stuff you end up buying all sorts of products to use for promotions and I happen to have a brand new diffuser that I wanted to share with YOU, my faithful readers, so…
Today I'm giving away the diffuser you see above — $89.95 value!
More about this diffuser:
Releases essential oils through high frequency oscillation for up to eight hours (depending on mist setting).
Designed to be small and compact — perfect for traveling and hotel use.
Features four mist output settings and an optional night light.
Which Essential Oils are Best?
By the way, I still believe that essential oils like Doterra and Young Living are reputable, quality brands, but this kind is my new favorite because they're just as good AND much less expensive!!!
You have diffusing options, too!
I love having the diffuser going in my office, OR the one in my car that plugs into the "lighter" (I don't know what those are called now) — it's so much better than the fake-smelling and often dangerous chemical scents in the air fresheners from the store!
Here are a few more options if you're looking (and if you don't win the one I'm giving away):
What kind of diffuser do you use?
Would you like to know more about HOW to use essential oils, and how to use them in place of other more expensive natural remedies?
There's still so much I don't know about essential oils.  Even with my diffuser, I'll just use any oil I feel like depending on my mood — it can perk you up or calm you down if you use the right oil, but I know there's so much more to it than that, and that oils can be used for all sorts of natural remedies.  A friend, Sarah, emailed me the other day and said, "I have been battling a cold and FINALLY used an essential oil steam with Siberian Fir to clear the nose up.  WONDERFUL to breathe again!!  Most needle oils will do that, but they all give my son a headache except for the Cypress oil I use for him."
Here are the oils she mentioned (click the name/link for where to get them):
See what I mean, though?  There's so much to learn!  Here are some books to choose from to get you started.
How to Enter to Win!
(This giveaway is over and the winner has already received her new diffuser!)
It's easy:
Just sign up for Kitchen Kop emails using the orange box up at the top of this post or below.  (Also you'll get a FREE Real Food Ingredient Guide for signing up!)
THEN tell me you did so in the comments below.
In 24 hours I'll close comments and choose a winner using Random.org.  Once I verify that the winner is signed up for Kitchen Kop emails, I'll announce who won in a post soon.  No purchase necessary.  Offer good only for those 18 or older in the U.S. (Otherwise the shipping would be too costly.)  The number of eligible entries received determines the odds of winning.  You may want to check out my Icky small print stuff: privacy policy, copyright, disclaimers, terms & conditions.  Void where prohibited by law.