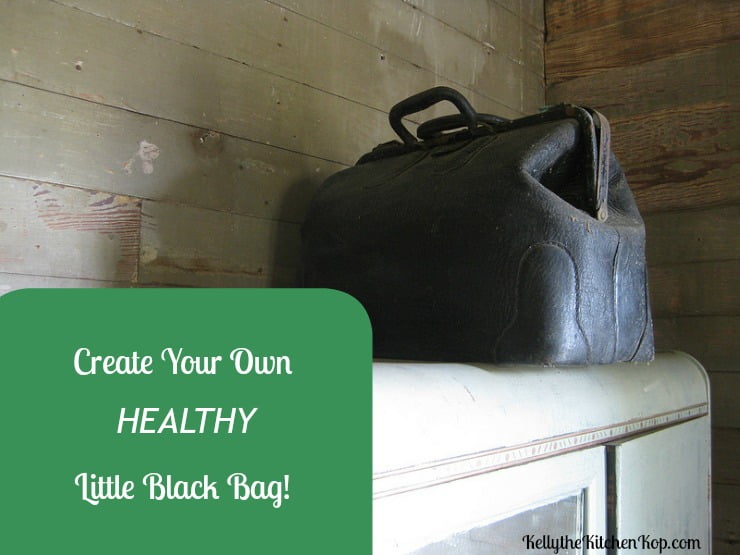 This post was originally written by my friend, Tara Rayburn.  (She is a distributor for Young Living oils.  I am partial to these essential oils nowadays for their quality and affordability, but if you're interested in YL, contact Tara here.)   In this post she helps us understand the basics and beyond.  
By the way, also these days I tend to use essential oils and other natural remedies, along with homeopathy for healing — there's so many great options for natural health out there!
Here's Tara…   
The Basics
Remember when doctors used to make house calls carrying a "little black bag?"  Yeah, honestly, I don't even have a memory of that either. I did hear about those days from my parents and grandparents,  as well as in old movies.
Whether or not you have a family, or just came from one, chances are from time to time you need supplies for life's little emergencies.
Since the dawn of time, Mom's have had to think on the fly when someone is sick, wounded or otherwise in a bad way.  I'm not a doctor, nutritionist or healthcare practitioner, nor do I want to be.  However, over the years I've collected a series of great items to have on hand for a variety of issues. I used to call it my Essential First Aid Kit, but really it's more of a portable Mom's Medicine Cabinet.
Now I like to call it my Healthy Response Kit
I teach a class called "Cactus Zach's Medicine Rack" in honor of my son who just seems to have interesting things happen to him, which causes me to get pretty creative with ways to help. This along with many other experiences I've had gave birth to this information that I'm going to share with you.
Here is a guide to creating your own little black bag — a Family First Aid Kit!
There are some basics, some guidelines and some shortlists for specific situations. My intention is to not to diagnose or replace a doctor's care, but to empower and inspire those of  you who are healthy ripples in your community. These are firsthand accounts that I have experienced. See the end of the post for resources to check out on your own. People need to be proactive in their own health and not just rely or blame doctors or medicine. We are all in this together and can help each other be a part of building real health in our world.
Family First Aid Kit Supply Basics
Family First Aid Kit Essential Oil Basics
Therapeutic Grade or Food Grade essential oils only. Know your source and educate yourself on the basics. Do not use aroma grade oils or oils with synthetic additives.
Ways to Use Essential Oils:
Topical Application, Inhalation, Internally (with a carrier oil) and in Cleaning
Essential Oil Terms Used:
Single Oil: One essential oil
Oil 
Blends: Combinations of essential oils.  Sometimes mixed with carrier oils.
Carrier Oil: Not an essential oil but a massage oil or mild oil like olive oil or coconut oil used to dilute or seal in an essential oil.  
Favorite Carrier Oils: Castor, Olive, Coconut, Almond, Kukui, Apricot (remember – these are NOT essential oils)
NEAT:  Can be applied without a carrier oil
GRAS: Generally regarded as safe
The essential oils:
Special Really Nice Extras:
Brush for dry brushing. This stimulates the lymphatic system and promotes the body's own healing/cleansing.
Herbal Tea without caffeine. Especially one with mild cleansing support like Milk Thistle and Nettles. There are also tinctures and homeopathy available for specific symptoms. Best to work with an MD also trained in natural remedies or an ND.
Raw Local Honey
General Approach and All Purpose Steps:
When someone is very symptomatic there is usually an element of physical or emotional overload and/or toxic build up and the body's attempt to release it happening. This can be caused by many things, and can be alleviated by many things that have cleansing effects on the body. The idea is to lesson the body burden, to help it detox and to reduce stress.  Instead of thinking in terms of "stopping symptoms" try thinking how can we help the body rid itself of the things dragging it down.
Becoming a student of products and practices that support the following systems can be one of the most powerful things you can do for yourself and your family:
Digestive System Support: You are what you Eat, Absorb, Assimilate and Excrete!
Circulatory System/Lymphatic System: Help the body help itself through creating healthy circulation and elimination of wastes.
Stress Management:  Remember, emotions can be just as much a factor in health as physical or environmental issues. Your calmness and relaxed attitude can be wonderfully contagious not just to the person in distress, but to their family as well.  (Check out Kelly's post:  Lowering stress by realigning your priorities.)
Special Items for Specific Symptoms
Respiratory Complaints (lungs):
Castor Oil or other carrier oil (massage oil)
Essential Oils for Lung Support – Eucalyptus (if tolerated)and Respir-Aid. ***If child is under 3 years old put oils on feet or diffuse, NOT on chest.
Steam Shower with Massage and Patty Back (cupping hands and gentle yet firm cupping/patting on the back)
Practice layering: Essential oil, then massage oil then hot water bottle on top to drive oils in.
Sinus Complaints:
Throat Complaints:
Germ Fighter Essential Oil Blend.  Add a 2 drops to 2 ounces of water and drink all at once for quick relief.  Or add a couple of drops to your favorite tea (made with honey to further soothe your throat), or add several drops to your drinking bottle and sip throughout the day.
Sea Salt.  Mix 1 teaspoon salt to 8 ounces of warm water and gargle several times a day to reduce swelling.
Non-sugar laden lozenges — here are some organic cough drops (Or make your own hot tottie with warm water, honey, lemon juice, and if you're up to it, do like the old days: they added a splash of whiskey)
Digestive Complaints:
Digest-Aid or Peppermint Essential Oil
Mix together a small amount of castor oil with a few drops of Digest-Aid or Peppermint and rub over abdominal area, then place the hot water bottle carefully over the area to help drive the oils in.
Rash Complaints:
Castor Oil, or other favorite massage oil.
Kukui Oil from Hawaii is great for eczema.
Epsom Salt Bath Soak—Mix together epsom salt (1 lb), Baking Soda (1 lb) and 5-10 drops of lavender or eucalyptus essential oil
Rub castor oil over body after. You can add essential oil to that mix, too. Just a head's up: castor oil is very, very thick. Put on an old pair of sweats or PJs to keep from getting oil on everything around you).
Emotion/Stress Related Complaints:
Foot Massager or massage by hand. This is the #1 approach I've used in many situations, especially when you don't know what else to do.
Chronic Pain:
Menstruation Related Complaints:
Spiritual Strength and Protection:
Frankincense, diffused, topically or however you can.
Powerful Prayer especially with 2 or more people.  🙂
More Resources for Essential Oils, Herbs and Nutrition: