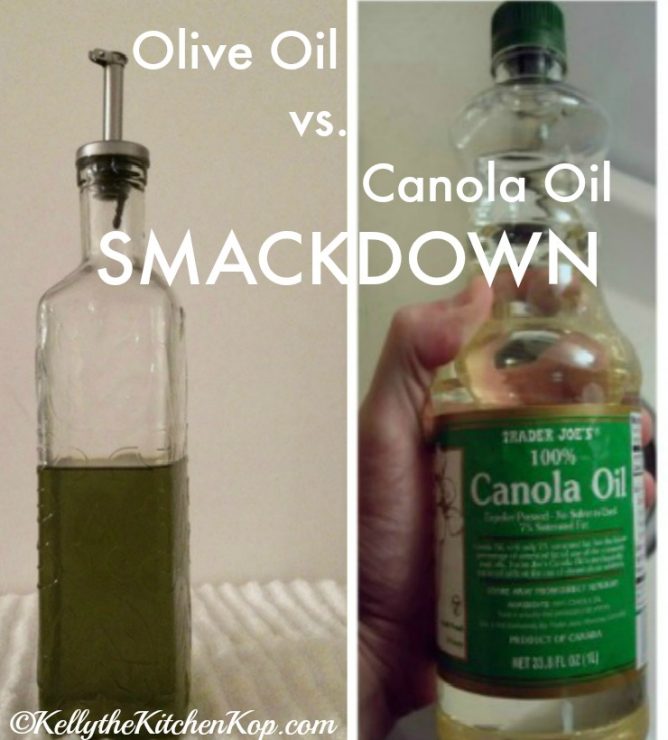 It's time for the Olive Oil vs Canola Oil SMACKDOWN
Anyone else tired of hearing "canola" and "healthy oil" in the same sentence?  Yep, me too!  We're cutting through the bull today and getting to the truth on the oils we should strictly avoid, the ones okay for once in a while, and the ones that are actually good for us.
Olive Oil vs Canola Oil Comparison
Why to AVOID canola oil (or other dangerous vegetable oils like soy, corn, sunflower, safflower, grapeseed, or cottonseed — read labels — no margarine, oleo, shortening, or "cheese product"!)
These oils are highly processed and industrialized.
They are too high in omega-6 fatty acids.  Our bodies need a balance of omega-3 and omega-6 fatty acids, and when this balance is off, it causes weight gain and chronic health problems like heart disease, cancer, and more.
They are mostly all genetically modified!  (Here's a basic GMO definition and watch the videos here:  The Dangers of GMOs:  Dr. Oz GETS IT!)
"These studies all point in the same direction–that canola oil is definitely not healthy for the cardiovascular system. Like rapeseed oil, its predecessor, canola oil is associated with fibrotic lesions of the heart. It also causes vitamin E deficiency, undesirable changes in the blood platelets and shortened life-span in stroke-prone rats when it was the only oil in the animals' diet. Furthermore, it seems to retard growth, which is why the FDA does not allow the use of canola oil in infant formula."  (Source)
Read more here:  The Great Con-ola for the entire history of this oil that has only been around for a short time.
Why you SHOULD use olive oil
If you get quality olive oil, one NOT cut with heart-killer vegetable oils (like most from the store are), and with the best phenol levels, then it'll be loaded with health-building antioxidants — read more about that here.
The real stuff, with the right phenol levels, also has a smooth, delicious taste!
(If the phenol level is too high, it'll taste very bitter; if it's too low, there will be no health benefits.)
It's delicious on your salads, in your pesto, or as a dipper for your sourdough bread!
By the way, here's a book about the olive oil mafia, it reads like a mystery novel:  Extra Virginity.  It'll make you even more intent on knowing your source.
Think the olive oil in the U.S. must be labeled correctly?  Nope, read more about that at this link.
Eat these too:  the "taboo" fats, like butter, ghee, lard, tallow, and coconut oil
You read that right.  Pastured butter, ghee, lard, tallow, and coconut oil are SO good for us!  These are all traditional fats that were around looooong before chronic conditions like heart disease, diabetes, cancer, and obesity were rampant.  Even many doctors are finally coming back to this nutritional wisdom.  (Have you read What if sex was bad for you? Don't forget your brain.)
Does the "saturated fat is bad" mentality have a strong hold in your mind?  You just don't believe they really could be good for us?  PERFECT.  You shouldn't blindly follow what anyone tells you, especially not me.  I'm no doctor, I'm just a Mom who wanted something better for our kids than what I saw all around me.  Do your research.  Carve out some time to look over these posts all about healthy fats and how fat and cholesterol are good for you.
Don't forget to take your cod liver oil!
Fish oils are high in the chronic-disease-fighting omega-3 fatty acids (as is eating fish and also healthy animal meats from grassfed cows have a good omega 3:6 ratio), and some also have the very important vitamins A and D and K, but others are highly processed and not safe in my opinion.
Click here to see the brand of CLO that I recommend.
What about the other oils?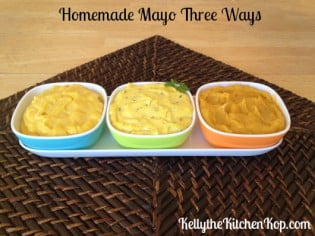 What about oils like peanut oil, avocado oil, or sesame seed oil?  According to the WAPF these oils are okay now and then, but not too much due to their higher omega-6 content.  Plus the fats mentioned above are so good for us, we don't really need these ones much anyway.  I only use them occasionally, for example they're good for making my 5-minute homemade mayo because I think the taste of just olive oil is too strong.  Also, some restaurants use peanut oil for frying, so it's nice to be able to eat French fries when we're going out once in a while.
Wonder about avocado oil?  So did I.  I found this informational post from Jill about avocado oil.
Is flax oil okay?  The WAPF says that it's okay in small amounts, but it goes rancid quickly, plus I've always heard enough negative stories about it that I never got on the flax train.  Also, see Sarah's post here:  Why flax is not a good substitute for cod liver oil.  And here is Kimberly's post on flax and phytoestrogens.
Did I forget anything?
If you have more questions, ask in the comments and I'll try to help!
More/Related: